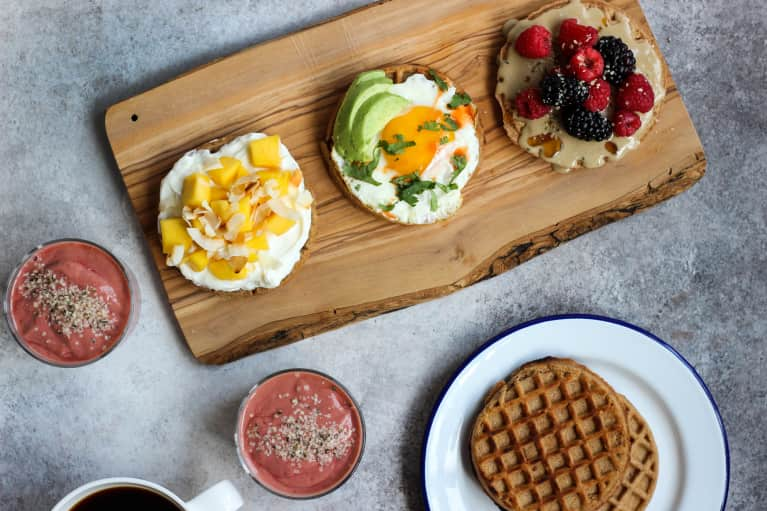 Start your healthier New Year goals right now by making yourself a solid breakfast—yes, even when things are a little hectic. For the sake of keeping your energy and health up during the busiest time of the year, make breakfast the one meal you know you can count on to be balanced, nourishing, and tasty.
Even better, gradually introducing good habits over time rather than going full speed as soon as the calendar ticks over will give you a better chance of sticking to these habits all year long. Your first meal of the day doesn't have to be complicated or time-consuming either—just something wholesome you make to start the morning off right.
So, here's our challenge (it's totally doable, we promise): Make yourself a healthy breakfast every day for the next seven days and see how you feel. Notice what foods make you feel extra good and which ones you most enjoy in the morning. Try combining protein, fiber, and good flavor for the best results—these three things will keep you energized, full, and satisfied until lunchtime.
To get you started, we've given you some breakfast ideas below with some easy recipes to follow (each makes one serving).
1.
Build a better waffle.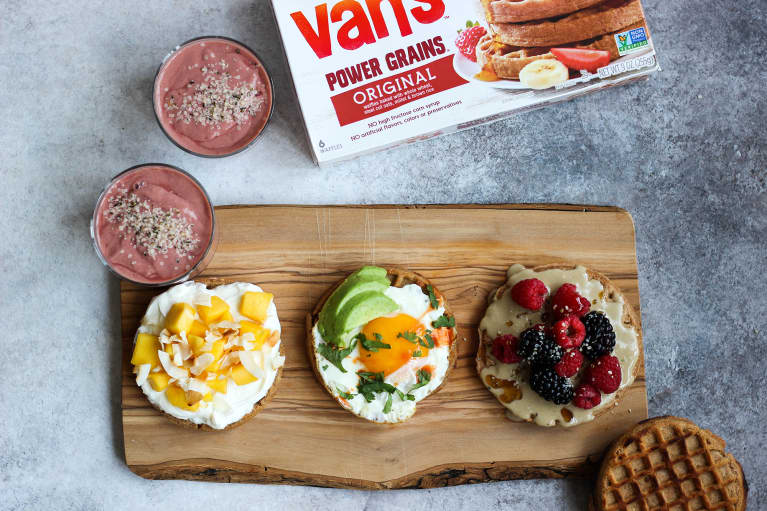 Sunny-side-up egg + fresh cilantro + avocado + hot sauce
Tahini or nut butter + fresh berries + honey + hemp seeds
Plain Greek yogurt or coconut yogurt + mango + toasted coconut flakes
2.
Make a non-boring breakfast scramble.
In a bowl, whisk two eggs together with a generous pinch of salt. Meanwhile, in a small skillet, heat a little avocado oil or ghee over a medium-low heat. Add any of the following combinations to your eggs and cook, stirring, until eggs are set. Serve with a side of a Van's® Power Grains® Waffles (or toast of your choice).
1 big handful of baby spinach + ½ cup roasted sweet potato (or any leftover roasted vegetable, really) + 1 tablespoon crumbled feta cheese
1 handful of cherry tomatoes halved + 1 handful thinly sliced or grated zucchini + 1 tablespoon pesto
½ cup black beans + 1 handful of shredded kale or baby kale + a splash of hot sauce
3.
Whip up an energizing smoothie.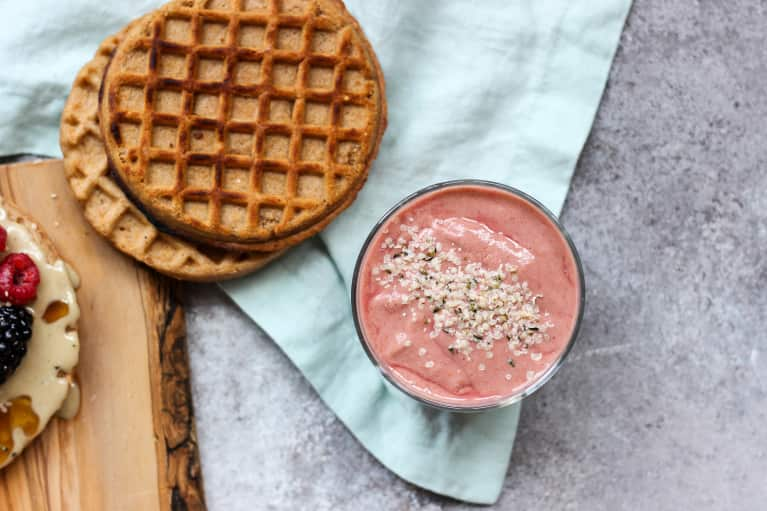 Smoothies are the ultimate healthy and easy breakfast combo. Simply combine ingredients in the blender with the milk of your choice and puree until smooth. Serve with a Van's® Power Grains® Waffle (or toast of your choice) on the side for a little extra substance.
1 frozen banana + 1 cup frozen spinach + 1-2 tablespoons nut butter
1 cup frozen strawberries + 1 roasted or steamed beet, peeled + ¼ teaspoon vanilla extract + 1-2 tablespoons hemp seeds
1 cup pumpkin puree + 2 Medjool dates, pitted + 1 tablespoon almond butter + 1 teaspoon pumpkin spice
Use these easy recipes as a starting point to create your own go-to breakfasts, taking note of what feels the most energizing to you and any aha moments you have along the way. Hopefully this breakfast challenge will help you kick the New Year off right!