Close Banner
Advertisement
This ad is displayed using third party content and we do not control its accessibility features.

Cardiologist
By Joel Kahn, M.D.
Cardiologist
Dr. Kahn is the founder of the Kahn Center for Cardiac Longevity. He is a summa cum laude graduate of the University of Michigan School of Medicine and is a professor of medicine at Wayne State University School of Medicine.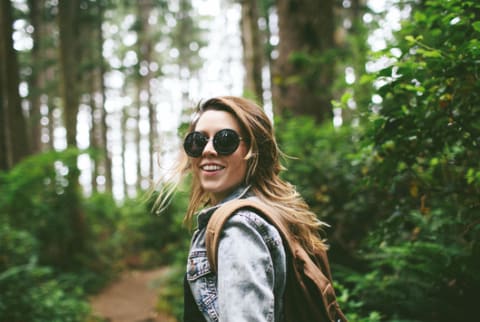 I married into a family riddled with breast cancer, including my mother-in-law Patricia, who died at age 57 of this horrible disease. So when October rolls around and I see pink buckets of fried chicken, pink cans of sugary lemonade, pink hamburger wrappers, and pink nonsense everywhere claiming to be breast cancer prevention, I shake my head.
As much as possible, breast cancer awareness must be about breast cancer prevention, not early detection or chemotherapy, radiation, and disfiguring surgery. Scientific studies have advanced to the point of identifying lifestyle factors that predict the development of breast cancer and that can be modified to reduce the risk substantially. How much of a reduction in breast cancer? One of the most important of these studies was published a few years ago and identified simple steps that reduce breast cancer risk by at least 60 percent. Shouldn't these lessons be on soda cans, processed meat in stores and hospitals, doughnut boxes, baked goods, and buckets of fried foods to drive the point home, like we do with cigarettes?
The data was derived from over 370,000 participants in nine European countries evaluated for lifestyle habits and followed for almost 13 years1. Details regarding diet, physical activity, and weight management were assessed and correlated with the future development of disease states including breast cancer. In following up, a whopping 36,994 cases of cancer were diagnosed and 23,828 deaths were identified. Participants with the highest adherences to the lifestyle recommendations had the lowest risk of death, cancer, and specifically breast cancer, enjoying as much as a 60 percent reduction in the development of breast cancer. Overall death was also significantly reduced. Wow! So what were the cancer prevention lifestyle recommendations?
Maintain a healthy weight for your body type.
Be physically active for at least 30 minutes every day. Limit sedentary habits.
Avoid sugary drinks.
Limit consumption of energy-dense foods.
Eat more of a variety of vegetables and whole grains such as whole wheat pasta, beans, peas, lentils, and fruits.
Limit or eliminate consumption of red meats to less than pound a week (such as beef, pork, and lamb), and avoid all processed meats.
If consumed at all, limit alcoholic drinks of all kinds to two for men and one for women a day.
Limit consumption of salty foods and foods processed with salt such as potato chips, cheese, and meatloaf (three of the top sources in the United States).
Don't use supplements to protect against cancer, as they are of unproven benefit.
It is best for mothers to breastfeed exclusively for at least six months to reduce the chances of premenopausal breast cancer.
BONUS: After treatment, cancer survivors should follow the same recommendations for cancer prevention.
These recommendations for cancer prevention are drawn from the WCRF/AICR Second Expert Report. Each recommendation links to more detail if you want to learn more.
The most important activity to do in October (Breast Cancer Awareness Month) is to incorporate lifestyle habits that can cut the risk of breast cancer by over half. While diagnostic tests or new therapies to detect and treat breast cancer are always welcome, steps can be implemented right now that have a powerful impact on the ability to avoid the disease altogether. For example, when men with prostate cancer stick to a plant-based diet, the impact of this awful condition2 is smaller—and there is every reason to anticipate the same benefits in preventing and treating breast cancer and cancer across the board.