paid content
 for

A Full Day's Worth Of Good-For-Your-Gut Recipes (From A Top Plant-Based Chef)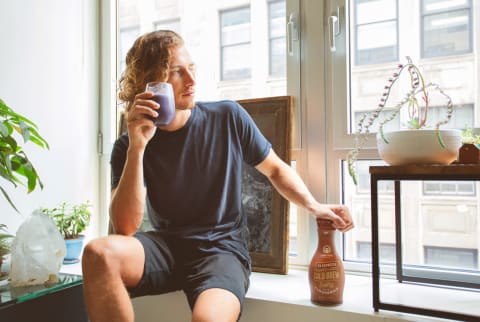 August 15, 2017
Whether you want to start your gut-healing process or simply want to spice up your plant-based repertoire, this full day's diet has you covered. Harnessing the healing power of plants, each meal is easy to make and will leave you feeling amazing.
BREAKFAST: Supercharged Creamy Vegan Smoothie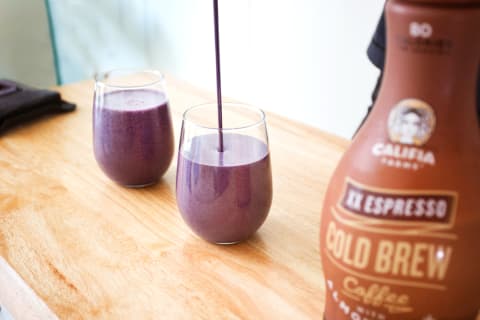 Blend until smooth, then enjoy!
LUNCH: Plant-Based Tacos with Homemade Salsa and Spicy Guacamole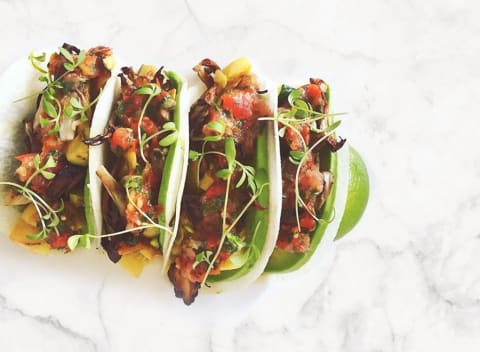 These plant-based tacos topped with homemade salsa and spicy guacamole make us super excited for summer, but this classic recipe can be enjoyed year-round.
1 head of cauliflower
8 to 12 corn tortillas (organic, non-GMO is best)
2 zucchini
2 squash
2 bunches of cilantro
1 grapefruit for each cocktail to be served
5 jalapeños
6 Roma tomatoes
3 cloves of garlic
3 avocados
1 red onion
salt
black pepper
cayenne pepper
coconut oil
Slice and scoop out 3 avocados into a bowl. Add in juice from 2 small limes.
Finely chop 1 clove of garlic, 2 jalapeños, ¼ of a red onion, and 1 Roma tomato. I like to add in lots of cilantro, but add to your liking.
Finish with salt, black pepper, and cayenne pepper to taste. Add in more lime juice if you want it to be thinner. (Note: When working with jalapeños be sure to wash your hands after contact—it can be very uncomfortable if you touch your eyes by accident or other sensitive areas.)
Chop up remaining tomatoes and put into a food processor.
Add in 1 clove of garlic and 2 jalapeños—with seeds for more spice or without seeds for a mild flavor.
Add in a nice-size cut of the cilantro bunch, juice from 2 limes, and a small amount of raw red onion. Add salt and pepper to taste. Optional: Add in a few slices of mango.
Cauliflower will take longer to cook than the squash and zucchini. Start with a pan on medium heat and add the cauliflower. You may use a small amount of water in the pan and cover, or use coconut oil. Both work great.
Once the cauliflower is close to being fully cooked, add in the chopped zucchini and squash.
Add in 1 clove of finely chopped garlic. Cover and bring heat down slowly. Allow for the ingredients to all cook together until fork-tender, then remove from heat.
Finish off with salt, pepper, and chopped cilantro.
Use one or two tortillas per taco. Heat tortillas in a small pan with a little bit of coconut oil. Cover and allow to steam until floppy.
Once tortillas are ready, plate and add the vegetables. Finish with the homemade guacamole and salsa.
Garnish with chopped cilantro and a lime wedge.
DINNER: Gluten-Free Beet Gnocchi with Fresh Pesto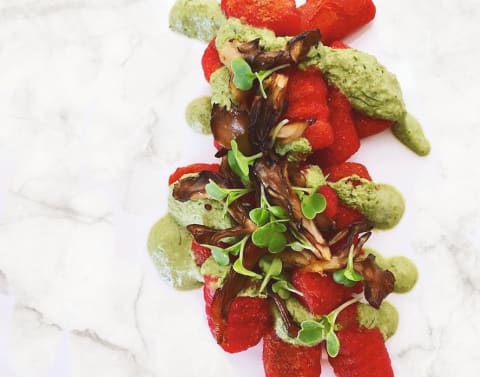 Meet your new favorite dinner: This gluten-free beet gnocchi topped with fresh pesto is flavorful and satisfying and bound to wow your dinner guests.
1 beet
4 medium-size Russet potatoes
¼ cup gluten-free flour blend
2 tablespoons extra-virgin olive oil
4 tablespoons beet juice
2 teaspoons sea salt
1 teaspoon black pepper
1 cup Maitake mushrooms
1 cup fresh basil leaves
½ a lemon, juiced
½ cup pine nuts
4 cloves of garlic
Arugula (to be used as base)
Arugula flower (optional, for garnish)
Micro basil (optional, for garnish)
Preheat oven to 400°F. While the oven is heating, sprinkle sea salt on a baking sheet and on top of the potatoes. Once heated, place the potatoes in the oven, and allow 30 to 45 minutes for them to be fully cooked and fork-tender. Once the potatoes have finished, set aside and allow to cool off.
Using a juicer, take one beet and make fresh beet juice. If you do not have a juicer, use an old-fashioned blender and add one shredded beet with a little water, and blend. Once it is blended, strain the beet pulp with a cheesecloth or strainer. You want to just use the liquid. Set beet juice aside.
Once potatoes have cooled, clean the skins off. Use a grater or a ricer to break down the potatoes, and transfer grated potatoes to a mixing bowl.
With your hands, begin working the potatoes, slowly adding in ¼ cup of gluten-free flour until mixture becomes dough. Next add beet juice, remaining tablespoon of olive oil, remaining ½ teaspoon black pepper, and teaspoon of sea salt. Mix the dough well with your hands and form a ball. Set aside and cover with a moist towel and allow to rest.
Roll out the dough ball and cut into four equal pieces. Take one of the dough segments, roll it out to desired thickness, and then cut the gnocchi to proper size (about the size of your thumb). With a flour-dusted fork, positioned face down and pointing into a surface, use your thumb to roll the gnocchi down the fork to create lines. This will also create a little indentation from your thumb, which is ideal as it helps hold sauce.
Start a pot of boiling water. Once it reaches a boil, drop down to medium heat and add the gnocchi. They will float to the top once they are cooked. Use a strainer and a big spoon to pull out the cooked gnocchi, and transfer to a plate. Make sure the gnocchi are not stacked on top of one another. They are still a little tender, so handle with care.
Heat up two pans. Add a little olive oil to each. Transfer the cooked gnocchi to one pan. Be careful with the gnocchi as they will still have water on them and may react with the hot oil in the pan. Cook on medium-high heat, searing both sides of the gnocchi.
In the second pan, add the mushrooms. Toss and add more oil if necessary. Cook on medium heat. Mince three cloves of garlic, and add to the pan with the mushrooms. Mix well and keep an eye on the garlic so it does not burn. Add salt and pepper to taste.
To make the pesto, use a small blender or a small food processor. Add the pine nuts, basil leaves, 1 tablespoon olive oil, 1 teaspoon sea salt, ½ teaspoon black pepper, and one of the garlic cloves to a food processor. Blend well. If you want the pesto to be a slightly thinner consistency blend with a little water.
Place a bed of arugula on a plate. Transfer the pan-seared gnocchi on top of the arugula. Use a spoon to apply the pesto. Add the Maitake mushrooms and garlic. Finish off with the arugula flower and basil garnish, if using.
Adam Kenworthy
Plant-Based Chef
Working as a private chef and healthy living coach in New York City, Adam divides his time between his NYC clients and Nicaragua, where he has founded a nonprofit organic fruit farm (Finca Santa Marta). He now spends his spare time trail running in Central Park and finding serenity in the waves of Long Island.