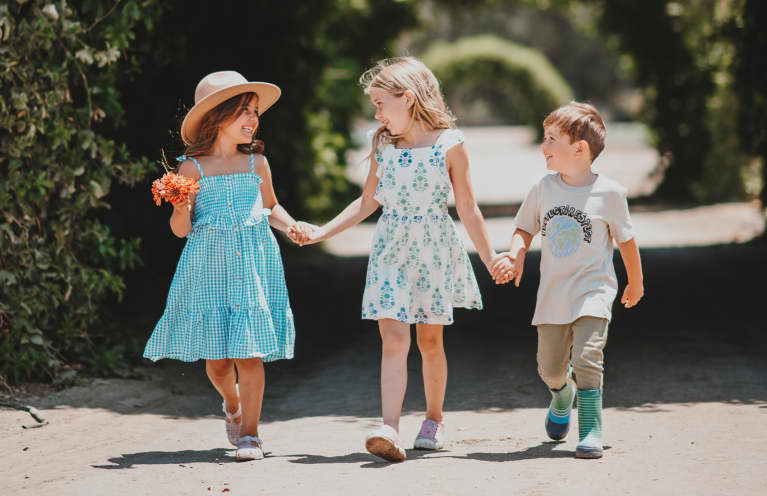 Good health can express itself in infinite ways, but each expression is built on the same physiological pillars. The pillars are aspects that hold up the larger architecture of our well-being, and gut health is one of them. From our energy levels to radiant skin to immunity, a healthy gut microbiome is necessary for us to truly thrive. That's why it's never too early to start taking probiotics.*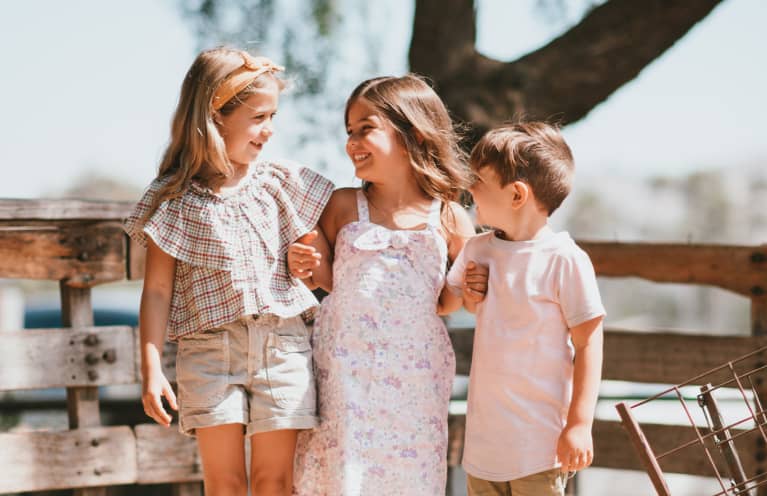 Your child's gut microbiome.
When we talk about gut health, we're really looking at the health of our intestinal microbiome. Made up of complex communities of bacteria, our gut microbiome directly supports immunity, assists in energy metabolism from the nutrition we eat, and even plays a key role in behavior and mood. But these benefits aren't just for grown-ups. Studies have provided evidence that probiotics support a wide range of health areas during childhood.* As it turns out, the earlier we can get on top of our gut health, the better.
And how do we do that? One way is taking care of our "enteric" microbiome (the trillions of bacteria inhabiting our digestive tract) with the support of probiotics.* For our littles, that might include getting them started on ChildLife Essentials® Probiotics.* Convenient and easy to take, these supplements were developed by a pediatrician using only clean ingredients, and zero artificial flavors, colors, or sweeteners. With as much exuberance as kids tend to have, daily probiotics may not have crossed your mind. But here are the three top reasons to get them started on this game-changing health routine:*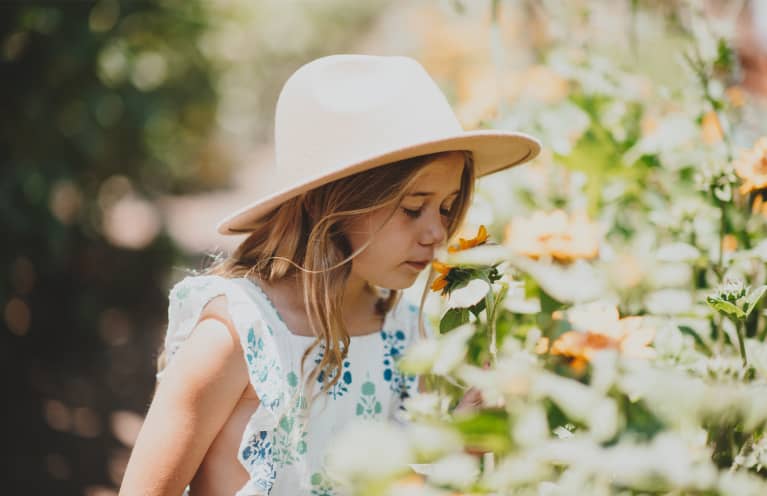 1. Strengthen their gut microbiome — the earlier the better.*
By nurturing our child's gut microbiome early, we actually help set them up for a lifetime of stronger gastrointestinal health.* Studies that have looked at the gut microbiome during early and late childhood suggest that it's easily influenced by diet, medications, and the environment. And while we tend to think of our child's gut health needs as different from our own; research actually shows that the gut microbiome of a child is the same as an adult by 3 years old.
This simply means that there's a legitimate reason to support our mini-me's with probiotics now versus "waiting until they're older."* The ChildLife Essentials LiveBiotics Immune & Digestive Support is the perfect place to start for 1- to 13-year-olds.* Formulated with four probiotic strains clinically studied in children, each natural berry-flavored chewable tablet has 5 billion CFU to offer.* Translation: more probiotics, proactive approach to immune and gut health, and possibly fewer missed school days.*
Shop this Story: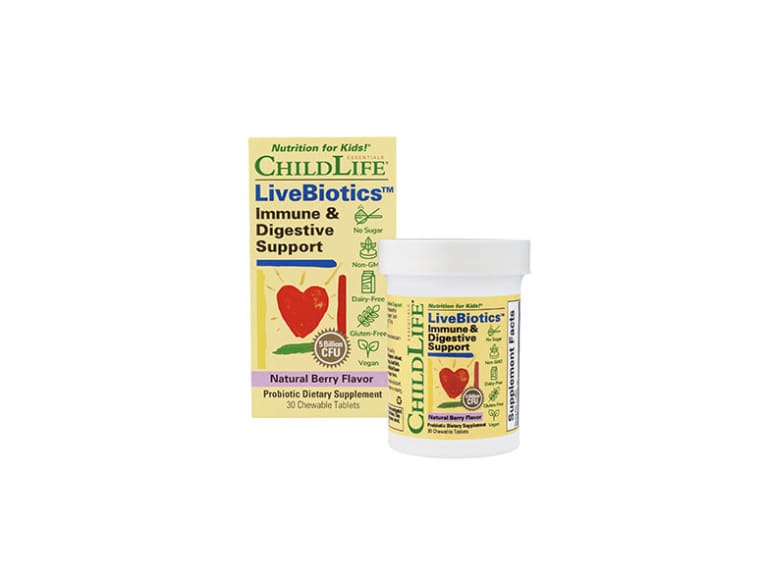 ChildLife Essentials LiveBiotics
Free of preservatives, artificial flavors, and sugar. Non-GMO and vegan.
2. Keep them smiling with oral health.*
While we tend to associate probiotics with gut health, it's important to recognize that they actually benefit systems throughout the entire body, like oral health.* ChildLife Essentials Oral Care Probiotic contains a probiotic called BLIS K12™, which uniquely supports our kids' throat, sinus, and ear health.* As any parent knows, staying on top of our littles' oral and respiratory health is no easy feat, but probiotics are one targeted approach to support the respiratory tract.*. And we'll take all the help we can get!
Shop this Story: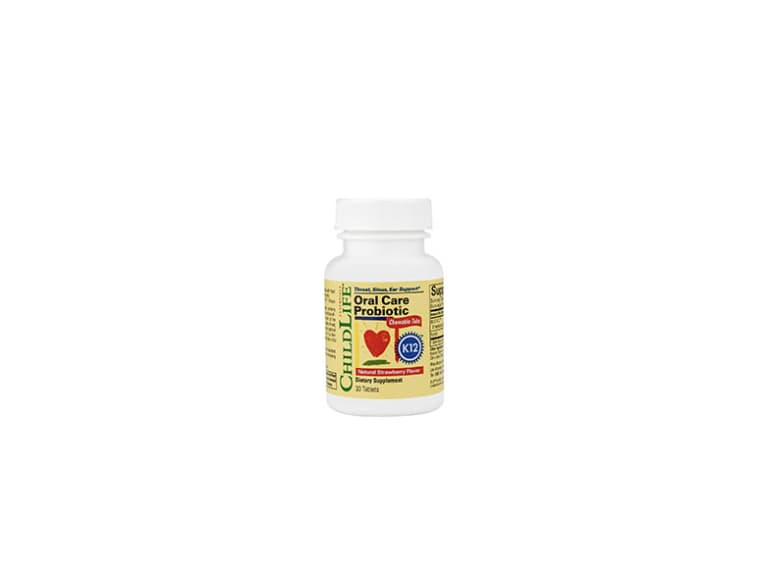 ChildLife Essentials Oral Care Probiotic
Packs DHA from fish oils, surpassing purity standards.
3. Help support their growing immune system.*
At the end of the day, everything we do for our children is to keep them healthy and happy—and getting them started on probiotics as early as infancy can be a big part of that.* As our babies begin to interact with the environment, eventually into kindergarten and day care, probiotics can help strengthen their immune system when they need it most.* ChildLife Essentials Probiotics with Colostrum not only has a blend of lactic acid probiotics to support healthy intestinal function, but it also contains prebiotics (to support the growth of probiotics) and colostrum.* Colostrum is the first form of milk an infant gets through breastfeeding and is full of immune- and health-boosting factors.*
Health & happiness for all ages.
As adults, we've experienced firsthand what a daily routine of probiotics can do for our health. As parents, it's exciting to learn that they can safely do the same for the rest of the family.* The pure and natural ingredients of ChildLife Essentials® Probiotics make supplements something we feel comfortable giving our little ones. And with the fruity flavors and easy-to-take chewable tablets or powder, our kids will be eager to agree! The thing about health is that it brings happiness at any age—and like the best things in life, it's meant to be shared.*