How A Health Expert ACTUALLY Meal Preps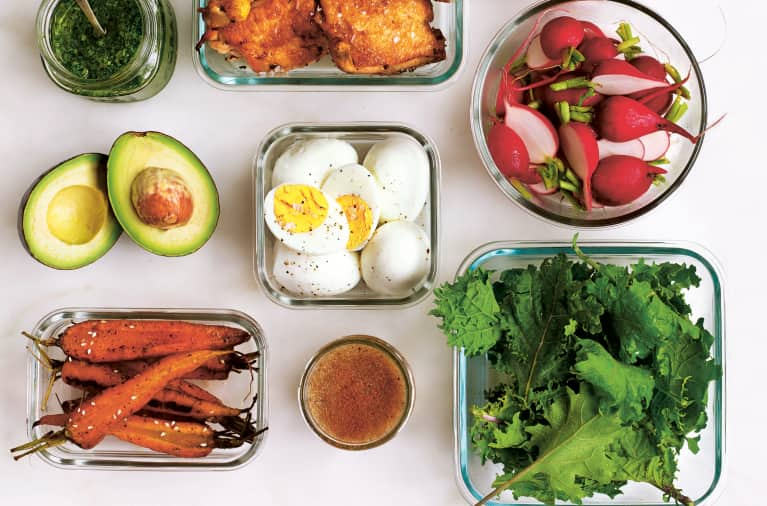 Our editors have independently chosen the products listed on this page. If you purchase something mentioned in this article, we may
earn a small commission
.
For many of my clients, learning my easy way of meal prep is "life-changing." My client Gannon is a perfect example of what I'm talking about. "I meal prepped last night and feel so at ease knowing what I'm going to eat every day, loving what I'm eating, and confident that my fridge has enough food in it for the next week." This is what meal prep is all about—having the foods you actually want to be eating ready for you, and feeling the ease and support that comes from that.
Here are some basics you'll want for each week:
1. Roast a tray (or, ideally, two) of vegetables.
I always try to make one heartier, starchier veggie, like sweet potato or winter squash, and one other cooked vegetable, such as Brussels sprouts, broccoli, or cauliflower.
Preheat the oven to 425 degrees Fahrenheit. Chop your veggies of choice into equal-sized pieces, or as close as you can get. Arrange them in one layer on a baking sheet. Toss to coat with melted ghee or coconut oil, or avocado oil, and then sprinkle with salt and pepper. Roast for 25-45 minutes, until tender all the way through and slightly browned, flipping once. Store in glass containers.
2. Wash and prep your greens.
The difference between me eating greens and not eating greens is having them washed, chopped, and ready to go. Yes, you can buy the prewashed and prechopped bags of greens, but fresh is best (for taste and nutrition). In addition, many bitter greens need an extra rinse to remove stubborn grit, so you're less likely to find them in your grocer's prewashed section. You might as well buy yourself a salad spinner and make this a part of your weekly routine.
Put the greens in a big ol' bowl (or salad spinner) and fill with water. Imagine that you are giving them a bath—use your hands to give them a little shimmy shake. Drain the water, rinse out any grit at the bottom of the bowl, and give the greens another dunk if needed. Spin the greens dry in a salad spinner, or lay them out on a kitchen towel and pat dry. Chop and store in reusable produce bags with a dry paper towel (to absorb excess moisture).
3. Stock your snacks and treats.
Well-planned snacks can keep your blood sugar balanced and prevent a binge. Here are some suggested snacks to keep on hand:
Hard-boiled eggs (make and peel them in advance, then season with salt, pepper, and Italian seasoning)
Organic meat sticks (check ingredients and skip those with any from the "avoid" list)
Clean protein bars (again, check ingredients and look for something lower in grams of sugar)
1⁄2 avocado eaten with a spoon straight out of its "container"
Sliced organic, nitrate- and carrageenan-free deli meat wrapped in a nori sheet
Small container of plain yogurt
Organic cheese sticks
Apple or celery slices with single-serving almond butter
Raw fennel slices
Single-serving packages of raw nuts
These three steps are a great way to get started meal prepping the Thin From Within way. I also have a full meal-prep checklist and favorite meal-prep-friendly recipes in my book, Thin From Within.
Meal prep may not be glamorous, catchy, or cover-of-the-magazine cute (yet…). It's about getting in the kitchen and getting your hands and baking sheets dirty (schedule your manicure for the next day!).
My Favorite Brussels Sprouts with Aioli
These Brussels sprouts are one of my favorite things to meal prep. You heard it from me first: Brussels sprouts chips are the new kale chips. When I tested this recipe, I had some leftover aioli in the fridge, and BOOM the most amazing flavor combination was born. Try this recipe for a fancy (but easy) twist on basic roasted veggies.
serves 6
Ingredients, Brussels sprouts
1½ pounds Brussels sprouts, trimmed and halved
3 tablespoons avocado or olive oil
1 teaspoon sea salt
Freshly ground black pepper
½ cup mayonnaise (I use the kind made out of avocado and olive oils, like Primal Kitchen)
1 garlic clove, minced
½ teaspoon lemon zest
2 teaspoons fresh lemon juice
Pinch of sea salt
1 teaspoon fresh thyme
Pinch of red pepper flakes (optional)
Preheat the oven to 400°F.
Toss the Brussels sprouts with the olive oil, salt, and pepper to taste, and place on a baking sheet. Bake for 35-45 minutes, until browned and crispy.
Meanwhile, mix all the aioli ingredients together in a small bowl and set aside until the Brussels sprouts are ready to enjoy.
Note: This recipe calls for mayonnaise. You'll want to reach for a version made with soybean or canola oil, or challenge yourself to make your own.
Want to meal prep for glowing skin? Here's how.