This Grain-Free Pancake Recipe Will Have You Reaching For The Cashews

By Caroline Muggia
mbg Contributor
Caroline Muggia is a writer, environmental advocate, and registered yoga teacher (E-RYT) with a B.A. in Environmental Studies & Psychology from Middlebury College.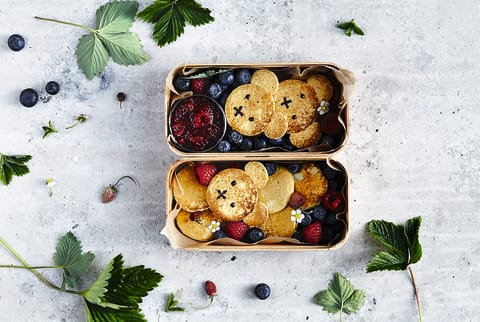 Image by Sara Kiyo Popowa / Contributor
March 31, 2019
We love the taste of pancakes but not always the ingredients—traditional ones can be packed with flour, sugar, and milk, which can be tough on digestion. Sara Kiyo Popowa, the author of the new cookbook, Bento Power, has come up with a solution.
If you're feeling extra creative today, make your pancakes into little bears for a treat that looks as good as it tastes.
Fluffy Grain-Free Pancakes With Overnight Chia Jam
Makes 12 to 16 small pancakes
Overnight Chia Jam
About 2 cups frozen raspberries
1 tbsp. chia seeds
2 tbsp. coconut palm sugar or
1 tbsp. honey, or to taste
4 tbsp. water
The jam is best made the evening before you want to serve it, or at least 4 hours before, but you can do a speedy version too.
Place all the ingredients in a glass jar with a lid, close, and give it a good shake. As soon as the water touches the chia seeds they start swelling and sticking together, so if you can, shake the jar a couple of times during the first 30 minutes or so.
If you're making a speedy version, place your jar in a pan of hot water (to melt the berries), and it's ready to use after about an hour. For the overnight version, the berries will slowly melt and plump up the seeds with their juice. Give it another shake and taste to see if it's sweet enough; if not, add a little extra sugar or honey.
Cashew Pancakes
Generous ¾ cup cashews
2 organic medium eggs
¼ tsp. baking powder
Pinch of sea salt
Scant ½ cup water
A little oil, to fry
Place the cashews in a blender and blend to make a coarse flour, then add the rest of the ingredients (except the oil for frying) and blend on the highest setting until very thick and fluffy, like whipped custard—this will take a couple of minutes in a standard blender. Add a little more water if the mixture seems too thick to blend or pour.
Preheat a skillet over medium heat and rub with a little oil. Pour the batter straight out of the blender (or use a spoon) to form small pancakes in the pan and then lower the heat.
(You'll need to cook the pancakes in batches.) When you start seeing small bubbles at the top of the pancakes, after about 1 minute, gently flip them over and cook for a further minute or so. Remove to a plate and cover with a piece of parchment paper, then let cool before packing in your bento. Repeat to make the rest of the pancakes, until all the batter has been used up.
To make the bear pancakes (as shown in the image), once you've poured a dollop of batter in your pan for a pancake, use a small spoon and carefully drop a little batter at the edges of each pancake. Flip gently. For the eyes, melt a little bittersweet chocolate either in a heatproof bowl over a pan of simmering water, or in a microwave oven. Once the pancake is fully cool, draw the face on with a toothpick or very thin chopsticks.

Caroline Muggia
Caroline Muggia has a B.A. in Environmental Studies & Psychology from Middlebury College. She received her E-RYT with Yoga Works and is a graduate of the Institute for Integrative Nutrition. A writer and environmental advocate, she is passionate about helping people live healthier and more sustainable lives. You can usually find her drinking matcha or spending time by the ocean.