paid content
 for

The Best Natural Beauty Buys For Every Body Part Under $10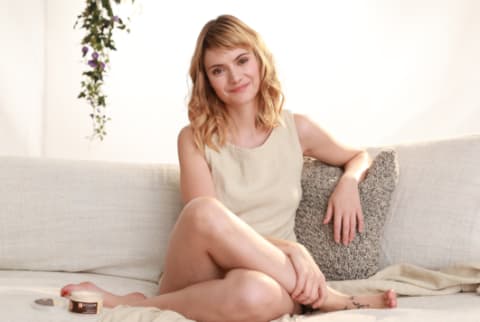 February 10, 2017
Beauty helpers that are as smart as they are inexpensive? Oh, yes! When it comes to your self-care rituals, inexpensive beauty is, well, a beautiful thing. From face oils to multi-tasking body washes and frizz-fighting organic hair gels, we've rounded up our favorite products that won't break the bank and are completely green! And did we mention—they're all under $10? Read on for the ultimate in affordable luxury.
Advertisement
This ad is displayed using third party content and we do not control its accessibility features.
HAIR BUYS UNDER $10
The beauty about hair is that it comes in a diverse range of textures, shapes, and curl patterns, but with so many products on the market it can be overwhelming finding the right ones that work for you. To make things easier, we're arming you with the best products to keep your locks in line, no matter what the weather throws your way. Curl, straighten, smooth and boost to your heart's content with these superstar natural and ethical picks.
Advertisement
This ad is displayed using third party content and we do not control its accessibility features.
Shampoo
All Éclair Naturals products are non-GMO verified, gluten free, soy free, cruelty free and vegan, giving us more reason to love this Tea Tree & Lavender Shampoo. The potent aromatherapy mix in this sudsy potion lifts spirits—and can help balance out scalp and skin irritation, too.
Insider tip: Your hair routine doesn't begin with applying shampoo. Prior to shampooing or co-washing, try applying an oil like coconut throughout your hair, add water, and then shampoo. It makes your hair much more hydrated, softer, and adds a ton of moisture. Éclair Naturals Tea Tree & Lavender Balancing Shampoo ($8.99)
Conditioner
If beach or mountain trips have left you suffering from damaged, faded strands (we're blaming the sun, too much salt, and chlorine) it's time to whip your hair into serious shape. Hask's moisturizing packets can take your 'do from meh to bombshell. This macadamia oil-infused solution is instantly hydrating. Antioxidants in the formula work to bring lackluster locks back to life.
Insider tip: Leave it on for at least five minutes, and then rinse with cool water; this allows for more residual conditioner to be left on the hair. Hask Macadamia Oil Moisturizing Deep Conditioner Packette ($2.99)
Advertisement
This ad is displayed using third party content and we do not control its accessibility features.
Styling Gel
This styling gel was created when the Éclair Naturals founders couldn't find chemical-free products that did what they claimed. The range uses plant-based ingredients without animal testing and this medium-hold blend mixes quinoa and rice proteins to provide effortless style, with a light texture and non-sticky finish. Oh, and it's a travel-friendly size to take on the go.
Insider tip: hair tends to have more shine-reducing short pieces and split ends. After conditioning hair, don't rinse completely—leave a little in. Apply a gel to damp hair and twist sections around your fingers. Let hair dry naturally. Éclair Naturals Styling Gel ($5.99)
FACE BEAUTY BUYS UNDER $10
2017 is all about enhancing what you've already got, naturally: these are 3 beauty game changers you need for your year ahead.
Advertisement
This ad is displayed using third party content and we do not control its accessibility features.
Mascara
If there's one beauty product we rely on (read: hoard) it's, without a doubt, flattering mascara. No other beauty staple can refresh your look as instantly or fake a wide-awake, doe-eyed glow in seconds. How is oil-infused mascara not already a thing? In addition to lengthening lashes, Physicians Formula contains oils that soften and de-clump.
Insider tip: Don't apply mascara right after a shower or dabbing on eye cream, because your lashes won't separate properly and the mascara won't stick. If you're tight on time, dab your finger in translucent powder and run it across your lashes before applying mascara. Physicians Formula Organic Wear Fake Out Mascara ($8.99)
Botanical facial oil
Giving serums a run for their money, hybrid oils have taken over our beauty cabinets. Rosehip oil is the beauty elixir that Miranda Kerr, Gwyneth Paltrow and Kate Middleton swear by. The oil is a cold-pressed extract of the seeds of a wild rose bush called Rosa moschata, cultivated primarily in Europe and South Africa. Best of all, it's non-greasy and quickly absorbs into the deeper layers of your skin.
Insider tip: Don't hold back from slathering your face, body, hair and even your nails with this versatile oil. Acure Organics Rosehip Oil ($7.12)
Advertisement
This ad is displayed using third party content and we do not control its accessibility features.
Eye shadow
Talk about some serious bang for your buck! This eye shadow trio doubles as a blush, bronzer and highlighter. What is it about a multitasking product that makes even a diehard makeup minimalist feel the cosmic pull of a standout beauty statement?
Insider tip: Take note: The bronze hues (which flatter all skin tones) are the kind of visual jolt that will send you running for a directional new lip color or dipping into a pot of reflective sheet metal pigment. The only rule? There are no rules! Just smile. Pacifica Love 3 Natural Mineral Coconut Eye Shadow Trio ($9.99)
BODY BEAUTY BUYS UNDER $10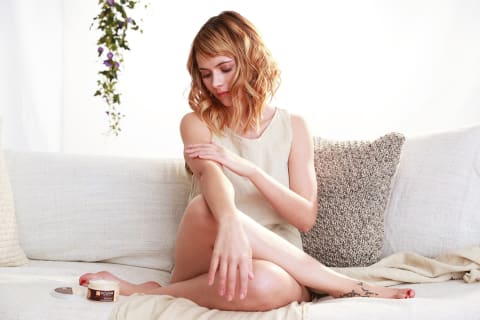 If you're already comfortable in nothing but your birthday suit, major kudos to you! But for anyone who could use a little boost of confidence, here are three skincare tips for making now (and any time you plan to forego clothes) a joyous occasion!
Bar soap
Just because certain beauty products are everyday essentials, doesn't mean they have to be boring. Éclair Naturals has set about reinventing bar soap with equal attention to aesthetics, feel, and well-sourced ingredients with never any gluten, GMO, or soy. This chunky Indonesian patchouli and sandalwood bar is a sensorial experience that will get you in a lather and redefines clean—one palm-sized bar at a time.
Insider tip: Make washing your body a cathartic and mindful experience by repeating a positive mantra when you're in the shower. This could be as simple as "I am enough". Just go with what feels right! Éclair Naturals Handcrafted Soap in Indonesian Patchouli & Sandalwood ($4.99)
Shower gel
There are two ways to view showering. Either you can think of it as a necessary chore that removes grime, sweat, and dust from your body, or you can turn it into a soothing ritual that sets the tone for the rest of your day (or night).
Think of this body wash as the ultimate multi-tasker; it's gentle enough to be used on the face, but it also doubles as a shampoo. Think of this as the quick in-shower pampering experience: pair it with with a loofah for a luxurious hydrating lather that will keep your skin moisturized throughout the day. This budget gem from natural beauty mecca Éclair Naturals looks and feels way more expensive than its price tag suggests, while the natural packaging echoes the scent bottled within: a powerhouse blend of chamomile, arnica, and lemon verbena. Plus, the formula is non-drying, thanks to aloe vera, vegetable glycerin and vitamin E. Oh, and did we mention there's absolutely no animal testing and never any ingredients that can harm your skin or the skin of ones you love?
Insider tip: Even though they feel great on a bone-chilling day, hot showers and baths are extremely drying. Exposure to hot water with temperatures over 98.6 degrees Fahrenheit causes blood-vessel dilation that results in water loss throughout the epidermis. When you towel off, pat—don't rub—your skin dry, and moisturize while it's still damp to help your cream penetrate the skin. Éclair Naturals Creamy Coconut Shower Gel ($8.99)
Moisturizing cream
Whether you have dry skin or just fancy a good scent, a hydrating cream should be a part of your beauty arsenal. Jam-packed with antioxidant vitamin E, shea butter (a powerful oil-free moisture magnet), and sunflower seed oil, this vanilla and orange-scented butter will drench your dry skin in moisture and let you kiss that scaly roughness goodbye. Éclair Naturals prides itself on taking responsibility for your confidence and well being—which runs more than skin deep. They never use any ingredients that can harm your skin or the planet.
Insider tip: Following your shower, immediately coat skin in an unctuous body lotion. Remember to lubricate your skin through your diet, too, by loading up on foods rich in essential fatty acids, like flaxseed, hemp, and olive oil. Throughout the day, wash it all down with at least six big glasses of water. Éclair Naturals Vanilla & Sweet Orange Body Butter ($9.99)