Healthy breakfasts don't have to be intricate or time-consuming to make. No matter what your health goals are, there's always a way to make something that's quick, simple, and nutritious—and even gluten-free and dairy-free—with a few key ingredients.
With a combination of good pantry and freezer staples like chia seeds, oats, frozen gluten-free waffles, and cacao, along with fresh ingredients like seasonal fruit and crunchy vegetables, you can make breakfast in less time than it takes to brew your a.m. coffee or matcha. Because we know you're busy but still want to fuel yourself for the day ahead, here are some ideas for breakfast that you can make in less than three minutes.
Waffles With Tahini Cacao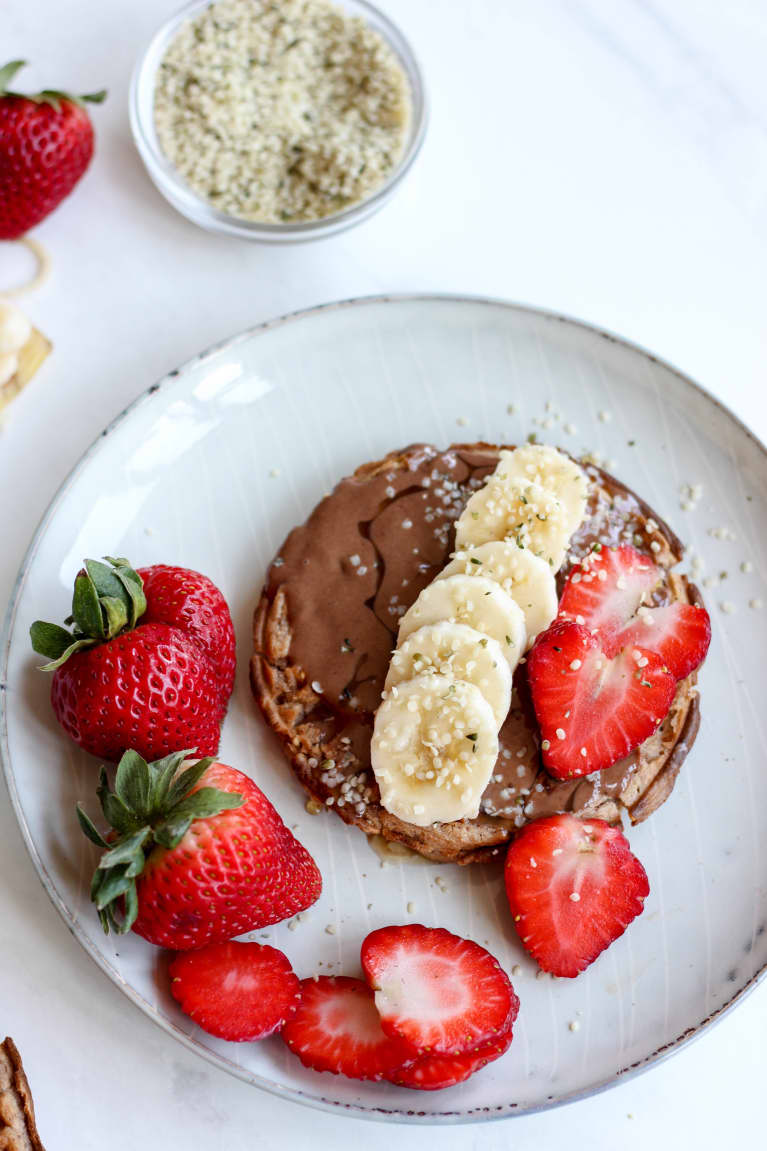 A grown-up chocolate spread, the combination of tahini (ground-up sesame seeds), cacao, and honey is a super-nutritious treat. Whisk together your spread while your waffles are toasting, and you're ready to eat in 3 minutes. Feel free to double the tahini cacao spread for an even quicker breakfast the next time.
Makes 2 waffles
Pop your waffles in toaster. While toasting, in a small bowl, combine tahini, cacao powder, and sea salt, and mix together with a fork to combine. You can add honey to the tahini or once it's spread on top of the waffle.
Top your waffle with tahini cacao spread; top with fruit and hemp seeds and additional honey if desired.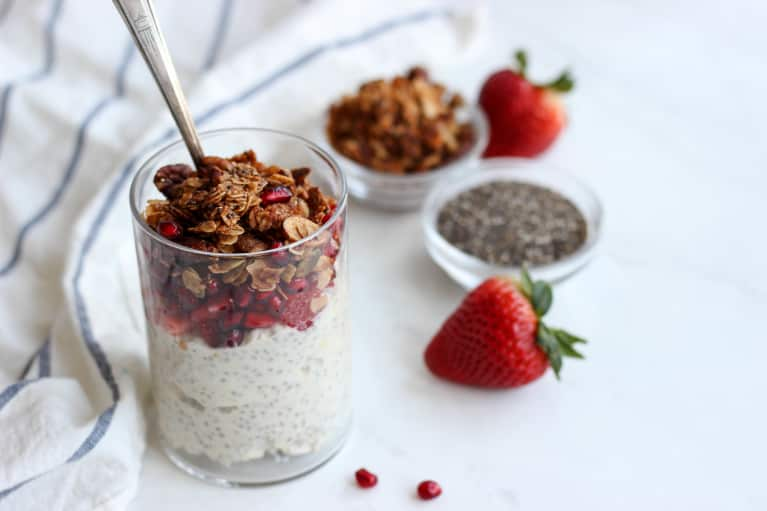 This one is super quick, but it does require a little standing time so the chia seeds and oats can absorb some liquid. It's great to make and let stand while you're getting ready for the day. Or take with you as you're heading out the door. You can prep the oat, chia, and yogurt mixture the night before, too.
Serves 1
1 to 2 heaped tablespoons chia seeds
¼ cup rolled oats
¾ cup dairy-free yogurt (like coconut)
2 tablespoons water or almond milk (optional)
Fresh fruit (berries, banana, pomegranate seeds, etc.)
Granola (optional)
Combine chia seeds, rolled oats, yogurt, and a little almond milk or yogurt.
Note: If you want your parfait really thick, you don't have to add any liquid, but the chia seeds absorb a lot.
Let it stand for 5 to 15 minutes (or overnight) in the fridge. Top with fruit and granola, and enjoy.
Hummus & Crunchy Veggie Savory Waffles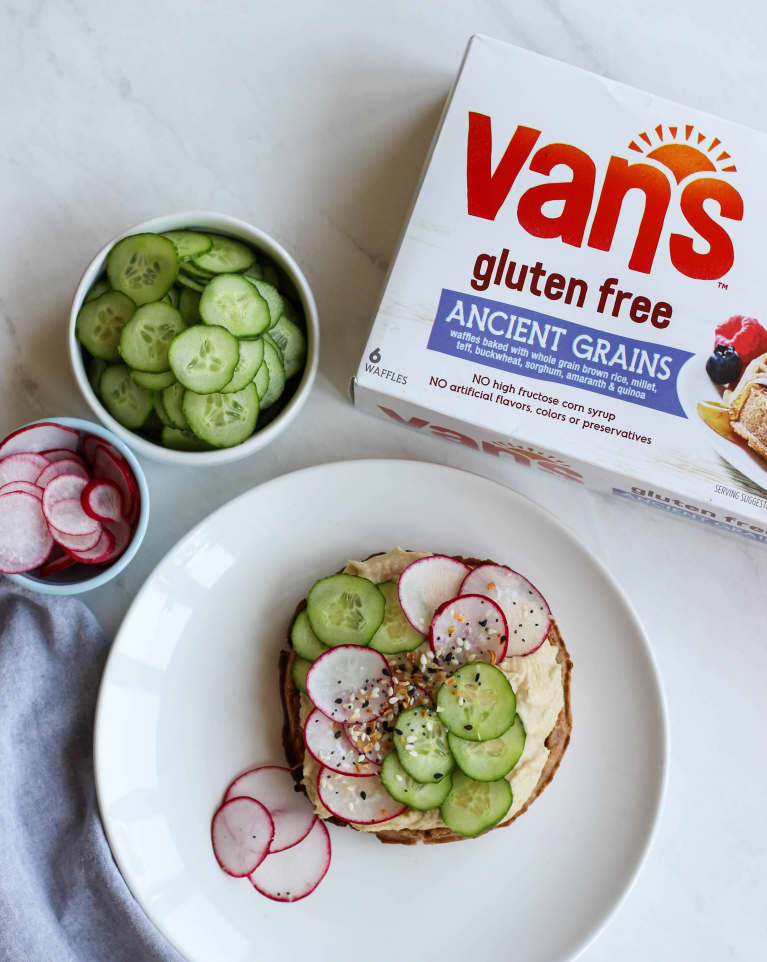 A savory and super-fast breakfast that doesn't include eggs. Hummus brings plant-based protein, and cucumbers and radishes add freshness and crunch.
Makes 2 waffles
Put waffles in the toaster. While the waffles are toasting, slice the radish and cucumber.
Spread each waffle with 2 tablespoons of hummus; top with vegetables and sesame seeds or everything bagel spice.
*You can buy ready-made everything bagel spice in some places, or make your own by combining equal parts sesame seeds, poppy seeds, dried garlic and/or onion granules, and salt.