Carbon Emissions Dropped 17% During The Pandemic — Here's How We Can Keep Them That Way

mbg Sustainability + Health Director
By Emma Loewe
mbg Sustainability + Health Director
Emma Loewe is the Senior Sustainability Editor at mindbodygreen and the author of "Return to Nature: The New Science of How Natural Landscapes Restore Us."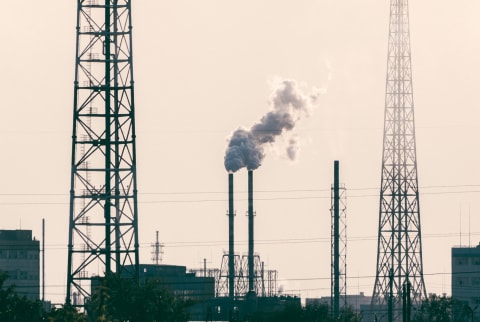 May 20, 2020
Life inside may be tough during a pandemic, but the view out our windows is better than ever. Over the last 10 weeks of lockdown (but who's counting?), clear blue skies, greenery, and a choir of birds have returned to many places across the U.S. This natural revival is part spring returning, part greenhouse gas emissions lowering. According to a study released yesterday in Nature Climate Change, during the height of the pandemic in early April, carbon emissions were down 17% from last year's average daily levels.
Its authors are predicting that 2020 will bring the largest year-over-year emissions drop since World War II, or potentially ever depending on how long stay-at-home orders remain in place. According to their research, the reduction is mostly due to fewer people driving and less activity from the industry and power sectors. Another 10% comes from grounded airplanes.
Advertisement
This ad is displayed using third party content and we do not control its accessibility features.
The authors warn that this progress will probably be short-lived. If life goes back to normal once the lockdown softens, carbon emissions will shoot back up to pre-pandemic levels, if not higher. (After all, a lot of people are probably going to want to hop on a long and emission-heavy flight after this.) "Population confinement has led to drastic changes in energy use and CO2 emissions. These extreme decreases are likely to be temporary, though, as they do not reflect structural changes in the economic, transport, or energy systems," Corinne Le Quéré, Ph.D., a professor of climate change at the University of East Anglia, writes in the report.
Making this 17% cleaner world the new normal is going to take sweeping, systemic change. Here are a few ideas that climate experts have posed for what it could look like:
1. Optimize roads for cycling, not commuting.
In the Nature Climate Change report, Le Quéré proposes that cities and suburbs around the world use this time as an opportunity to invest in electric vehicles and rejigger their transportation systems so that they better support walking and cycling. "The uptake of electric bikes is far cheaper and better for well-being and air quality than building roads, and it preserves social distancing," she writes.
In an offshoot of the paper, Stanford University professor and researcher Rob Jackson adds that cities that have temporarily shut down streets to traffic could also consider permanently opening them up to pedestrians and bicyclists.
2. Lean into teleconferencing.
In order for roads to shut down, there need to be fewer cars on them. Luckily, a lot of people are now realizing that commuting isn't necessarily essential for their job. Instead of requiring employees to come in, if companies kept an extended work-from-home policy in place (even if just for a few days a week), it could dramatically reduce car congestion on the road.
Advertisement
This ad is displayed using third party content and we do not control its accessibility features.
3. Invest in renewables for all.
Jackson writes that for any new climate policy to be impactful, it needs to be inclusive. He considers renewable energy investments to be beneficial for the masses since poorer communities and communities of color often bear the brunt of the world's reliance on dirty energy. "People of color and the poor live closer to coal-fired power plants and car-heavy freeways—the two biggest sources of air pollution that kill hundreds of thousands of Americans a year," he writes. "Clean power coupled with electric cars could give everyone clean air without sheltering at home."
4. Develop a green stimulus plan.
In the U.S., a group of climate and social policy experts recently penned an open letter encouraging Congress to factor environmental reform into its emergency stimulus package (you can read it in full here). The authors have identified opportunity to weave sustainability into measures that both protect public health and stimulate the country's economy. For example, they write that a national green rental subsidy could incentivize landlords and tenants to cut down on energy use and transition to renewables, while grants that support regenerative agriculture would empower farmers and lead to a healthier food system for all.
All of these ideas will require buy-in from the government and private sector, and they won't be implemented overnight. But even if some of them became a reality, it would mean that these months of pain and hardship had at least contributed to brighter days for us and our planet.
Advertisement
This ad is displayed using third party content and we do not control its accessibility features.