Close Banner
Advertisement
This ad is displayed using third party content and we do not control its accessibility features.
paid content
 for

Get Glowing Skin From The Inside Out: A Beauty Insider Shares How
By Lily Kunin
mbg Contributor
Lily Kunin is an Integrative Nutrition Health Coach, cookbook author and business owner living in New York City. She is the owner of Clean Market, a café, apothecary and functional tonic bar.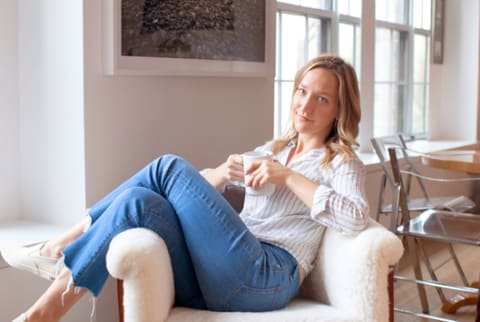 I'm a firm believer in beauty from the inside out, meaning what I put in my body is just as important—if not more important—than what I put on my skin. In fact, even after years of topical treatments, my pesky, stubborn acne did not begin to clear until I started to treat it with what I ate.
For me that meant removing inflammatory foods like dairy and healing my gut with bone broth and probiotics, as well as using gentle, non-irritating natural beauty products. It takes a consistent, steady practice, but incorporating these principles into my daily routine makes me feel fully nourished.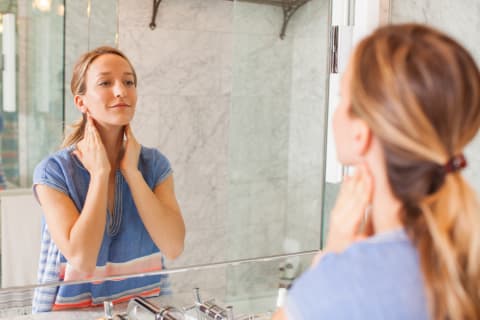 Morning Ritual
I wake up around 7 a.m., slowly get out of bed, and drink a glass of room temperature water. I warm up a small mug of bone broth on the stove and sip this on an empty stomach—it's filled with deeply healing vitamins, minerals, and collagen. I've felt more energetic and noticed healthier nails and skin since starting to sip on broth. A bit later, I'll make sure to have a hearty breakfast before starting the day. I usually have something warming like pasture-raised eggs slow scrambled in ghee with avocado.
My pantry is stocked with tons of ingestibles that I'll play with for an energizing, beautifying morning tonic. I've been making a "bulletproof" matcha—warm water blended with a teaspoon each of matcha, ghee, CAP Beauty stone ground coconut butter, XCT oil, a tablespoon of Sun Potion Tocos, ¼ teaspoon of Sun Potion Pine Pollen, a dash of cinnamon, and raw honey to taste. It's filled with healthy, energy-boosting fats.
As a health coach and having worked for a functional medicine practice, supplements have become a helpful part of my routine. In the morning, I take a B-complex along with some hormone-regulating herbs from my acupuncturist.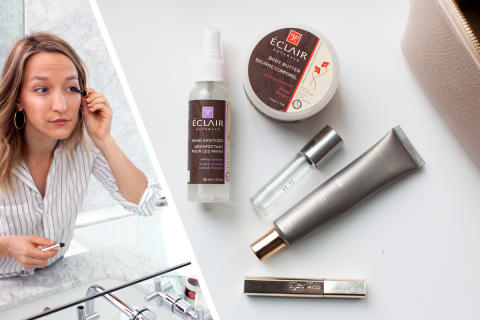 Morning Beauty Routine
I always tuck my makeup in my bag along with some essentials for the day—like Éclair Naturals hand sanitizer and body butter. Both are crucial for getting through crowded subway rides (germs be gone!) and dry NYC winters. I also always carry raw nuts and dried mango for snacking.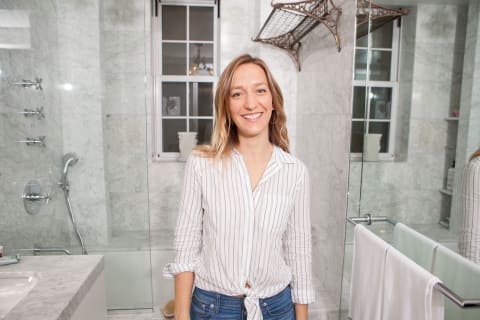 Afternoon Ritual
It's important for me to stay well-fueled during the day to feel good, stay focused, and keep energy high. If I'm eating at home, I'll have a combination of whatever is in my fridge—usually some type of lentils and a grain—with roasted or raw veggies, sauerkraut, avocado, and a tahini dressing. If I'm lucky, I'll have some slow-roasted salmon on hand to add to the bowl.
I try to always have my water bottle filled up, and I love fresh mint tea throughout the day if I have some extra mint in the fridge.
I keep plenty of healthy snacks on hand like hummus and nut and seed crackers, apples and raw almond butter, kombucha, or an elixir with coconut butter and adaptogens like chaga or maca. I recently did some recipe development for fat bombs, so I've been having a couple of those before heading to an afternoon or evening workout—usually a class at Body by Simone or Sky Ting.
Evening Ritual
Cooking is extremely meditative for me, and I love making big pots of stews and chili. Recently, I've been making the red lentil earth curry from my cookbook—it's delicious and a complete anti-inflammatory powerhouse with garlic, ginger, and curry powder. I serve it with steamed rice and veggies. If I'm wiped from a long day of cooking for an event, I usually make a warm grain bowl at Sweetgreen, pick up a house-made soup at Forager's, or head to a casual dinner at Jack's Wife Freda or Souen.
During the winter, I take vitamin D, magnesium, zinc, and vitamin C at night—all essential for health and immunity. I recently read Marie Veronique's book, The Acne Answer, and she spoke to the importance of zinc and vitamin C for skin health and fighting acne. Ideally we would get all these vitamins and minerals in our food but it can be difficult.
On days when I'm able to get some sun or incorporate plenty of foods rich in these vitamins and minerals, I'll skip my evening supplements. This mostly occurs in warmer months. Supplements aren't right for everyone so make sure to work with a health coach or functional medicine doctor to determine which ones are right for you.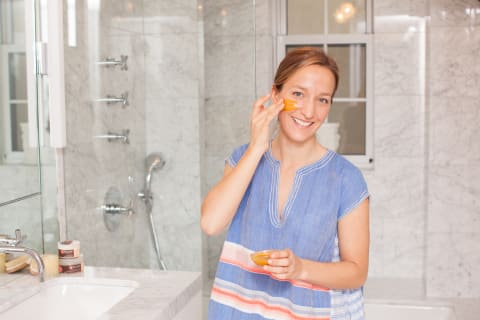 Evening Beauty Routine
I live in New York City so I always like to shower at the end of the day before crawling into bed. I steam my shower up with a few drops of calming essential oils like eucalyptus and lavender, and give myself a nice scrub with Éclair Naturals Himalayan Salt Scrub. I love to soak in the bath a few days each week to release tense muscles or soak up some magnesium, which is especially good you have cramps coming on.
I use the same products on my face as I do in the morning. I double cleanse my face, spritz it with rose mist, and gently wipe it away with a cotton pad (just to make sure all smog and makeup are gone) I follow up with a generous amount of my face serum. A couple days a week I'll do a face mask—I love the Juice Beauty Green Apple Peel or May Lindstrom's Honey Mud. I also make an easy face mask that I share in my cookbook with raw honey, turmeric, tea tree, and a squeeze of lemon. All three leave my skin silky smooth. I get into bed and fall asleep right away, usually for at least 8 hours, and then wake up to do it all again.
More On This Topic
more Lifestyle
Advertisement
This ad is displayed using third party content and we do not control its accessibility features.
Advertisement
This ad is displayed using third party content and we do not control its accessibility features.