paid content
 for

Get 30 Minutes Of Extra Sleep At Night With This New Touch Therapy Wearable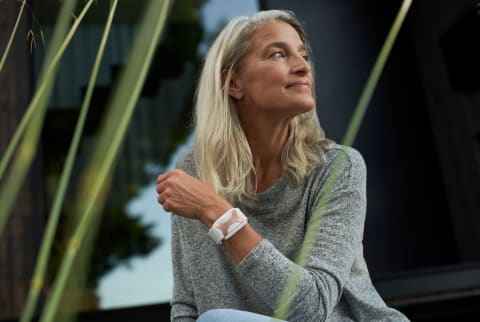 Image by Apollo Neuro / mbg Contributor
November 14, 2022
The world of wearable tech has only grown in the last decade—not only do we have the quintessential wristbands, but we also have innovations like smart rings, glasses, and even belts. But the model behind these devices has always been the same: Throw it on, sit back, and observe as it tracks information about your body and/or lifestyle. But then what?
It's always been up to us to actually do something about it—to come up with stress management techniques for that increased heart rate or bedtime routines for that low sleep score. The insights can be fascinating, but all too often we're left with the frustration of too much data, not enough solutions. What we need is a wearable that actually improves the numbers behind our sleep and stress levels—and now, we officially have one.
What you need to know about the Apollo™ wearable.
Developed by neuroscientists and physicians, the Apollo wellness wearable works by engaging your sense of touch to help improve your body's resilience to stress. It uses silent, soothing vibrations to help rebalance and strengthen your nervous system—helping you go from "fight or flight" to "rest and digest." And the clinical data speaks for itself: After wearing the Apollo, users experienced 40% less stress and feelings of anxiety and 19% more time in deep sleep… But can supporting our well-being be as simple as touch therapy? And how might that work?
The power of touch.
Unlike other wearables, the Apollo harnesses the biological power behind our sense of touch. Just think about how good it feels to hug a loved one after a long day or the pure bliss of snuggling with a doggo. Intuitively, we know touch is powerful—but there's science to back it up too. When we experience touch, the touch receptors in our skin send signals to two areas of our brain—one being the somatosensory cortex, where we typify the touch (soft, rough, hot, cold, etc.). The other is our emotional cortex, where emotions and touch interface.
Touch also has a lot to do with our stress levels, as it stimulates our vagus nerve1—the main component of our parasympathetic (rest-and-digest) nervous system. Because the vagus nerve controls mood, immune response, digestion, and heart rate—it's often thought of as the "breaks" of our stress response. And as the cherry on top, touch releases oxytocin, our "feel-good hormone," which is linked to well-being and anti-stress effects2.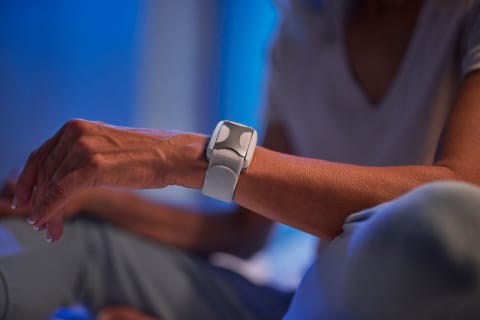 Image by Apollo Neuro / mbg Contributor
Using this wearable for more sleep and less stress.
So, when you strap the Apollo wearable to your wrist or ankle or clip it on your clothes, you have the power of touch on your side. The Apollo works by sending low-frequency, silent sound waves to your nervous system. Each of its soothing vibrations interacts with your touch receptors, sending a message to your nervous system that you are safe and in control. Over time, the Apollo works to strengthen and rebalance your nervous system. Clinical research has shown that it improves heart rate variability, indicating that this device actually helps build resilience to stress.
And when you're less stressed, you sleep better too. As the Apollo trains your nervous system to respond to stress more effectively, your sleep simultaneously benefits. We'll say it again for those in the back: Those who use the Apollo regularly experience 19% more time in deep sleep on average. It's the only wearable that gives you 30 minutes more sleep a night. We're all about data and insights, but there's no beating a wearable that actively improves our well-being.
Control the controllables.
Stress is a natural component of any modern lifestyle—we can't control the fact that our only constant is change. But we can control how we react to it; we can seek out the support and tools that make us more resilient to stress, like the Apollo wearable. Wearable devices aren't going anywhere, but the Apollo is a true breakthrough in terms of what they can do. Because why settle for just numbers when you can have a tool that directly works with your nervous system for tangible results? To start actively improving your health, click here and receive $40 off your Apollo wellness wearable.
Devon Barrow
Branded Content Editor
Devon Barrow is a Branded Content Editor at mindbodygreen. She received her degree from the University of Colorado. When she's away from her desk, Devon is teaching yoga, writing poetry, meditating, and traveling the world. She's based in Boulder, Colorado.
Devon's first book, Earth Women, is coming soon. To learn more, join the mailing list, and receive updates, head to www.devonbarrowwriting.com.