paid content
 for

From Town To Trail: The Perfect Shoes For An Active Lifestyle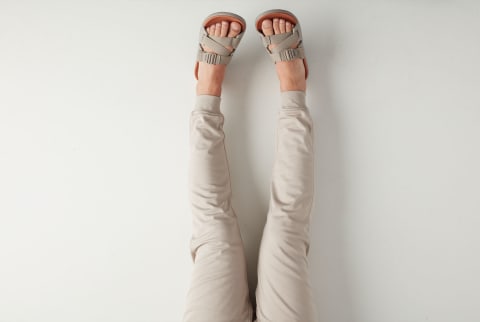 Image by Chaco / Contributor
May 24, 2021
What's the most common answer to "how are you?" We all know this one: busy. While we try not to get too busy, we take pride in our active lives. We find joy in bouncing from household chores to cycling class, to taking our kids to the park and running to the grocery store. It takes some mindfulness to keep the stress at bay, but we wouldn't have our active lives any other way!
The key to managing stress in an active lifestyle comes down to mastering transitions—slowing down the spaces in between to take deep breaths and support our mind and body before we step into our next to-do. And at the most basic level, that step requires the support of a versatile and comfy shoe. Yes, it exists, thanks to the constant innovation of Chaco.
Good shoes are key to happy feet.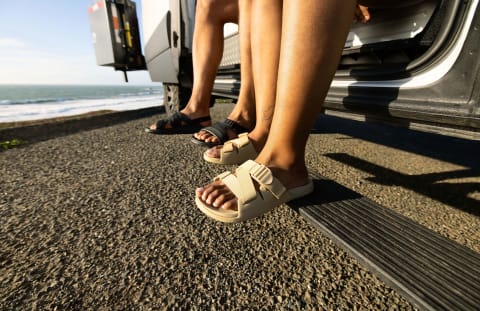 Image by Chaco / Contributor
Everything solid starts from a strong foundation—and for us, that's our feet. With this philosophy in mind, we're looking no further than Chaco to get us from A to B in supreme comfort. Whether we're hitting the town or the trail, we can find the support we need in the Chillos Slide or the Z/Sandals. These shoes are made for busy people. Here's why:
Even running errands should feel comfortable.
Be honest, is the pair of shoes sitting by your front door supportive enough for a full day of errands? Bonus points if they're stylish, like the Chaco Chillos Slide. With these kicks, you're not just sliding into comfort. You're sliding into an engineered design. The signature Chaco LUVSEAT™ footbed fully supports your foot with a contoured arch accepted by the American Podiatric Medical Association. Studies3 have shown that shoes with arch support better absorb shock and distribute contact more evenly (fewer aches later). Whether you're dropping your kids off at school, heading to the doctor, running to the bank, or (more realistically) all of the above, mindful busyness means supporting our body bottom-to-top.
Our feet need to restore and relax post-workout.
Like we said, managing busyness means making more out of transitions. Are we flying out of hot yoga into a pair of flip-flops and heading to the next thing? Or are we slowing down as we step off the mat and back into the world? The Chaco Chillos Slide is the ideal shoe to slide on after we exert ourselves. Nothing better than kicking off the cycling shoes and allowing our feet to breathe. This shoe sets the tone for recovery and relaxation of not just your feet but your whole body.
Versatility matters, from town to trail.
As an active person, you never really know what life is going to throw at you. Maybe it's an impromptu hike, or your kids have successfully pleaded for an afternoon at the pool. Chaco Z/Sandals are versatile sport sandals that ensure you're ready for anything. These sandals have 360-degree adjustability for a cozy, customized fit, as well as the LUVSEAT™ footbed (very lovable indeed). And because we know you don't hold back when it comes to activity, these shoes are a part of the ReChaco Program, meaning you can send your sandals in for repair whenever needed.
We all know how it feels to get an invite to an outdoor adventure, only to look down at the wrong pair of shoes. There's no way to say what the day will bring, but the Z/Sandals allow you to go with the flow. Having that shoe-for-any-occasion is the luxury you didn't know existed, until now.
Treat your feet!
If you're like us, busy life can be rewarding—but only if we stay on top of supporting our body and mind. That's what wellness is all about, isn't it? At the very minimum that requires taking care of our feet. And Chacos makes that simple: Chillos Slides for chilling out, and Z/Sandals for everything else. We know—there's so much to do and see in this life! And it's our happy feet that will take us there.
Devon Barrow
Branded Content Editor
Devon Barrow is a Branded Content Editor at mindbodygreen. She received her degree from the University of Colorado. When she's away from her desk, Devon is teaching yoga, writing poetry, meditating, and traveling the world. She's based in Boulder, Colorado.
Devon's first book, Earth Women, is coming soon. To learn more, join the mailing list, and receive updates, head to www.devonbarrowwriting.com.