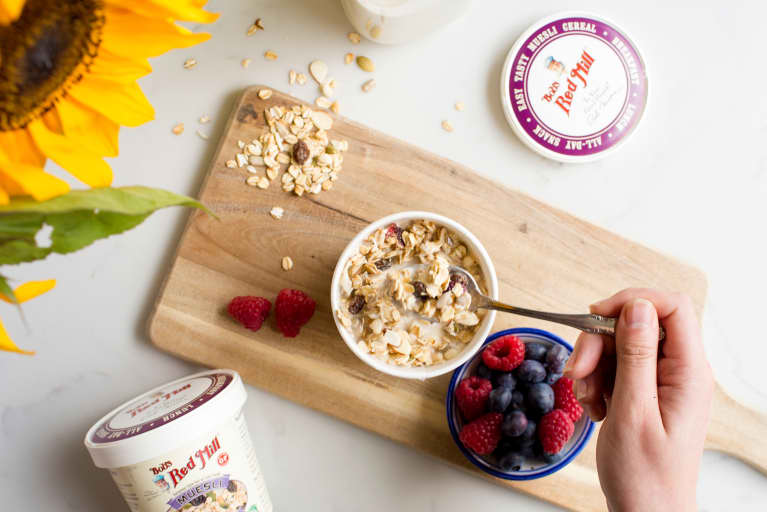 Everyone comes to breakfast with the best intentions—that quickly go out the window after a few too many snoozes, a barking dog, or an urgent work email. If you're someone who plans to start your day on the right foot but finds yourself reaching for a croissant while rushing to catch your train, fear not: There are a few easy breakfast solutions that can jump-start your day in a nourishing way, stat. Here are our five favorites:
1. Fill your freezer with smoothie packs.
While smoothies take barely any time to make, sometimes even that small bit of time is too much. This is where smoothie packs come in. One day a week, fill seven small containers with a smoothie's worth of ingredients—we like a combination of washed greens; fruit (fresh or frozen); a protein like chia, hemp, or collagen; a healthy fat like avocado or nut butter; and a dash of sea salt. Up the flavor ante with add-ins like cinnamon or cacao powder, seal it all up, and stick it in the freezer. In the morning, you can simply blend the pack with water or nut milk and have a smoothie in under 30 seconds.
2. Reach for a Bob's Red Mill Muesli Cup.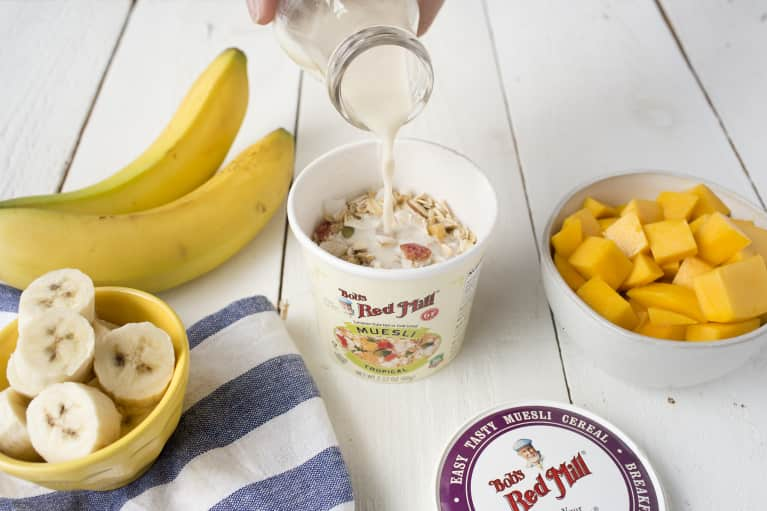 These wholesome cups are perfect for on-the-go eating since they can be enjoyed either hot or cold. Snack straight out of the cup like trail mix, soak with juice or milk in the fridge as you would overnight oats, cook in hot water like oatmeal, or simply add yogurt and enjoy! With an original, tropical, and even a paleo cup (with a genius coconut macadamia base), all made with gluten-free, wholesome, real food ingredients including whole grain oats, dried fruit, nuts and seeds, they contain 5 to 7 grams of protein to keep you full through lunch. Keep a stash in your office desk drawer, and you'll never order a bagel delivery again.
3. Slice open an avocado.
Avocados are one of the healthiest fats around, and they're filling, too—making them the perfect breakfast. If oh-so-trendy toast takes too long, you can simply split an avocado down the middle and top it with a generous amount of Everything Bagel Seasoning. The result is delightfully crunchy and surprisingly satisfying—plus it's ready in under a minute.
4. Make your own energy bars.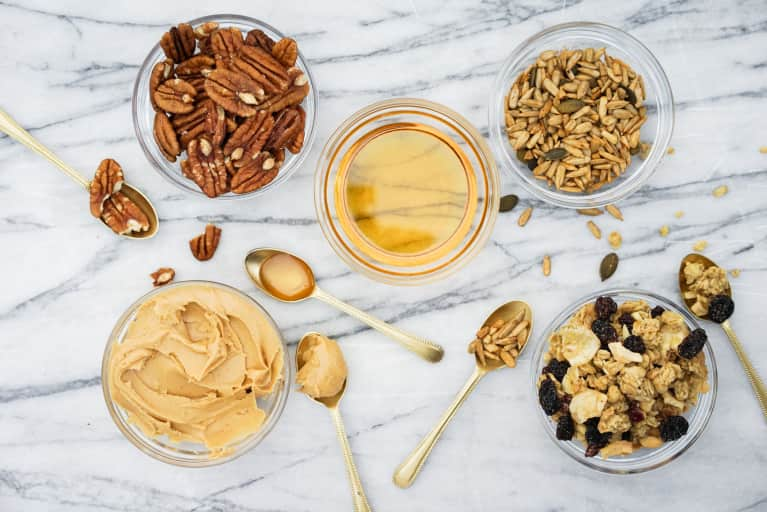 Homemade energy bars are actually really easy to make and are typically far lower in sugar than any type you'd find at the store. Whip up a batch with your favorite ingredients one day a week, then store them in a tightly sealed container to grab-and-go throughout the week.
Hardboiled eggs are the protein-packed breakfast of champions—you can keep a stash readymade in your fridge (they keep for up to a week!), and they come in their own carrying case! The secret to taking this breakfast to the next level? A drizzle of hot sauce and a sprinkle of flaky sea salt. Together, the two elevate the dish from meh to crave-worthy, with no additional time involved.