The Key To These Tacos? Sustainably Sourced Fish: Here's How To Pick
There's something particularly special about seafood in summer, and when paired with good fresh produce, it makes for a perfect light dinner option. This taco recipe comes from the kitchen of Michael Chernow, the founder of Seamore's—a series of sustainable seafood restaurants in New York—and pairs flaky white fish with a fruity salsa in corn tortillas.
"The flavor profile of simple white fish is generally light, clean, and not overwhelming," explains Chernow, "which allows for the ability to layer flavor on top."
When it comes to picking a particular white fish, Chernow likes to look close to home: "Hake, haddock, pollock, cod, porgy, redfish, or tilefish," he explains, "these are the white fish that swim locally to New York."
When it comes to sustainable seafood, shopping locally can be a great place to start—so when making this recipe, let the salsa—a unique but tasty mix of avocado, mango, and strawberries—transport you somewhere tropical while keeping your protein local.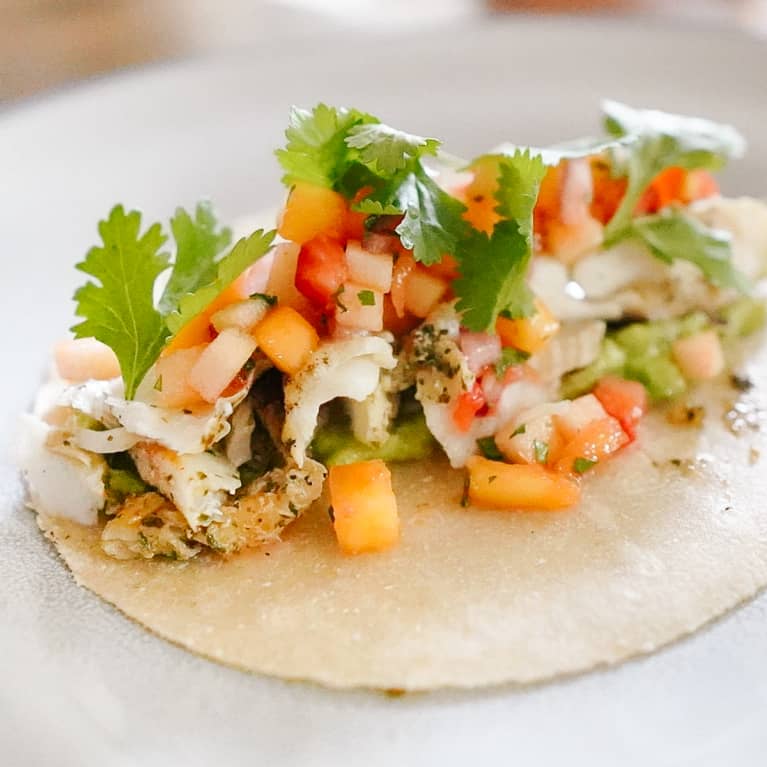 Fish Tacos With Mango Salsa
1 lb. filleted white fish cut into 8 2-oz. pieces (hake, pollock, haddock, sea bass, striped bass, halibut, flounder, fluke)
1 mango
strawberries
1 avocado
½ red onion
4 stems cilantro
1 tbsp. chopped cilantro
3 limes
corn tortillas
salt
2 tbsp. olive oil
For the mango salsa: Peel mango by making 4 slices, the long way, along the skin on each side along the edges, and one slice centered on both the top and bottom of the mango. You should easily be able to peel the skin off.
Cut the mango flesh off of the pit, top to bottom and then whatever else you can get from the sides of the pit. Cut mango into small dice, about ¼-inch cubes; place into mixing bowl.
Open avocado by cutting in half along the pit, the long way, twist and pull apart. Remove the pit by using the blade of your knife; chop blade into the pit, twist, and remove.
Cut strawberries into quarters and mix into salsa.
Scoop out both sides of the avocado with a large spoon; cut into same-size dice as mango; add to mixing bowl.
Cut red onion into very small dice, smaller than mango/avocado; place in mixing bowl.
Add chopped cilantro to bowl, squeeze juice of one lime into the bowl.
Season with salt to taste and mix well.
For the fish: Season fish evenly with salt, a few pinches of salt per piece.
Bring pan over high heat; let get piping hot (30 seconds).
Add olive oil; let oil get hot; it will begin to shimmer and a little smoke will rise, 10 seconds, then bring heat down to medium.
Place fish on pan, away from you; you may need to do a few pieces at time.
Cook fish for 2 minutes per side; place on plate once done, and squeeze juice of second lime over the cooked fish.
For the tortillas: Bring a burner to low heat. Place each tortilla over the grate of the burner; let get warm for 30 seconds per side; should see a little color on the tortilla.
To assemble: Cut third lime into wedges.
Grab 4 plates; place two tortillas on each plate.
Spoon 2 spoonfuls of salsa onto the tortillas.
Place fish on top of the salsa, put two to three cilantro leaves on top of fish serve with a wedge of lime