Finding Your Soulmate & How To Heal Trauma With Biet Simkin
mbg Editor-At-Large
By Olessa Pindak
mbg Editor-At-Large
Olessa Pindak is the editor-at-large at mindbodygreen. Formerly the executive editor at Prevention, she's worked at Condé Nast, Rodale, Martha Stewart Living Omnimedia, and more.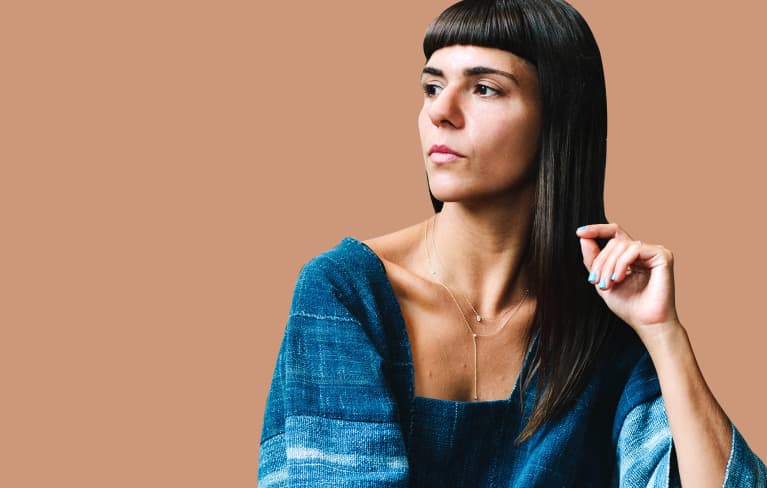 Our editors have independently chosen the products listed on this page. If you purchase something mentioned in this article, we may
earn a small commission
.
Love this? Want more? Stay up to date with the podcast by signing up for
our newsletter
. —The Editors
Biet Simkin is an artist, spiritual guide, and the founder of the Center of the Cyclone, an experience that blends meditation, art, music, and self-reflection. She's also the author of the new book Don't Just Sit There! Her journey to becoming all of these things began in childhood—she was raised by an awakened shaman and was meditating by the time she was two. She grew up quickly when her mother died suddenly from pancreatic cancer when Biet was just six years old, leaving her with her brother and father.
Biet joined me on the mbgpodcast to talk about the ups and downs of her childhood and early adulthood, including signing a deal with Sony records at the age of 20 and battling drug and alcohol addiction for nine years. It wasn't until her father died when she was 28 that she realized, I can't do this anymore. She explains in depth the details leading up to the date she became sober, the birth—then loss—of her first child, and how her life quickly opened before her eyes.
In this episode you'll hear about:
How to know if you're being called to be a spiritual teacher
Why blending music with meditation takes the experience to the next level
The first step in healing your past trauma
How to get honest with yourself and connect with your soul
Her path from the depths of darkness to living in what she calls a blissful state is absolutely inspiring. You'll hear about her unique perspective on mothering her new baby Cash and the week where her body released the trauma of losing her first daughter. Biet's vulnerability allows those around her to be open about their souls and authentic story. "I turned my life over to falling in love with my soul, which I call my soulmate," said Biet, and after listening to this podcast, you may just believe you can do the same.