5 Things You Need To Know Today (February 28, 2018)
mbg Health Contributor
By Gretchen Lidicker, M.S.
mbg Health Contributor
Gretchen Lidicker earned her master's degree in physiology with a focus on alternative medicine from Georgetown University. She is the author of "CBD Oil Everyday Secrets" and "Magnesium Everyday Secrets."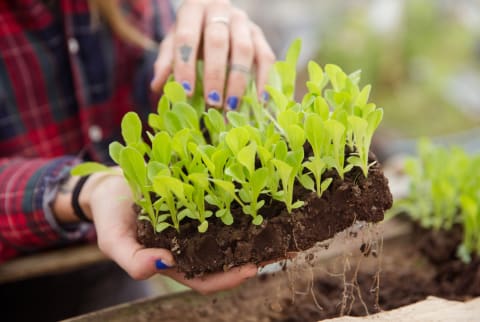 February 28, 2018
1.Things you can do to prevent violence in your hometown? Mow your lawn or start a garden.
New research out of Columbia University found that taking care of vacant lots by landscaping, lawn mowing, starting community gardens, and picking up trash can make a huge difference in crime rates. Taking these measures in neighborhoods below the poverty line in Philadelphia resulted in 30 percent fewer gun-related violent crimes and 13 percent fewer crimes total. (Science Mag)
2. Want a date? Get a dog.
A series of studies and experiments have confirmed that dog owners are much more attractive to prospective dates than non-dog owners. Some study participants even stated that dog owners are perceived as happier, safer, and relaxed when they appear with a dog. (NYT)
3. This meal-planning app is taking a dive into the "food as medicine" movement.
The personalized meal-planning company PlateJoy recently launched an app called PlateJoy Health, which is aimed at diabetes prevention. The app is all about eating in a way that prevents adults from developing type 2 diabetes, and the app even has big health care companies like Blue Cross Blue Shield, Express Scripts, Dignity Health, and Kroger backing and covering it, meaning 20 million people can download the app for free. Three cheers for the food-as-medicine movement. (FoodDIVE)
4. What's the best way to feed a baby? The debate rages on.
Recent studies have shown that spoon-feeding infants can make them less likely to exhibit mindful eating later in life. Now, parents are beginning to play around with "baby-led weaning," which lets infants take more control over their feeding in an effort to shape them into healthier adults. (NYT)
5. If you like penguins, we have some sad news for you.
The world's cutest bird is suffering the devastating consequences of global warming. King penguins require a very specific environment to breed and feed, and that environment is disappearing, putting up to 70 percent of the bird population at risk. For now, there are enough islands for them to keep retreating southward, but that's only a temporary solution. (Science Daily)