paid content
 for

Expecting To Expect? 5 Things You Need To Know About Prenatal Nutrition
Image by BORIS JOVANOVIC / Stocksy
May 7, 2021
Motherhood is one of life's most significant transitions. And from our point of view, becoming a mom doesn't start with pregnancy — it actually starts when a woman decides she's ready. While pregnancy is undoubtedly a miracle and everyone's journey is a little different — it can also be a lot on the mind and body. But, regardless of where you are on that journey, we can't stress enough the importance of prenatal nutrition, starting with preconception health to provide a strong foundation for your pregnancy.
Prenatal nutrition actually starts before preconception 
If you're expecting to expect, "preconception health" is the term to know. Research1 shows that a woman who is healthy at the time of conception is more likely to have a smoother pregnancy and healthy baby. According to the CDC2, babies that were conceived with better preconception health were less likely to be born early or have a low birth weight.
Having a healthy foundation to build your pregnancy on is one of the first (of many) gifts you can give your future child.. Thankfully you can get the fundamentals of prenatal nutrition starting with a prenatal multivitamin.
New Chapter, a Vermont-based vitamin and supplement company, now offers multiple options for a woman to get the nutrition she needs during this exciting time, while empowering her to choose the option that is right for her. New Chapter's One Daily Prenatal Multivitamin fits easily into your busy schedule with one convenient pill that can even be taken on an empty stomach leaving you more time to focus on your growing family, stay active, and connected with your community. In the spirit of keeping it simple, here are the five things you need to know about prenatal nutrition:
1. It's important to have healthy folic acid levels at the time of conception.
Folic acid is a vitamin that all women should be aware of, especially those trying to get pregnant. As an essential B vitamin that our body recruits to make new cells, folic acid is a major player during early development as it supports the formation of the baby's neural tube3 (what becomes the brain, skull, spinal cord, and spine).* Here's the thing: this development happens in the first 28 days after conception, during the time when most women don't know they're pregnant. So, the key is to start supplementing methylfolate (a more bioactive form of folic acid) as soon as you're planning for pregnancy, 3 to 4 months prior to conception. With just one New Chapter One Daily Prenatal Multivitamin per day you are covering your folic acid needs — and already parenting responsibly!*
One Daily Prenatal Multivitamin
Expertly crafted one-a-day prenatal multivitamin delivers high-quality nutrients to nourish baby and you, including cognitive-supporting Methylfolate & Choline, gentle non-constipating Iron, and a clinical dose of Ginger for nausea relief.* Formulated for absorption and gentle even on an empty stomach.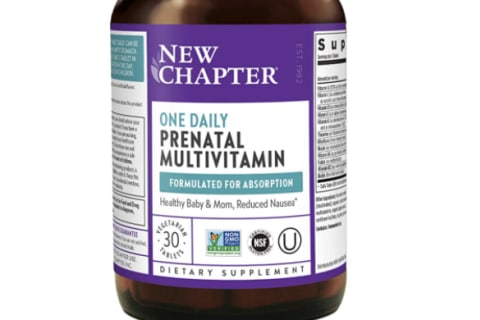 2. Choline, an essential nutrient that's on the rise in prenatal nutrition, helps with brain development.*
Choline is a nutritive compound that also helps to form the neural tube, but affects your baby's brain development and metabolism4, too.* While this essential nutrient is important for all humans, studies4 show that women aren't meeting the suggested intake of choline. Prenatal mamas can help address that dietary gap with a prenatal multivitamin,* and New Chapter's formula has 55 mg of choline per dose. A tip from the pro moms out there: you'll need higher levels of choline during and after your pregnancy if you plan to breastfeed.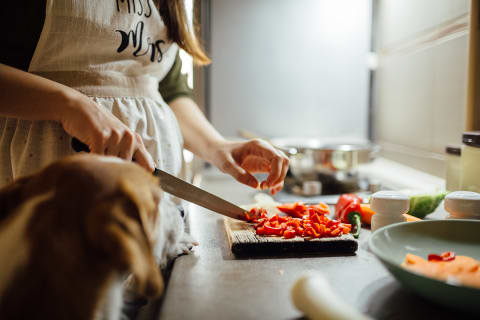 Image by BORIS JOVANOVIC / Stocksy
3. Iron plays a major role in making sure you and your baby are getting enough oxygen.*
4. Add in herbs and superfoods to optimize health and soothe digestion.*
Becoming a new mom demands greater care of your changing body — which is why preconception is the ideal time to be proactive about your health care. New Chapter's Prenatal Multivitamin gives you the kick start you need with with herbs and superfoods for digestive health and beyond* — all in a once-a-day tablet. Beneficial botanicals like ginger, peppermint, and lemon balm make these vitamins easy on your (growing) belly, and may even soothe the morning sickness (who are we kidding, it's all-day sickness for some!) that many moms experience.*
5. Quality matters — only the best for your baby.
While many multivitamins fill our nutritional gaps, prenatal multivitamins support your body with nutrient levels formulated for you and baby* — ideally before the journey begins. Mothers 35-years-old and up may find they need even more nutrition and support from higher levels of key fermented vitamins and minerals. Thankfully New Chapter also offers a One Daily Prenatal Multivitamin 35+, a formula designed specifically for mothers 35 and up, has extra nutrition to support healthy blood sugar levels and blood pressure.*
One Daily Prenatal Multivitamin 35+
One-a-day prenatal multivitamin for moms 35+ provides high-quality nutrients for baby and you, crafted with cognitive-supporting Methylfolate & Choline, higher levels of key vitamins & minerals†, and a clinical dose of Ginger for nausea relief.* Formulated for absorption and gentle even on an empty stomach.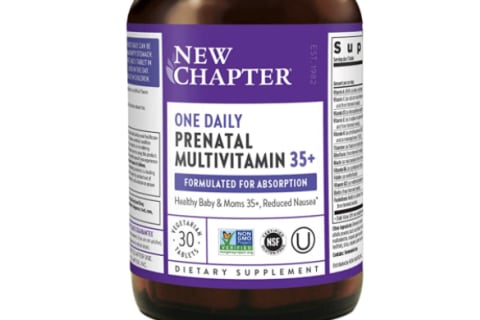 ALL women can benefit from the botanicals and nutrients found in New Chapter multis,* as they're uniquely created through fermentation. Each high-quality vitamin and mineral is fine-tuned and delivered in forms that work best with the body. This means that nourishment can happen on a deeper level. And as you're growing our own little bundle of joy, what feels better than knowing our bodies are happy and healthy? Life only gets more complex with a little one running around. Dial in your best health before the wild ride begins.
*These statements have not been evaluated by the Food and Drug Administration. This product is not intended to diagnose, treat, cure, or prevent any disease.
Devon Barrow
Branded Content Editor
Devon Barrow is a Branded Content Editor at mindbodygreen. She received her degree from the University of Colorado. When she's away from her desk, Devon is teaching yoga, writing poetry, meditating, and traveling the world. She's based in Boulder, Colorado.
Devon's first book, Earth Women, is coming soon. To learn more, join the mailing list, and receive updates, head to www.devonbarrowwriting.com.