6 Chocolates You Can Actually Feel Good About Eating This Halloween

By Carolina Santos-Neves
mbg Contributor
Carolina Santos-Neves is a graduate of the Chef Training Program at the Natural Gourmet Institute for Health and Culinary Arts and is presently the chef of Hungry Beast, (CDMX) a kitchen & Juice Bar that focuses on flavors from all over the world with a focus on using organic and local products.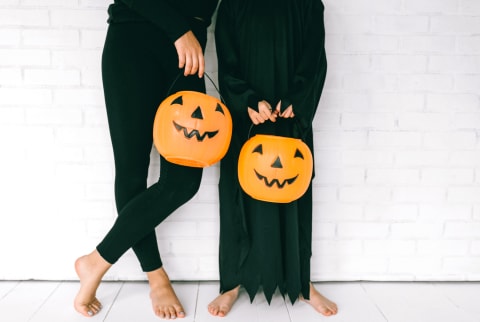 Image by Melanie DeFazio / Stocksy
October 27, 2016
We love costumes, candy, and pumpkin-carving as much as ever. But we also know there's a whole other side to Halloween—a world of spiritual significance to tap into. So, leading up to October 31, we're sharing content aimed to help you connect with your transcendent potential and more effectively create the life you want, from the inside out. In other words, to manifest magic. Today, we're taking a deeper dive into arguably the best part of the holiday: chocolate. Here's how to ensure your Halloween indulgence is a spiritual experience.

Chocolate. No matter what time of day or what time of year it may be, we never really get tired of it. Right? Right.
But there's chocolate that tastes good, and then there's chocolate that's good for the world. We're talking about ethically sourced chocolate that is so dense in flavor that a little piece of a corner can change your life for a moment in time.
We know these bars tend to be a little pricier—anywhere from $8 to $12—but the reason for this goes beyond the pretty packaging. According to Joy Thaler, a founder of CocoaCompassion, anything under $2 was probably made using a process that exploits people.
And so with Halloween around the corner, we wanted to focus our eyes on the prize and talk about how we can eat more chocolate and feel less guilt. For us, ethical chocolate is made using transparent practices that prioritize the environment and the safety of the people growing it, and it's certainly not pumped with additives and chemicals. Here are some terms we're using to describe it:
Bean to Bar
When all is said and done, making a chocolate bar is an 11-step process. Essentially, bean to bar means that the chocolate maker completed all of these steps—from sorting, to production, to wrapping—themselves and didn't outsource help.
Fair Trade Certified
This certification means that the product was made taking into consideration both the people who made it and the planet.
Non-GMO
This means the chocolate was not genetically modified. So what chocolate ingredients could possibly be GMO'd, you ask? Soy lecithin, flavoring like vanillin, and flavor enhancers like maltol.
Organic and Environmentally Responsible
For starters, you should know that up to 40 percent of the cocoa crop is lost every year due to poor maintenance. Why? Because instead of replacing old, infected trees with new ones, manufacturers simply take over more land, which influences biodiversity in a negative way. Malpractice also happens when it comes to the use of pesticides and fertilizers on the crops, so be sure to confirm that your bar was actually made with the environment in mind.
Now that we've got all that important information out of the way, let's talk our favorite ethical brands.
CocoaCompassion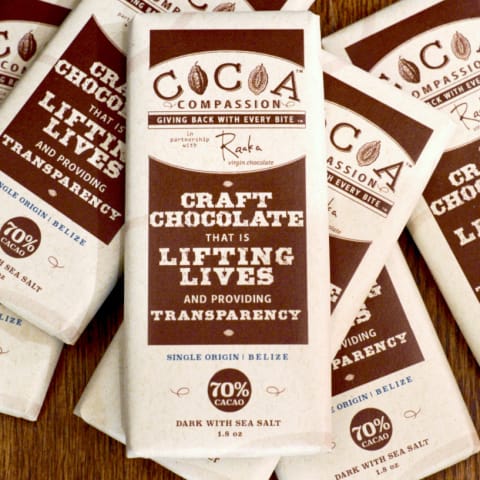 Photo by Cocoa Compassion
This cacao company is truly backed up by compassion. It's building a support system for cocoa farms by working to create a world where small-scale farmers can actually make a living wage. CocoaCompassions cocoa is sourced from Belize (20 percent of each purchase goes back to Belizean farms), and it's manufactured in a bean-to-bar facility in Brooklyn. The 70 percent dark chocolate bar with sea salt is simple but straight to the point.
Hu Kitchen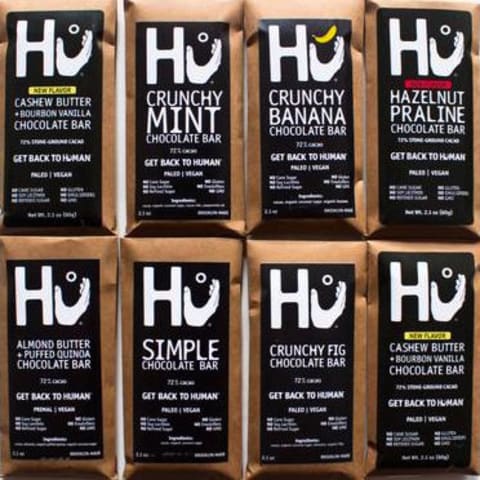 With a philosophy that, "It's time to get back to the way humans ate before industry ruined food," it's no surprise that Hu Kitchen puts only the good stuff into its back-to-basic chocolates. Sourced from Peru and sweetened with coconut sugar, the bars are super smooth with a more mild flavor. The salty variety packs the perfect kick of crystallized goodness. Consider it your new after-work indulgence.
Taza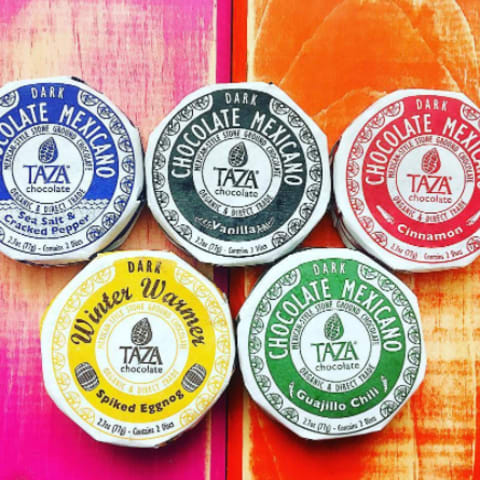 Taza chocolates come in tons of different varieties from all over the world, and you really can't go wrong with any of them. Whether you bite into 84 percent dark chocolate from Haiti or 60 percent dark chocolate from the Dominican Republic, you're bound to get a strong, rich, delicious hit of flavor. We can't get enough of their Mexicano Discs—dark chocolate with subtle pops of crunchy cocoa goodness and infused with ingredients like cinnamon, vanilla, and chipotle chile. The brand's more seasonal varieties (think spiced eggnog, gingerbread cookie, and cranberry pumpkin spice) are basically the holidays wrapped in paper.
Green & Black's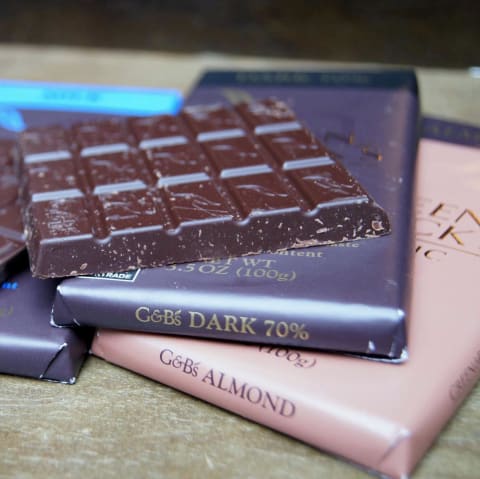 Photo by Green & Black's
Green & Black's name says it all. The green is representative of their dedication to organic practices, and the black speaks to the flavor and intensity of their bars. The spiced chili has only a slight kick but one that keeps you wanting more. The candied ginger is as addictive as it gets. We'd certainly keep buying this chocolate, especially since it's 100 percent fair-trade.
Dagoba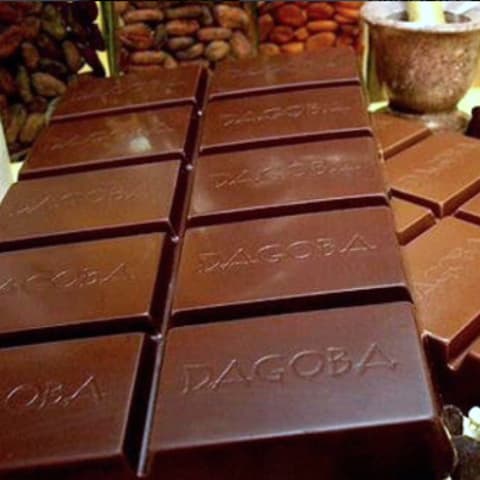 Whether you just want to use your chocolate for drinking, baking, or eating, Dagoba has mastered the art of this playing field. Their cacao beans—all of which come from Rainforest Alliance-certified farms—get turned into 12 unexpected bar flavors ranging from chai to lavender blueberry. Dagoba's dedication to conserving biodiversity and treating their workers with respect is enough incentive to enjoy their chocolate when you can, as best you can.
Ritual Chocolate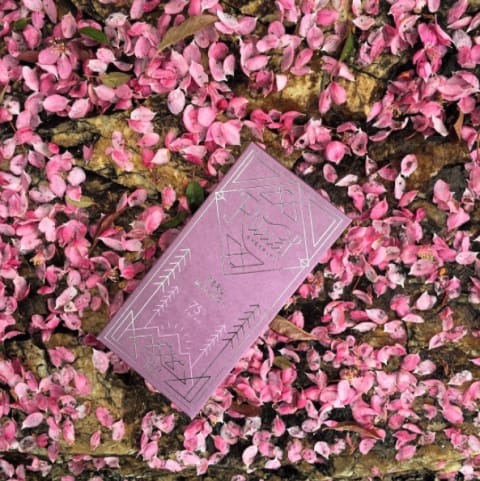 Photo by Ritual Chocolate
This bean-to-bar company's handcrafted technique infuses old European methods with a modern American style. All their bars are no less than 60 percent cocoa and use beans from Peru, Ecuador, Belize, and Madagascar. If you try the Mid Mountain Blend, expect to taste strawberry, fudge, and graham cracker (kind of like how you might describe wine). Yum.

Carolina Santos-Neves
Carolina Santos-Neves is a graduate of the Chef Training Program at the Natural Gourmet Institute for Health and Culinary Arts and is presently the chef of Hungry Beast, (CDMX) a kitchen & Juice Bar that focuses on flavors from all over the world with a focus on using organic and local products. Raised in Brazil, Mexico, and New York and an avid traveler, Santos-Neves was an editor at Epicurious for five years. She's been dinner partying it up with friends and strangers practically since birth. Her favorite foods are ice cream and Brussels sprouts...but not together.