5 Days To Eco-Friendly: One Simple Swap To Make Every Day This Week

mbg Sustainability + Health Director
By Emma Loewe
mbg Sustainability + Health Director
Emma Loewe is the Senior Sustainability Editor at mindbodygreen and the author of "Return to Nature: The New Science of How Natural Landscapes Restore Us."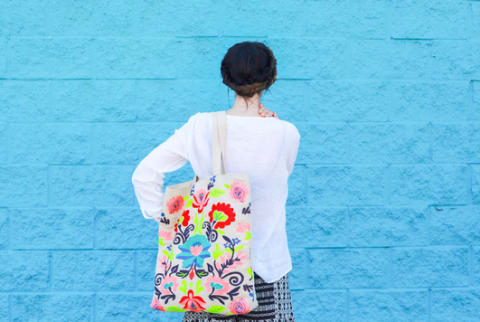 April 18, 2016
Earth Day is coming up this Friday, and what better way to celebrate all week long than with an eco-challenge?
These five fun paths to greener living will help lessen your daily footprint, and hopefully inspire you to make some lasting changes. Each day tackles a different aspect of consumption—think you can make it to the end?
Monday: Have a shower singalong.
OK, I get it. It's Monday. Let's start this "going green" thing slowly and focus on a task that only takes a few minutes to complete.
Cut down on your water use today by timing your shower to your favorite song. Put on a tune that you love (preferably one that lasts less than five minutes), hop in the shower, sing your heart out, and hop out by the time it ends. The average American spends eight minutes in the shower a day, and uses about 18 gallons of water—see how much you can shave off this number today!
Tuesday: Make a zero-waste dinner.
It should come as no surprise that food waste is a huge problem—nearly 40 percent of food in the U.S. (along with the money, water, and energy used to create it) eventually ends up in a landfill.
Today, test your culinary creativity by preparing a dinner that's entirely waste-free. That means no broccoli stems tossed in the trash, no misshapen tomatoes cast aside, and no leftovers thrown away—everything that's edible should be, well, eaten. Anything from overripe bananas to avocado pits can be incorporated into a tasty meal, so take a cue from professional chefs like Dan Barber and reformulate your trash into tasty treasures.
Wednesday: Revamp your closet.
What do you see when you open the door to your closet? A cohesive collection of clothes that were intentionally chosen and reflect your personal style? Or is it a hodgepodge of pieces that you love mixed with a few impulse buys you snagged off the sale rack and have worn only once?
Today, take a few minutes to make some mindful edits to your wardrobe. Take stock of what you have and consider what you could stand to part ways with. Place anything you haven't worn in over a year aside to give away to charity, and make a pile of clothes that need mending or can be upcycled into new goods. Once you've pared down your wardrobe a bit, take note of where you have multiple versions of the same piece and where the gaps lie.
Keep these in mind the next time you go shopping. The fashion industry is an extremely resource-intensive one, so put thought into each purchase—do you really need another pair of jeans, or should you hold off and invest in a jacket you'll wear over and over again instead? Skip over fast fashion in favor of higher-quality items that were ethically made using sustainable materials. This nifty guide to creating a more sustainable wardrobe will help you spot pieces that are worth your cash and closet space.
Thursday: Ditch the plastic.
Ready for a shocking stat? It's estimated that by 2050, there will be more plastic in the ocean, by weight, than fish. Plastic is one of the most egregious environment offenders, because it's in just about everything and is often thrown away after just one use.
Today, in what's likely the toughest challenge of the week, see if you can last the entire day without using any disposable plastic. That means no plastic shopping bags, no plastic-wrapped food, and no single-use cutlery. If you're packing your lunch, transport it in reusable glass or steel containers. If you're going grocery shopping, stick to loose fruits and veggies and grains and beans from bulk bins. Prepare to be surprised by just how difficult it is to avoid the stuff—I sure was when I tried this challenge out myself.
Friday: Invest in some green.
Happy Earth Day! Celebrate the planet and all that it's given you by bringing some of the outdoors in today. Buy a plant for your home and let it serve as a reminder of the beauty of nature and your commitment to live a little greener.
16 Easy Ways To Make Way Less Trash In 2016
17 Insanely Easy Ways To Make Your Life A Little Greener