3 Easy Sauces That Will Make Your Holiday Vegetables 100x Better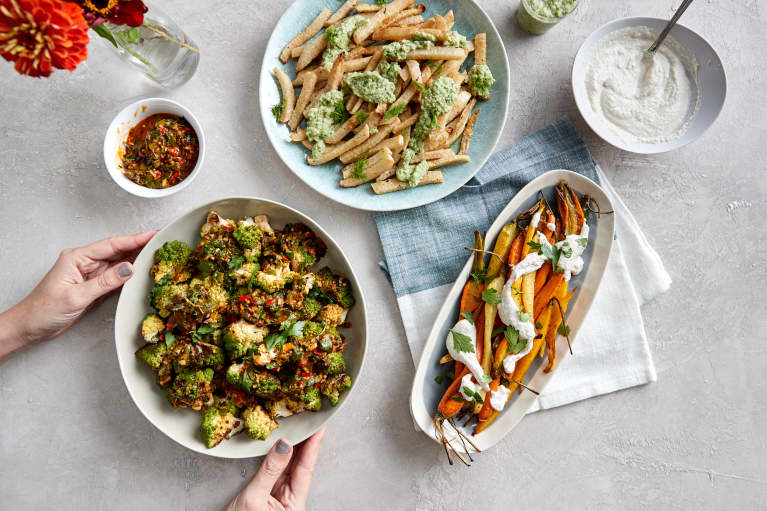 The holidays are all about adding that extra somethin' somethin' to the family dinner table. And the secret to an impressive side of seasonal veggies that's delicious and saves you time? It's in the sauce. Or rather, it is the sauce.
We whipped out our Vitamix to help us make three fail-proof roasted veg dishes, each topped with a yummy sauce that comes together in seconds. They're perfect for all your upcoming festive gatherings (and real talk: we just might add them to our weeknight dinner rotation). Just don't say we didn't warn you when everyone asks you for the recipe. They're all below!
Roasted Carrots With Tahini Almond Cream
1.5 pounds carrots, peeled
2 teaspoons olive oil
salt and freshly ground black pepper to taste
3 tablespoon tahini paste
3/4 cup peeled almonds, pre-soaked in warm water for 30 minutes
3 cloves garlic, peeled and smashed
2 teaspoons sea salt
1/2 cup lemon juice
1.5 cups cup of chopped parsley
Preheat oven to 375°F. On a sheet tray, spread carrots in a single layer. Drizzle with olive oil and season with salt and pepper. Transfer to the oven and roast for 30 to 35 minutes or until slightly charred and soft when pierced with a knife.
In the meantime, make the tahini almond cream; place tahini paste, presoaked drained almonds, garlic, lemon juice and salt in your blender. Process until smooth and velvety, adding cold water if needed to think out the cream's consistency.
Remove carrots from the oven, transfer to a festive platter and drizzle with the almond cream and top with the chopped herbs.
Roasted Romanesco With Red Chermoula
2 heads of romanesco, cut into florets
1 tablespoon olive oil
2 cups parsley leaves plus leaves for garnishing
3/4 cup red wine vinegar
2 tablespoons tomato paste
2 red Fresno chile
6 garlic cloves
1 teaspoon teaspoon salt
2 jalapeños seeded and diced
2 teaspoons smoked paprika 1 teaspoon ground coriander
1/2 cup extra virgin olive oil, to taste
Preheat oven to 425°F. Toss romanesco florets with the olive oil, season with salt and pepper. Spread on an even layer on a sheet tray and transfer to the oven. Roast until soft and golden for about 25 to 30 minutes.
In the meantime, prepare the red chermoula. In your blender, place all of the sauce ingredients and process until the texture is chunky and with texture.
Remove romanesco from the oven, transfer to a pretty platter and drizzle with the sauce.
Roasted Jicama With Pepitas Chile Salsa
2 large jicama, peeled and cut into matchsticks
1 tablespoon olive oil
Salt and freshly ground black pepper to taste
1/2 pound tomatillos, with out husk
1 small fennel bulb, cored and diced, fronds reserved 1 cup cilantro leaves
1/2 cup pepitas, green pumpkin seeds
1/4 cup lime juice
sea salt to taste
1/2 teaspoon ground chili powder
Preheat oven to 425°F. Toss jicama matchsticks with the olive oil, season generously with salt and pepper. Transfer to the oven and bake for 20 minutes and flip, continue baking until golden, about 20 more minutes.
In the meantime prepare the salsa. Place all ingredients in your blender and process until smooth.
Remove jicama from the oven and transfer to a serving platter. Serve with salsa on the side and garnish with reserved fennel fronds.