You'll Win Easter With This Simple, Gut-Healing Peeps Recipe
Contributing Food Editor
By Liz Moody
Contributing Food Editor
Liz Moody is a food editor, recipe developer and green smoothie enthusiast. She received her creative writing and psychology degree from The University of California, Berkeley. Moody is the author of two cookbooks: Healthier Together and Glow Pops and the host of the Healthier Together podcast.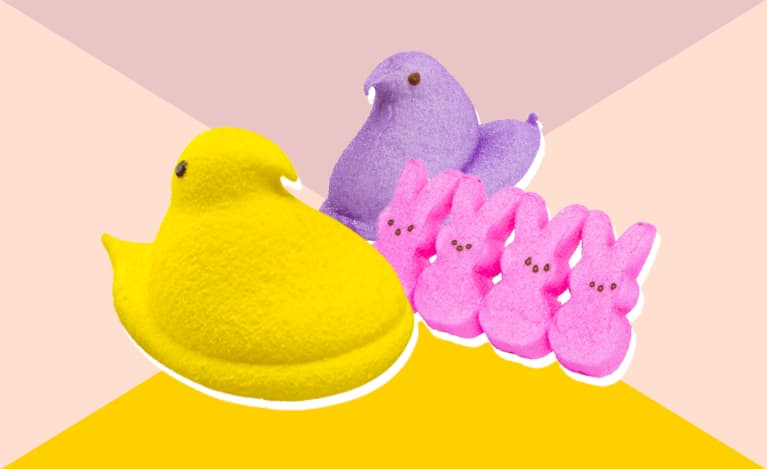 Our editors have independently chosen the products listed on this page. If you purchase something mentioned in this article, we may
earn a small commission
.
Peeps are perhaps the classic Easter food—unmeltable in plastic Easter eggs, even on the hottest days, brightly colored with pastels to usher in spring, and airy enough to eat, well, more than you probably should without feeling too sick. The packaged variety, though, relies on artificial colors and refined sugar for its cheery holiday look and flavor—which is where this easy, healthier version comes in.
They rely on one of the best gut-healing ingredients around—grass-fed gelatin. Gelatin is what makes marshmallows, well, marshmallows, but it's also incredibly anti-inflammatory, and packed with amino acids that help seal and heal the lining the of the gut (you may be particularly familiar with its cousin, collagen, which won't help things gel but is also great for your gut—and has become a bit of a trendy favorite these days). When bloomed and whipped with honey, the gelatin turns into marshmallow fluff, which dries into perfect marshmallows.
If you're feeling fancy, you can use cookie cutters to make small bunny shapes (this one is very Peep-like), but you'll get the same general effect by cutting them into squares and rolling them in colored sugar.
4 tablespoons grass-fed gelatin powder (both Vital Proteins and Great Lakes make good versions)
1 cup water
1 cup honey
1 teaspoon vanilla extract
1/4 cup organic sugar sprinkles in color of choice (or make your own, see note below)
Pour 1/2 cup of water into a large mixing bowl.
Add the gelatin and stir well to combine.
In a small saucepan, mix together the honey, vanilla, and remaining ½ cup water, bringing to a boil over medium-low heat.
Boil for 8 minutes, stirring constantly.
Remove the saucepan from heat and pour the mixture slowly into the gelatin-filled bowl (the gelatin will be solid by then) while beating with a handheld mixer or stand mixer.
Beat on medium until mix becomes white and soft peaks form, about 8-12 minutes, before pouring into a parchment-lined 8x8 pan.
Let cool for about an hour before cutting into squares or shapes (they'll be slightly sticky— I rub my knife or cookie cutter with coconut oil or arrowroot powder) and rolling into sugar sprinkles, pressing them into each side until well coated.
Makes about 24 marshmallows that keep for 1 week at room temperature.
Note: To make your own sugar sprinkles, combine a few drops of organic food coloring with cane sugar in a small bowl. Mix it well, then lay out flat on a piece of parchment paper for about an hour while it dries.