The Easy Hack To Always Having A Healthy Dinner On Hand
You've had a busy day, and when you finally get home, you're starving and don't want to spend a long time cooking dinner. Sound familiar?
If it does, breakfast for dinner is the game-changer you need in your life, and it's already right in your freezer.
Van's Foods makes healthy, quick weeknight dinners a no-brainer with their frozen waffles. With a few simple add-ons, you can easily throw together a balanced meal that will nourish your body and help you unwind no matter how rushed or hectic your day has been.
Sometimes it can be tricky to find suitable gluten-free options that deliver on taste and nutrition, but each serving of Van's Gluten-Free Ancient Grain Waffles offers up 3 grams of satiating fiber plus 23 grams of whole grain goodness from ancient grains like amaranth, brown rice, buckwheat, millet, quinoa, sorghum, and teff. They're also free of corn, dairy, eggs, and nuts—perfect when you're navigating multiple food allergies or sensitivities.
Whether you're cooking for just yourself or for your whole family, this relaxed approach to dinner is easy to customize and modify depending on individual needs and preferences.
Think beyond butter and syrup for toppings, and try these no-recipe ideas. One delicious jumping-off point: Try thinking about waffles as a sub for regular bread. Here are a few ideas to get you started.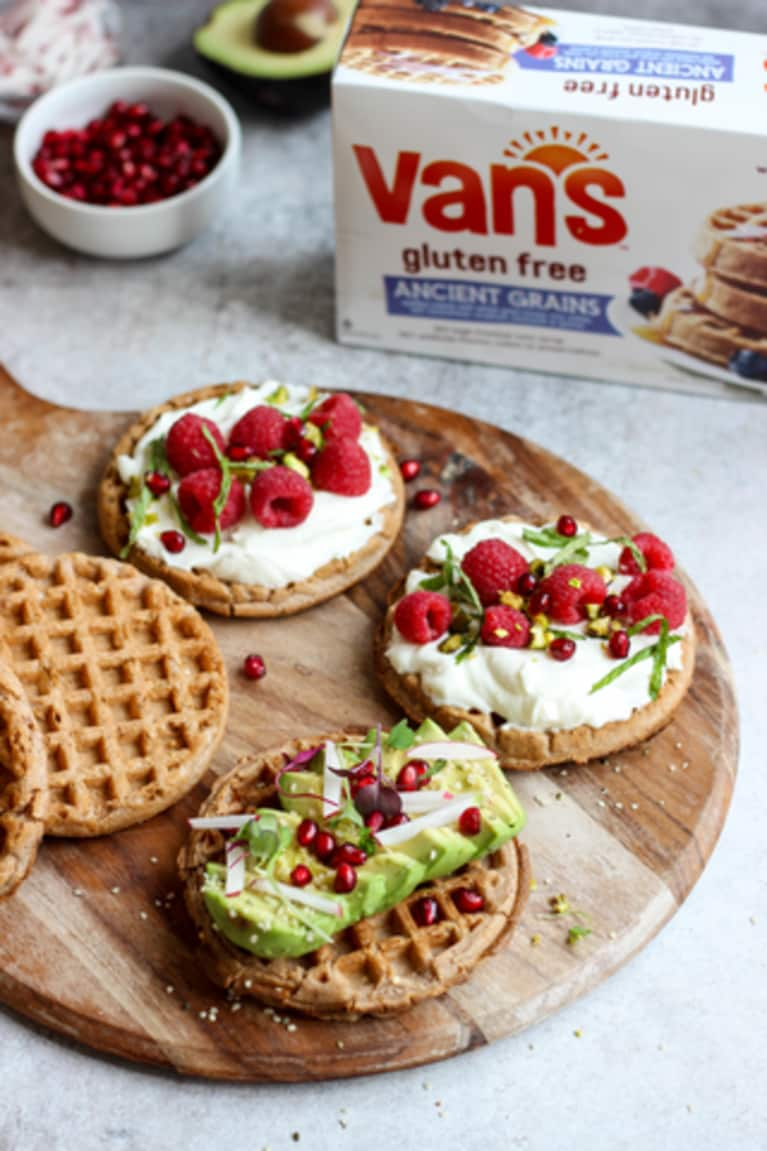 This crowd-pleaser will put you in a weekend brunch mindset any day of the week. Start with a third to a half of an avocado and then get creative with toppings.
Add extra protein with an egg, smoked salmon, sardines, or a couple of tablespoons of hemp hearts. Nutritional yeast also adds a nice savory flavor plus extra nutrients, and you can add extra crunch along with fiber and plant-based omega-3 fatty acids.
Avocado toast is a natural pairing for bright colors and flavors like tomato, radishes, carrots, and pomegranate seeds. Leftover cooked veggies are also delicious on avocado toast.
You can also keep it super simple with a dash of Himalayan salt and perhaps a squirt of lime or lemon juice.
If desired, pair with a side of greens for some extra veggies, and you've got yourself a well-balanced meal.
That egg sandwich you love for breakfast? It totally works for dinner, too! Swapping out bread for Van's Gluten-Free Ancient Grains Waffles is a fun way to mix it up. Whether you opt for poached, sunny-side-up, over easy, scrambled, or hard-boiled, it's hard to go wrong. Add any veggies you like for extra flavors and nutrients. Experiment with adding hummus, your favorite cheese, or a fun extra like eggplant or mushroom bacon.
When you want something on the sweeter side, a humble nut butter and jelly sandwich makes a totally respectable easy dinner. Upgrade the experience with waffles and substitute jelly for fresh fruit.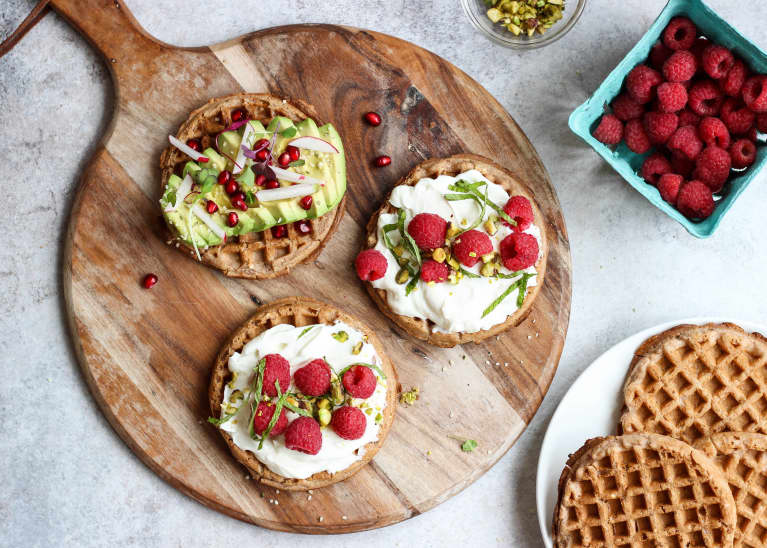 Open-Faced Sandwich-Style
Spread each waffle with plain Greek yogurt or Skyr, ricotta, or cottage cheese, and then top with your favorite sweet or savory additions. A few to try:
Sliced fig, hazelnuts, and maple syrup
Fresh berries
Sliced tomatoes, fresh basil leaves, sea salt, pepper, and a drizzle of olive oil
Roasted vegetables
If you've never made waffle French toast, you're in for a treat. In a small bowl or shallow baking dish, whisk together an egg or two, your milk of choice, cinnamon, and vanilla. Toast up a couple of waffles and dip in the egg mixture. Cook in a lightly greased skillet until browned on each side. Serve with a touch of maple syrup and berries if desired.
Another fun French toast hack is to lightly sweeten ricotta with maple syrup, honey, or stevia and spread on one side of each waffle and make a sandwich before dipping and cooking. If you don't like ricotta or don't eat dairy, nut butter is a delicious, satisfying alternative.
On a plant-based diet? You can do a vegan twist on French toast by using nondairy milk and ground chia seeds instead of eggs. Nutritional yeast and almond or coconut flour are also some ingredients to experiment with to thicken the milk mixture.
Want a more traditional breakfast for dinner?
Of course, you can enjoy waffles alongside other breakfast favorites like eggs and fruit or even a tofu scramble.
You can also make your waffle a balanced meal by adding a high-protein topping like nut butter, yogurt, ricotta, cultured cottage cheese, or your favorites nuts and seeds. If you're cooking for a crowd, how about setting up a waffle bar where everyone can pick their own healthy toppings?
When you start with a healthy, whole-grain waffle, your options are endless.