Last month, mbg hosted the first-ever #mbgrevitalize Los Angeles Supper Series in Venice, the West Coast's wellness hot spot. Founders Jason and Colleen Wachob invited mbg's California community to dinner and a panel discussion devoted to discussing healthy food, and how it's becoming easier to access and more delicious than ever.
Wellness leaders like Caley Alyssa, Shauna Harrison, and Shaman Durek joined actors Nikki Reed, Ian Somerhalder, and Bonnie Wright to listen to Purely Elizabeth founder Elizabeth Stein speak with Thrive Market's founder Gunnar Lovelace about the founding of their brands.
"There's been a huge push to bring wellness to the masses," said Stein. "Eight years ago when we started [Purely Elizabeth], I thought we'd be this obscure product in the back of Erewhon, and now to be accepted by such mainstream retailers says so much about where consumers are today. Originally we were focused on Whole Foods and Thrive and now to be going out to places like Target and Walmart is incredible."
What was on the menu for an evening all about nutritious food? A meal of Avocado Vichyssoise and vegan Carrot Osso Buco, all made from ingredients sourced within 100 miles of Los Angeles. But the highlight of the meal was dessert, two decadent but healthy treats made from Purely Elizabeth: Blackberry Cashew Cheesecake Bars and Blueberry Granola Crisp.
Now you can have a taste of mbg's supper series at your next supper!
Blackberry Cashew Cheesecake Bars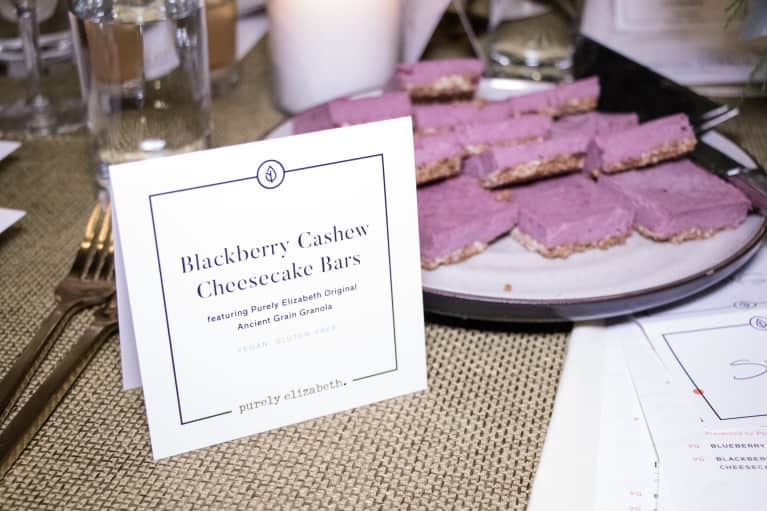 Makes 1 8x8 pan
Recipe from Dani Nemeh
Ingredients
Crust:
Vegan Cheesecake Filling:
1 ½ cup soaked raw cashews (3 hrs)
⅓ cup pure maple syrup
⅓ cup coconut oil
½ cup blackberries
1 tablespoons vanilla extract
Juice from one lemon
Soak cashews for 3 hours
Make crust: Give it a whirl in your blender. spread and press firmly down in an 8X8 pan covered in parchment paper.
Make filling: Blend it all up until smooth. pour cheesecake mix over crust place in the freezer.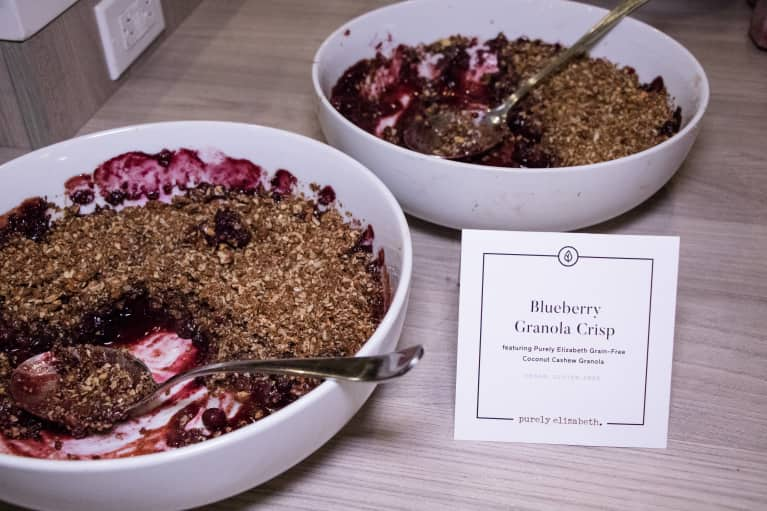 Makes 1 baking dish
Ingredients
Filling:
3 cups blueberries, fresh or frozen
3 teaspoons cinnamon
½ cup coconut sugar
2 tablespoons arrowroot powder
½ lemon, juiced
2 tablespoons coconut oil or vegan butter
Preheat oven to 350°F.
Make filing: In a large bowl, toss blueberries with the sugar, lemon juice, cinnamon and arrowroot, then spread in a baking dish.
Make topping: In a small bowl, combine granola with the coconut oil or vegan butter.
Sprinkle topping onto the filling.
Bake for 20 minutes, or until topping is golden and filling is bubbling.
Serve with non-dairy ice cream.