Don't Go On Vacation Without These 5 Supplements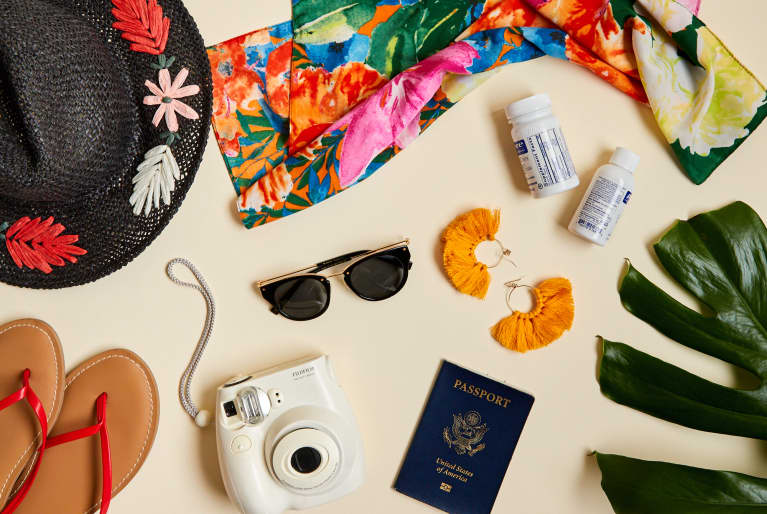 Summer is here, and we all know what that means: vacation, vacation, vacation. And while there's nothing better than relaxing on a beach, exploring a new city, or just taking some time off work to hang with the family, summer travel can also be hard on our bodies.
For starters, it's typically hot and humid, we're not eating and exercising on the same schedule, and it's hard to disagree with the fact that travel, especially flying, can be stressful even if it's for pleasure. Sadly, our summer travel can leave us sleep-deprived, dehydrated, and fatigued from the lack of high-quality nutrients we normally get from our leafy-green-rich diets. Not to mention, most of our digestive systems also take a hit.
So what can we do about it? A targeted supplement routine can help us tackle the most common health woes that often accompany us on our vacations. Don't board that train, plane, or bus without these five in your suitcase: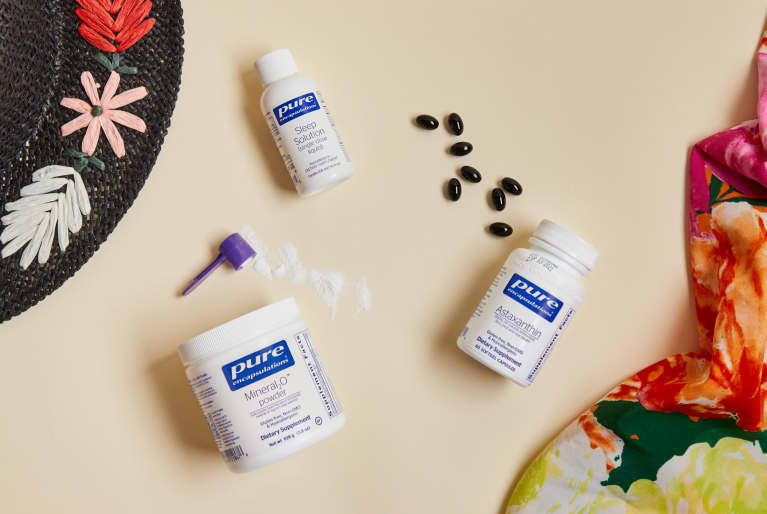 Magnesium, also known as "nature's relaxation mineral," is important for a wide range of bodily functions, but many people swear by it for combating stress and occasional sleeplessness. Sleep Solution by Pure Encapsulations is available in convenient, single-serve, ready-to-drink bottles and features magnesium, L-theanine, and melatonin to help promote a restful night's sleep and encourage overall relaxation no matter what time zone you find yourself in.‡
It's easy to skimp on essential minerals when we're out and about, which is why this new Mineral2O powder is perfect for longer trips. You just add a scoop to your water each day for a boost of highly absorbable forms of major minerals like calcium, zinc, and potassium to promote daily wellness and cellular function, meaning things like cellular energy production and neurotransmitter synthesis.‡ The best part? It's virtually taste-free and absorbs with just a few quick stirs.
We can stick to the shade, lather on the sunscreen, and wear protective clothing all we want, but sometimes we can still get a little too much sun. Unfortunately, sunburns mean cellular damage, and that is bad news for our health. Although no supplement is a substitute for sunscreen with an appropriate SPF rating, data has shown that antioxidants, such as astaxanthin, can help combat free radicals, so add it to your summer regimen or bring it along in your beach bag.‡ Like all of their products, Pure Encapsulations' Astaxanthin is free from artificial flavors, coatings, gluten, artificial sweeteners, magnesium stearate, and hydrogenated fats. In other words: It's full of all the great nutrients you want—without any fillers of unnecessary ingredients.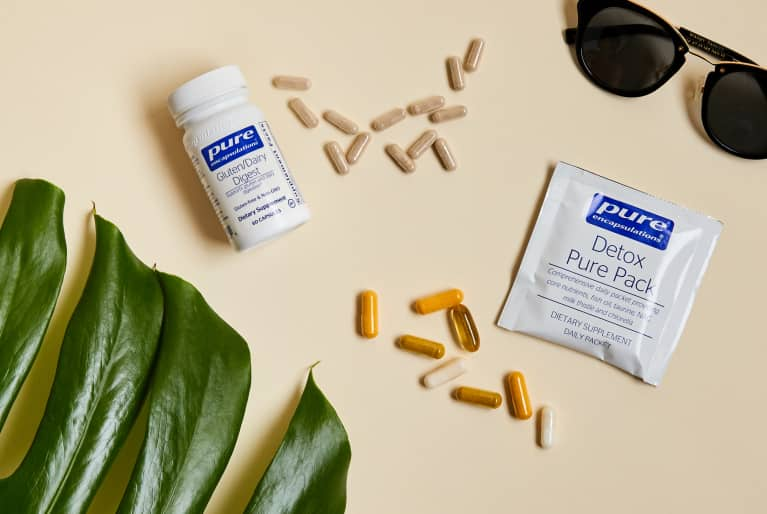 Gluten and dairy are two foods that should be enjoyed "in moderation" for the sake of our gut health, but vacation is the perfect time to indulge in that ice cream cone or chocolate croissant you've been daydreaming about. That being said, some of our favorite summer foods can be tough on our digestive system, which is why keeping these Gluten/Dairy Digest supplements on hand is a game-changer. They contain a mix of enzymes to support normal gluten, casein, beta-lactoglobulin, and lactose digestion.‡ So go ahead, order that cheese plate!
Maintaining optimal liver health is crucial to our overall health, which is why Pure Encapsulations' Detox Pure Packs are the perfect multi to bring with you on your next trip. They contain vitamins and minerals in their most bioavailable forms to support healthy detoxification.‡ They come in convenient single-serving packets so you can throw them in your purse.
Life is all about balance, and we all deserve to feel our best when we're at home and on vacation. Supplements aren't a replacement for a healthy diet, exercise routine, and stress management practices, but they can help fill in the gaps created by travel and busy schedules so we can really embrace the positive energy of the season!
‡ These statements have not been evaluated by the Food & Drug Administration. These products are not intended to diagnose, treat, cure, or prevent any disease.