The Sleeper Effect: Why Divorce's Impact On Kids May Only Show Up In Adulthood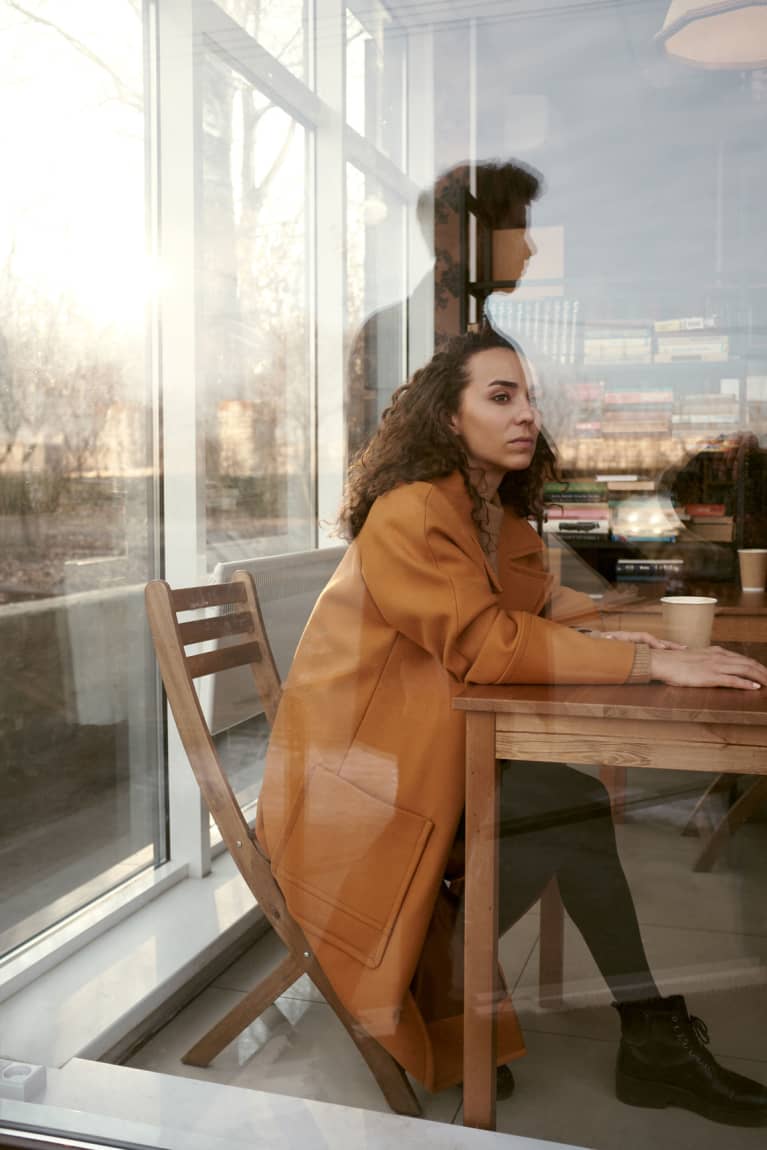 Our editors have independently chosen the products listed on this page. If you purchase something mentioned in this article, we may
earn a small commission
.
There are plenty of inaccurate and potentially harmful stereotypes about children of divorce. While going back and forth between two households undoubtedly changes a family dynamic, it's not guaranteed to damage a child's behavior or overall feelings toward love and security.
In fact, when parents openly communicate with their child throughout the divorce process, provide reassurance and stability, and are kind to one another, therapist Chamin Ajjan, M.S., LCSW, A-CBT, says the child will probably grow up feeling secure.
In rarer situations, though, some children of divorce can experience a so-called sleeper effect.
What is the sleeper effect? 
The divorce sleeper effect refers to the delayed negative effects of divorce on children, marriage and family therapist Maria Sosa, M.S., MFT, tells mbg. "It's called a sleeper effect because children who appeared to be coping well with the dissolution of the marriage and shift in family dynamics begin to show adjustment difficulties later on in life," she explains. "The problems were dormant and then activated throughout developmental stages."
The term was coined by psychologist Judith Wallerstein, who researched 131 children from 60 divorced families over the course of 25 years beginning in 1971. Every five years of that stretch, Wallerstein would conduct interviews on the children to see how they were coping with their parents' divorce. Turns out, many children—particularly women—had residual effects once they reached adulthood.
"These effects are particularly punctuated in regards to romantic relationships," Sosa says. Some of the most commonly observed patterns were:
Fear of abandonment.
Betrayal anxiety and preoccupation.
Concerns about not being loved.
Issues regarding intimacy.
Difficulties forming and maintaining intimate partnerships.
Sosa explains that since many women are socialized to internalize their problems and act like "good girls," it's possible they were affected by the divorce all along but merely concealing their true emotions. "As young adults, when they begin to engage in their own romantic relationships, the unprocessed experiences and fears are brought to the surface," she says.
How often does this happen?
While there is some truth to Wallerstein's research, the findings have received some pushback over the years—particularly from people who believe her research was a way to guilt people into staying in unhappy marriages. Others simply say her claims aren't strong enough to be substantiated. "The estimated effects of divorce are not as strong as Wallerstein appears to claim," behavioral scientist Paul Amato, Ph.D., wrote in the Family Relations journal in 2003.
A 2002 study by psychologist E. Mavis Hetherington found most children experience short-term negative effects but recover quite quickly when they find out their parents are getting divorced. Within the first year, children may take on feelings of anxiety, anger, shock, and disbelief, the research shows. By year two, though, most of those feelings dwindle or go away altogether. Hetherington's research has shown the majority of children of divorce don't have serious social or emotional problems in adulthood.
"Much of current research finds that the most important predictors of adjustment after divorce is the presence of conflict and having a highly caring and non-overprotective relationship with at least one caregiver," Sosa explains.
It's also important to consider the many children who have developed maladaptive coping strategies because they witnessed their parents stay in unhappy marriages. "In this sense, it is not the divorce per se that is the only determinant," Sosa says.
How to heal if you are affected by divorce. 
Not everyone will be affected negatively by divorce itself, but depending on the nature of the divorce, it can certainly leave a mark—even unknowingly. Some children may grow up not understanding where their fears or insecurities in relationships are stemming from. "They may state or believe that they have effectively coped with their parents' divorce and thus feel that they have no reason to be feeling what they are currently experiencing," Sosa explains. "There may even be a sense of shame for these insecurities."
If that's happening, it's important to be gentle and compassionate toward these emotions rather than continuing to suppress or avoid them. "Understanding and providing kindness to these unattended tender parts is the first part of healing," Sosa says. "From this place we can explore other healing modalities, which may look like therapy and self-development regarding intimacy and relational work."