This Erotic Audio Platform Is Redefining Sexuality—On Women's Terms
Contributing Sex & Relationships Editor
By Kelly Gonsalves
Contributing Sex & Relationships Editor
Kelly Gonsalves is a sex educator, relationship coach, and journalist. She received her journalism degree from Northwestern University, and her writings on sex, relationships, identity, and wellness have appeared at The Cut, Vice, Teen Vogue, Cosmopolitan, and elsewhere.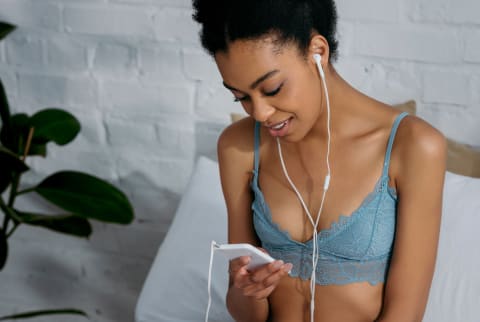 Photo by Light Field Studios / iStock
December 5, 2018
The mainstream American sex industry wasn't always built for women. Everything from period care products to birth control to sexual education have often subverted the actual needs and desires of women. That's why tampons took hold of popular culture instead of healthier alternatives like menstrual cups, why the onus of preventing pregnancy still almost completely falls on the shoulders of women, and why the clitoris is all but ignored in classrooms supposedly teaching young people about sex.
The latest to join the fold? Dipsea, a brand-new audio platform for erotica and sexual wellness that launched today with the goal of giving women the empowering sexual content they want. The app is a library of sexy audio stories ranging from five to 20 minutes in length, all of which are specifically designed to help women feel turned on whenever they want.
The gorgeously designed app is sorted by mood: You can pick anything from "feel sexy" to "escape" to "relax," and there are stories featuring all sorts of genders, pairs, and relationship configurations.
"It's the spark of inspiration," Gina Gutierrez, Dipsea's CEO and co-founder, tells me. "All our inner lives, inner fantasies, things that we feel in our head that we think are sexy."
She calls it a "mind-based approach to sexuality." Gutierrez and Faye Keegan, Dipsea's CTO, founded the company in January after being inspired by meditation apps like Headspace and similarly immersive podcasts that successfully help listeners access specific states of mind, Gutierrez tells me. They wanted to bring the same experience to the sexual wellness world with a focus on helping women tap into their sexuality, which can still be hard for many women in a world where much of sexual media still overwhelmingly caters to men.
"It's amazing how many women feel that their sexuality is kind of locked behind a heavy iron door," Gutierrez explains. "It's just kind of hard to access, and it's hard to access it when you want to access it."
A lot of innovation in the sex-tech space has centered around the body, she says; think all the cool new sex toys and vaginal care products. Dipsea, on the other hand, is all about the sexuality of the mind.
"A large part of this is framing this as something that helps you feel a certain way," she says. "How do you want to feel? Do you want to feel more excited and sexy and energized before a date? Do you want to feel like you get to turn off your boss brain when you're having a really stressed-out day and want to come home to your partner and be yourself-yourself? Do you listen when you are with your partner and kind of wanna get on the same page and make foreplay more intimate and more connective?"
The power of context setting.
Dipsea's short-form stories are designed to be immersive and encourage imagination; their main type of content features fictional characters and heated narrated scenes specifically written to appeal to women. A study1 conducted by digital sex resource OMGYes in partnership with the Kinsey Institute earlier this year found 90 percent of women use "mental framing" to reach orgasm; in other words, they envision specific sexual contexts and scenarios to get turned on.
"The research definitely indicates that women are more likely to be inspired by story. They're more attentive to contextual cues like what their partner is saying, what the room is like, whether they feel like it's the appropriate level of private or sexy," Gutierrez says. "Those are all these cues that women are attentive to that make audio really compelling, specifically for them."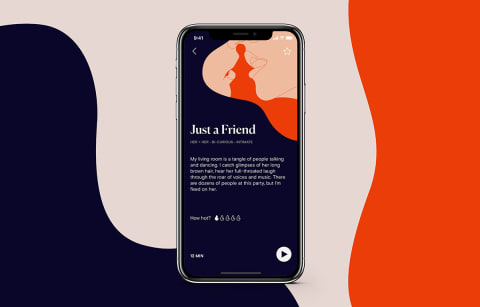 Graphic by Dipsea / Contributor
"Women really prefer narrative stories," she says. "They prefer backstory to characters. They want to understand [if someone is] nice and fun and trustworthy, even more than, like, 'Are they attractive?'"
That's not to say women aren't visual creatures as well, but there's a certain freedom that comes from being able to immerse yourself in a sexual storyline that's free from the baggage of gaze and performance. In these stories, women can fill in the details of what the characters look like based on what appeals to them, and they can envision movements, gestures, and pleasure.
"Sexuality for so many millennia has been defined by men, and so it makes sense that so many women think, 'I'm not sexual enough' or 'something's wrong with me' because sexuality has been defined by male response," Gutierrez says. "If that big of a percentage of the population is dealing with an issue, that likely isn't a clinical issue. For some it might be, but for others, it's just they haven't been given a better way in. I don't think there's a pill for that. I think there's a better way to do that. It's not fixing a problem. It's helping someone and empowering someone."
Harnessing erotic power outside of sexual contexts.
The founders see Dipsea as a sexual wellness platform that people can use as a form of self-care and personal empowerment. Research does show that sex is an excellent tool not just for relationship-building but for improving emotional well-being and decreasing stress.
"'Sex' implies partner sex, and I think we owe ourselves the opportunity to unlock the power of those feelings outside the bedroom because they do make us feel really good," Gutierrez says. "How can we kind of move someone to that place? We kind of all know the feeling of watching a really amazing scene in a sexy movie or having a really flirtatious conversation with someone and feeling that feeling in your stomach where you're kind of newly awakened and a little rejuvenated, and it just feels good. That feeling, I think, is the first glimmerings of unlocking something bigger."
Gutierrez and her team want to help more women feel that way more often, and Dipsea is one way to get there. Because of the bite-size audio format, the experience is an easy one to tap into in basically any context, making the thrill and confidence of that erotic energy suddenly accessible in unexpected places: on your commute home from work, on your way to a date, or when you're just trying to wind down yourself before bed. It's a radically different vision of the purpose of sexuality, one that sees it as largely separate from its traditional associations with partnership, bodies, and physical pleasure.
"If you actually look at the root of the word erotic, it's a really beautiful word. It's about connecting to a higher order," she says. "Eroticism doesn't require any physicality at all. Like looking at a beautiful statue at the Metropolitan Museum of Art—like a statue is erotic even though it's in no way related to sex. It's like a higher-order thing. It's a new world that I think we're stepping into that we can allow erotic to be that again."
Kelly Gonsalves
Contributing Sex & Relationships Editor
Kelly Gonsalves is a multi-certified sex educator and relationship coach helping people figure out how to create dating and sex lives that actually feel good — more open, more optimistic, and more pleasurable. In addition to working with individuals in her private practice, Kelly serves as the Sex & Relationships Editor at mindbodygreen. She has a degree in journalism from Northwestern University, and she's been trained and certified by leading sex and relationship institutions such as The Gottman Institute and Everyone Deserves Sex Ed, among others. Her work has been featured at The Cut, Vice, Teen Vogue, Cosmopolitan, and elsewhere.
With her warm, playful approach to coaching and facilitation, Kelly creates refreshingly candid spaces for processing and healing challenges around dating, sexuality, identity, body image, and relationships. She's particularly enthusiastic about helping softhearted women get re-energized around the dating experience and find joy in the process of connecting with others. She believes relationships should be easy—and that, with room for self-reflection and the right toolkit, they can be.
You can stay in the loop about her latest programs, gatherings, and other projects through her newsletter: kellygonsalves.com/newsletter