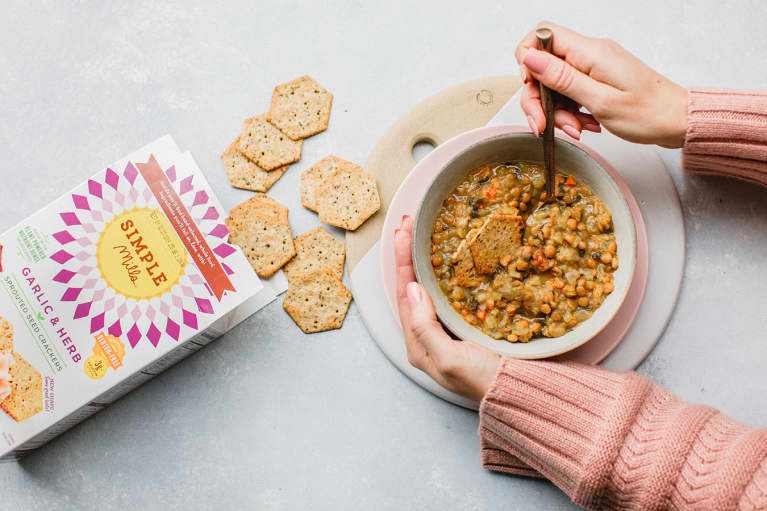 One of the mantras I've held on to most tightly as a dietitian is that small lifestyle changes add up big. Change can feel overwhelming, especially when you're standing at the start looking toward the finish. The important thing to remember is that progress takes time, and a goal is always best achieved when broken down into smaller, more manageable steps. Creating these smaller objectives will not only make accomplishing something big feel easier, but it also gives you a reason to celebrate along the way!
Whether you're setting nourishing intentions or new nutrition goals for yourself or your family at the start of the year, just turn to a few simple changes throughout the day—here are my favorites.
Small lifestyle changes add up big.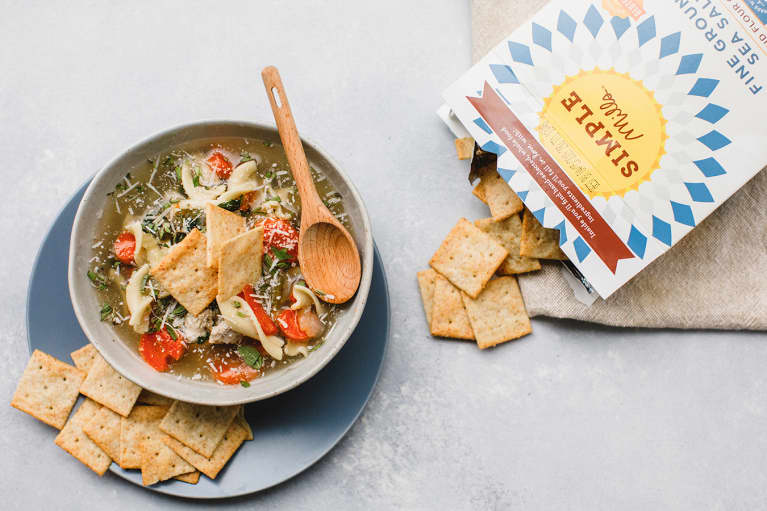 One of the best (and easiest!) things you can do for your health is to make more of your meals at home. Not only will you save money, but you'll know exactly what's going into your dish (not to mention you can portion it out in a way that works for you and your appetite). If preparing three meals a day feels overwhelming, cook a few dishes on Sunday that you can eat all week. We often make a big batch of oatmeal and muffins for breakfast, a crockpot soup or chili to reheat for lunches and a baked pasta dish loaded with veggies for nutritious dinners. Filling up on nourishing homemade meals during a busy day is so much more doable if all you have to do is heat and eat! Not into meal prep? That's OK too! Find easy options at the store that you can build into a meal at home. For example, I always have a lower sodium lentil and vegetable soup on hand that I can pair with a cheese stick, a piece of fruit, and some crackers (like Simple Mills Garlic & Herb Sprouted Seed Crackers) for an easy, balanced meal at home that requires no prep on my end!
2.
Sit down when you eat.
No one understands more than I do how easy it is to eat an entire meal while doing other things, only to realize you barely remember eating it! At mealtime, try to take the time to sit down and pay attention to your food and your body's signals. As a dietitian who practices intuitive eating, I remind my clients to be present with their food and listen to their bodies to catch those hunger and fullness cues, which can be subtle. It's easy to over- or undereat when you're distracted. Give your meal or snack your full attention, and you'll be surprised to see just how good your body is at telling you what it needs to function at its best.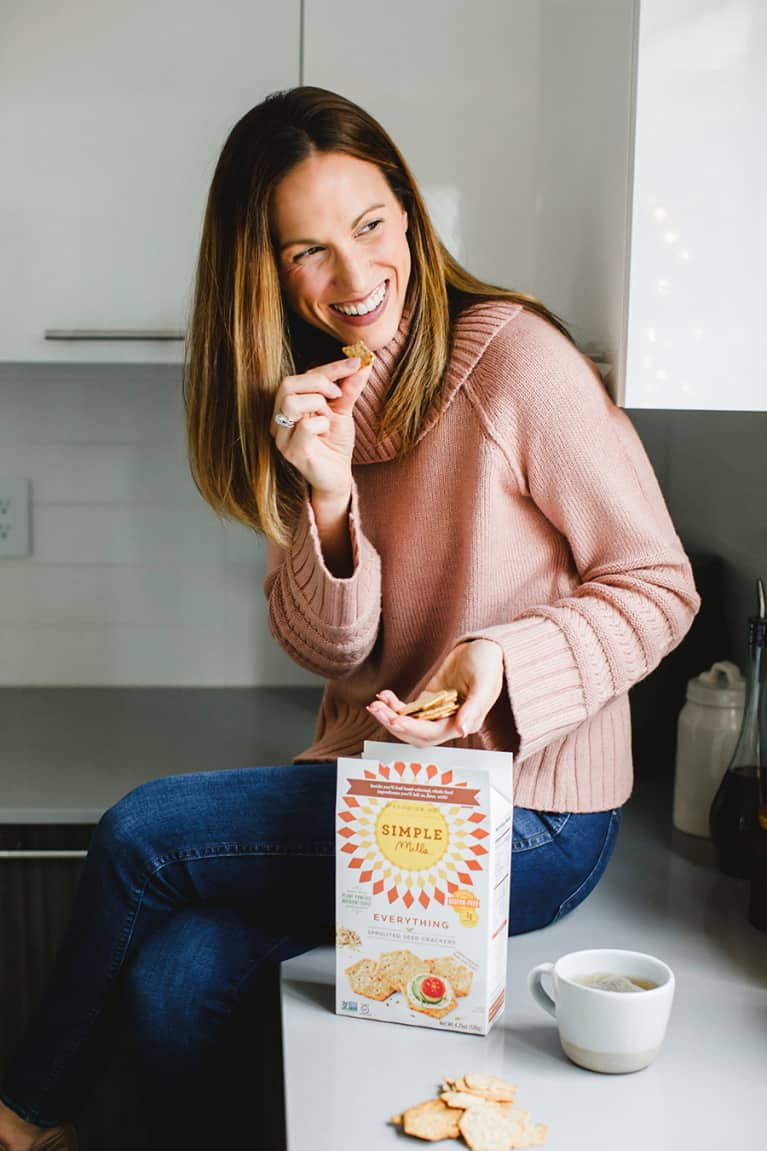 How many times have you rushed out of the house thinking you'll do "one quick errand" only to end up completely starving during your third errand four hours later? Even the most meticulous planners among us can rush out of the house unprepared, forced to rely on whatever's around (even if it's not what you want), or even overeat when you finally get back home to some food. I like to throw a few different snack options in my bag so I always know I have a nourishing option on-hand when hunger strikes, then I just mix and match as needed! A few of my favorites? A baggie of crackers with single-serve hummus, fruit and nut trail mix, and whole fruit like apples all travel well. For crackers, Simple Mills Sprouted Seed Crackers in Everything flavor is my go-to—you get the savory flavor and crispiness of a chip but in a feel-good snack that's made with plant-based, nutrient-dense ingredients.
Eating well is often confused with denying your cravings, but doing so may derail your healthful efforts more than giving yourself permission to listen to them.
4.
Indulge your cravings.
Eating well is often confused with denying your cravings, but doing so may derail your healthful efforts more than giving yourself permission to listen to them. If your body is asking for something, listen to it. You'll likely be surprised to find that when you give yourself permission to listen to your cravings, just a taste will satisfy. It may also prevent you overeating that item later!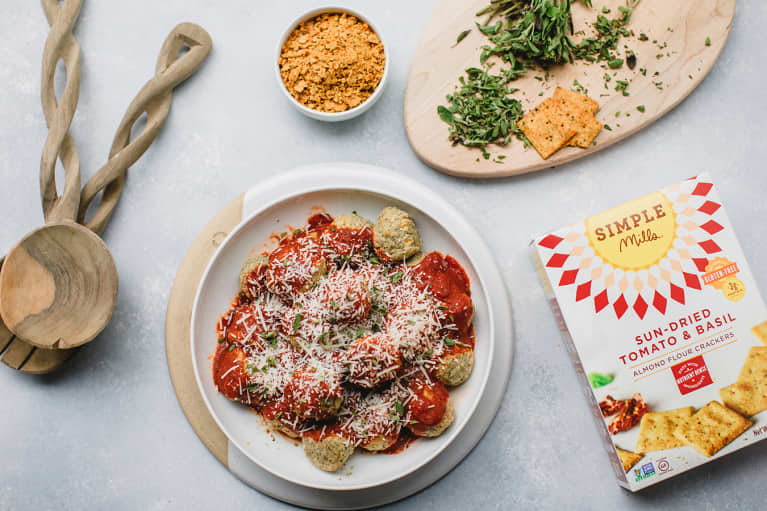 No one is immune to getting into a food rut. Mixing up your flavors is a great way to find the joy in eating again and add to your satisfaction. Try swapping out plain breadcrumbs in your dishes with uniquely flavored crushed crackers. Simple Mills Fine-Ground Sea Salt Almond Flour Crackers are great for munching on with soup and Simple Mills Sun-Dried Tomato & Basil Almond Flour Crackers are a great sub for breadcrumbs in your go-to meatball recipe. It's a simple swap that still provides you a nutrient-dense meal but with flavors that will wake up your taste buds and excite your senses, helping you to feel more satisfied.