Dating Apps Aren't Terrible, A New Swiss Study Confirms
Assistant Managing Editor
By Abby Moore
Assistant Managing Editor
Abby Moore is an assistant managing editor at mindbodygreen. She earned a B.A. in Journalism from The University of Texas at Austin and has previously written for Tribeza magazine.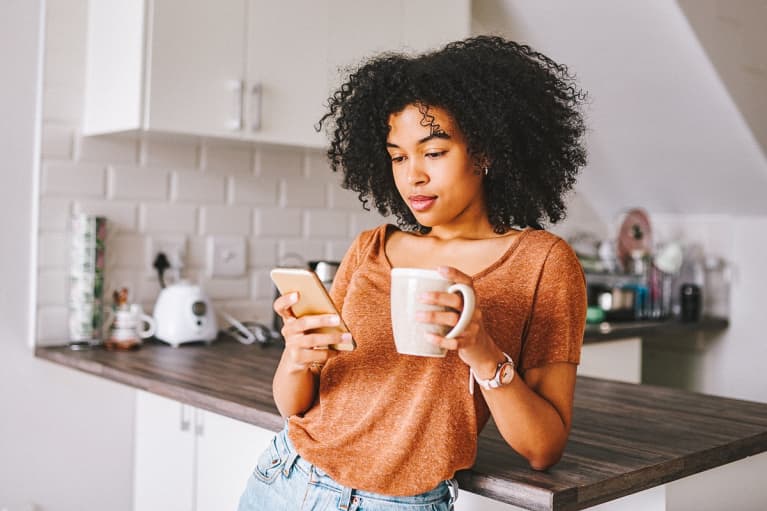 December 30, 2020 — 20:27 PM
Despite the stereotypes that dating apps are designed for casual hookups or fleeting romances, new research reveals quite the opposite. A study from the University of Geneva (UNIGE) in Switzerland says couples who meet on dating apps are equally as serious and satisfied as couples who meet in a nondigital setting.
The research, published in the journal PLOS ONE, looked at 3,235 adults, all of whom were in a relationship and had met their partner within the last decade. The data came from a 2018 family survey by the Swiss Federal Statistical Office, and it analyzed each couple's relationship satisfaction, individual well-being, and desire to start a family.
"Large parts of the media claim [dating apps] have a negative impact on the quality of relationships since they render people incapable of investing in an exclusive or long-term relationship," researcher Gina Potarca, Ph.D., says in a news release. "Up to now, though, there has been no evidence to prove this is the case." Her research, on the other hand, disproves those claims.
How serious are people on dating apps?
Compared to people who meet offline, those on dating apps are more interested in cohabitation, and those who identify as female are more interested in having children. "The study doesn't say whether their final intention was to live together for the long or short term, but given that there's no difference in the intention to marry, and that marriage is still a central institution in Switzerland, some of these couples likely see cohabitation as a trial period prior to marriage," Potarca says. "It's a pragmatic approach in a country where the divorce rate is consistently around 40%."
An even greater benefit of dating apps? Diversity. When people are no longer confined to meeting people at their university or their place of work, it increases the opportunity to meet partners of different socio-educational backgrounds. According to the study, this was especially true for highly educated women and lower-educated men. This "may have to do with selection methods that focus mainly on the visual," the study suggests.
Online dating has become increasingly popular in recent years, providing a safer space for the LGBTQ+ community as well as safer, virtual dating options during the pandemic.
"The Internet is profoundly transforming the dynamics of how people meet," Potarca says. "It provides an unprecedented abundance of meeting opportunities and involves minimal effort and no third-party intervention." And since many people started taking dating more seriously during the pandemic, it's reassuring to know that the apps are not only equal, but can in some ways be better, than meeting nondigitally.