paid content
 for

Celebrate World Plant Milk Day With This Summer Squash Bake Recipe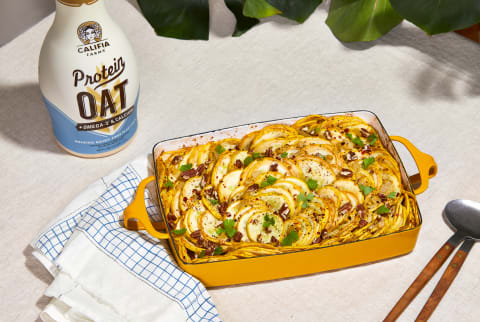 August 20, 2020
It's 2020 and we're looking for any excuse to celebrate. Today's reason? It's World Plant Milk Day and, given we're the type to turn to plants for everything from our a.m. oat milk latte to our p.m. almond milk chocolate mousse, it only seems appropriate that we go all out with a shareable recipe that's sure to wind up on high rotation.
If you've been to the farmers market lately, you'll be all-too-aware that it is well and truly summer squash season. We love this lower-carb, vitamin-rich vegetable, and it makes the perfect base for a bake that will feed a family or can be stashed for leftovers all week.
We've used Califia's Protein Oat Milk in the recipe because it combines the goodness of plant milk with the nutrition of dairy milk. It includes 8 grams of plant protein per serving, is rich in omega-3, -6, and -9, and has 45% more calcium than dairy milk. It also happens to taste delicious on its own, so make sure to try it in your morning matcha or coffee, too!
Summer Squash Bake Recipe
2 Tbsp. Califia Plant Butter, and more for baking dish
8 medium yellow summer squash, thinly sliced ¼ inch thick
1 teaspoon salt
3 cloves garlic, minced
1 small yellow onion, diced
2 Tbsp. all-purpose flour; for gluten-free sub 2 Tbsp. rice flour or 1 tbsp. cornstarch
1 cup Califia Protein Oat milk
1 cup nutritional yeast
1 Tbsp. red pepper flakes
¼ cup chopped walnuts
2 Tbsp. chopped parsley
Salt and pepper to taste
1. Preheat the oven to 450°F. Brush the inside and sides of a 13-by-9-inch baking dish with melted butter and set aside. Toss summer squash in salt and rest for 10 minutes, discard liquid.
2. In a skillet over medium heat, add Califia Plant Butter until melted. Add garlic and onions, and sauté until soft and translucent, about 4 minutes.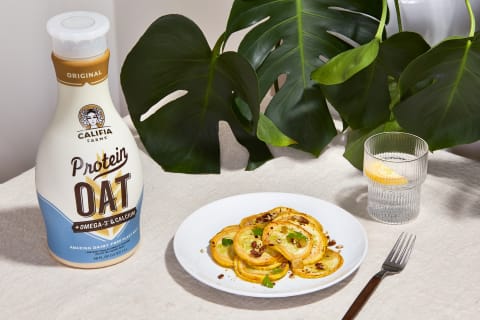 3. Whisk together starch and Califia Protein Oat Milk; stir into onion mixture and lower heat until roux slightly thickens. Pour over salted summer squash, add nutritional yeast and chili flakes, and toss to coat fully. Season with salt and pepper to taste. Spread mixture evenly into the greased baking dish and sprinkle with chopped walnuts.
4. Bake for 25 minutes or until the squash is crisp-tender and the edges begin to brown. Sprinkle with chopped parsley before serving.
Visit Califia Farms and use code MBG at checkout for 20% off your entire order. This code expires on August 29, 2020.

Chloe Schneider
mbg Brand and Integrated Marketing
Chloe Schneider is the VP of Brand and Integrated Marketing at mindbodygreen. She received her degree from the University of South Wales. She has worked at many top publications and brands including Mashable and RESCU. She lives in Brooklyn, NY.