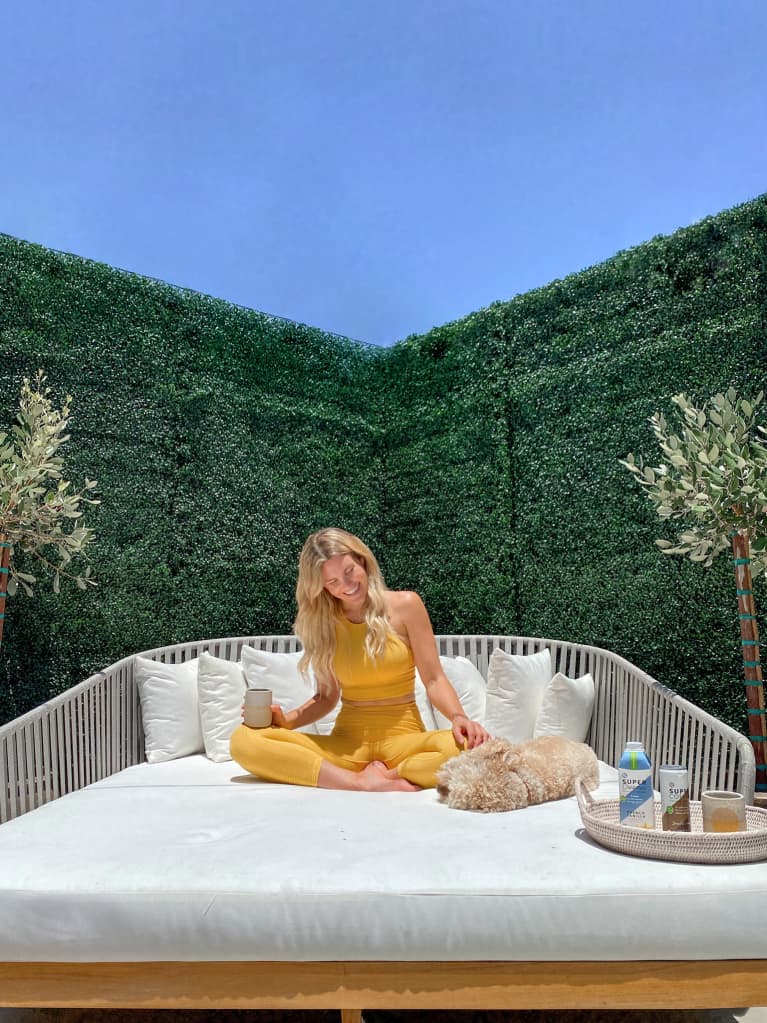 Every day is a new day that brings with it a new set of opportunities and challenges. In order to approach each one with positivity and vibrance, I've created a few non-negotiable wellness practices that I weave into my day. As long as I make sure I do just a few things each day, I can face even the most surprising outcomes and toughest of challenges with optimism and grace.
My morning routine is an absolute must for me. The specifics of morning habits might look different for each person, but the important thing is that you take time to tune into your body, mind and soul before letting in any outside distractions or opinions.
Meditate, Move, Journal, Nourish
Before I look at my phone or e-mail, I meditate and tune into my body with a body scan. Not only does this help me focus my energy on what I want to achieve during the day, it also allows me to tune into my body and learn what I need every day - every day is different. Sometimes my body needs energizing foods and movements, sometimes I need more restorative exercises and comfort foods, and sometimes I need to feel grounded. I allow room for variety with my morning yoga practice, always listening to exactly what my body needs in that moment.
Once I've tuned into my body and asked it what it needs today, I open my gratitude journal and write down just three things for which I am grateful. This seemingly small practice has tremendous outcomes and always helps me start my day from a place of joy.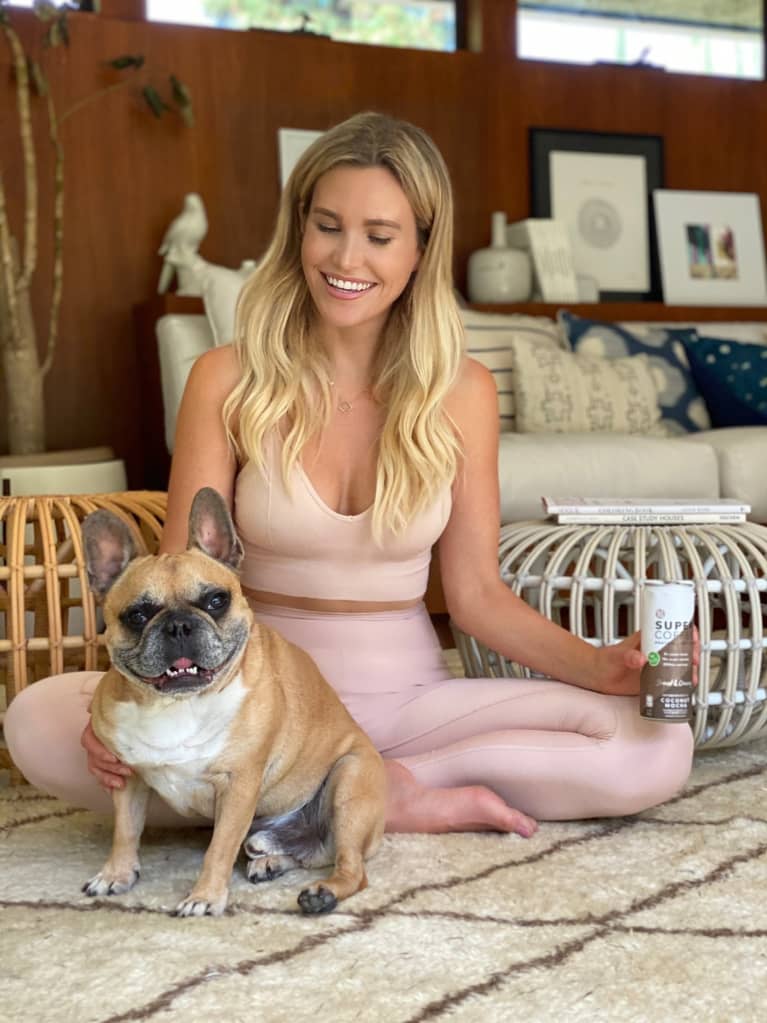 I head to my kitchen for my morning smoothie and coffee. For me, my morning meal is all about adding uplifting energy to my day, so I make sure to eat and drink only the best quality foods that make me feel energized from the inside out. I usually drink a green goddess smoothie full of organic fruits and vegetables, often from my veggie garden, but I switch it up every day. I also love to energize my day with a plant-based Super Coffee, some days I drink it straight from the can, other days I'll mix it into my smoothie for a super creamy and delicious treat. My nutritious morning meal helps me feel uplifted and ready to head into a full morning of yoga with clients.
After my morning clients, I make sure to take a lunch break even if I'm crazy busy. I usually use this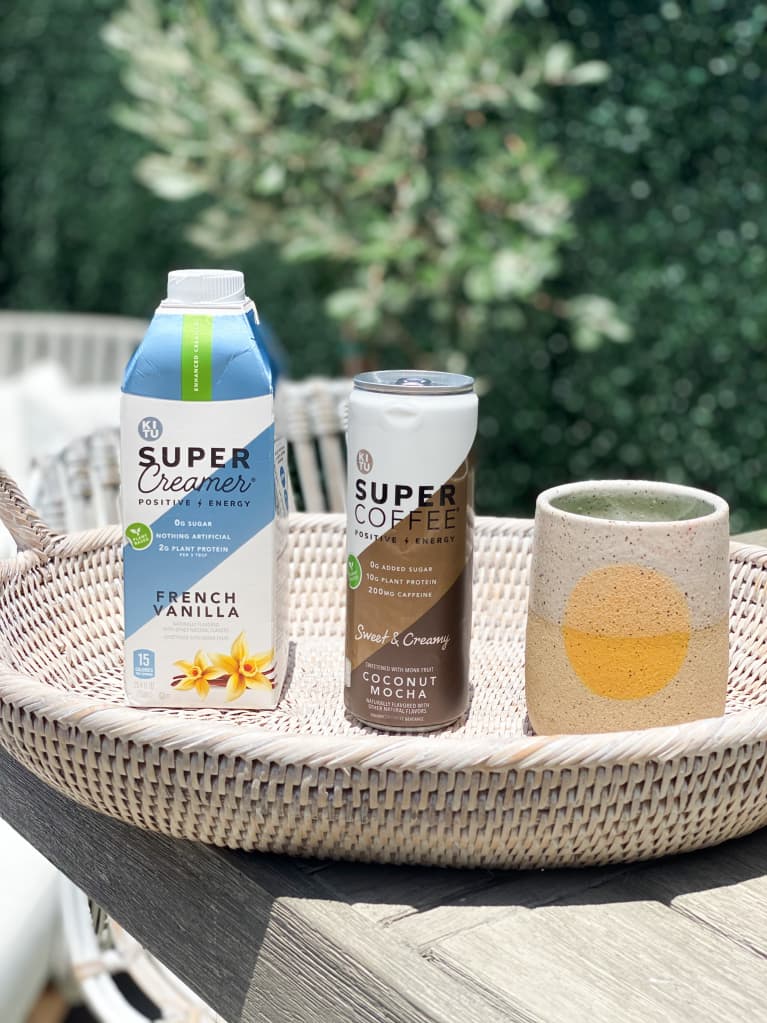 time to refuel my body and also to ground my energy. I'll always take a few minutes to head out to a park or the beach, depending on where I am. I'll take off my shoes, let my toes sink into the earth and do a grounding meditation. I'll refuel with a salad, buddha bowl, or soup, depending on the day and the season. I love to enjoy my afternoon cup of coffee or matcha/tea with a plant-based Super Creamer. I take this time as a mini meditation, paying close attention to the smell, flavor and warmth of whatever I'm drinking that day. This helps me to relax and feel like my super self for the rest of the day.
At the end of the day, I love to meet up with a friend to cook something fun and creative. Spending time with my people really helps me recharge my battery with joy and happiness.
After a few more hours of work, I make sure to turn off my phone for a while to wind down and to reconnect with me. I take an Epsom salt bath almost every day and then will either meditate, journal or practice restorative yoga before bed depending on what I feel that I need.
Just a few simple good habits like yoga, high quality healthy foods, journaling and self-care really help me stay positive and joyful in my day to day. It also allows me to be grounded in myself when something unexpected pops up. Small, every day habits that can help you create a joyful and energized life, but you have to leave a little room for variety and play too (even when it comes to your coffee!)
Shop this story: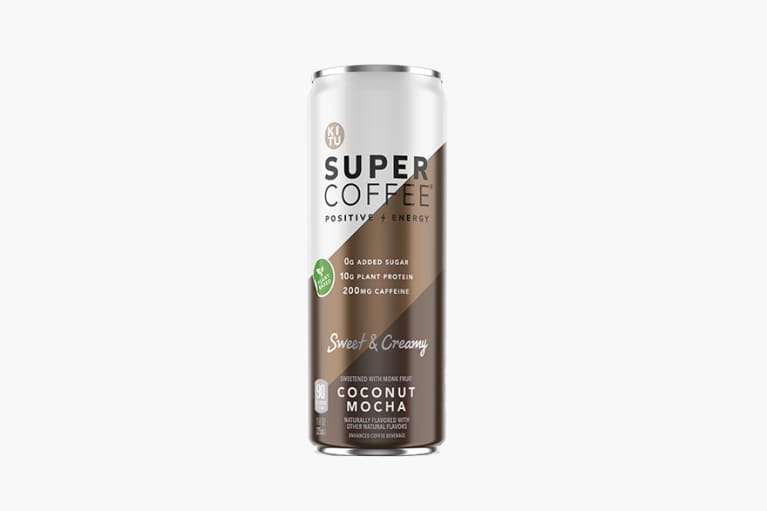 Coconut Mocha Super Coffee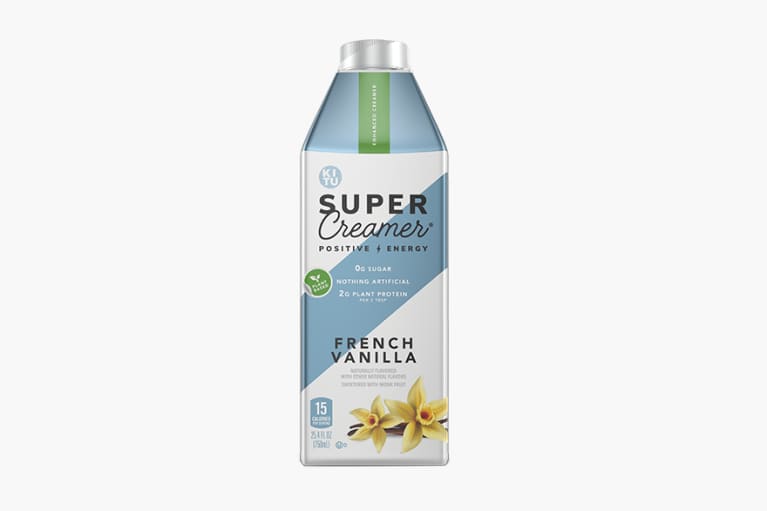 French Vanilla Super Creamer