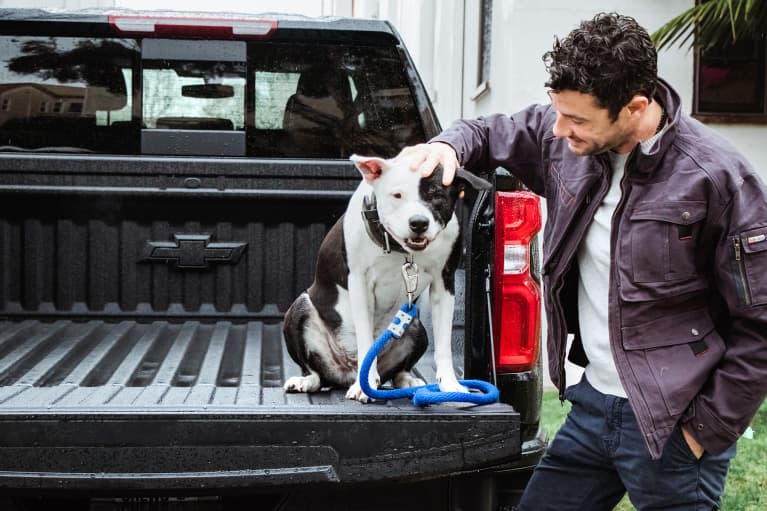 Tank rescued me 11 years ago. I adopted him from a shelter on Center Street in New York City. I wanted a pit bull because they are workers—they lead the pack, but they love unconditionally.
It turns out, I see a lot of myself in Tank. Athletic dogs like my guy operate best when they're running 3 miles a day. (That way, they won't have that extra energy to eat your shoes or bark at the birds.) And it's pretty much the same for me. As a chef, I need to work out my energy—work it way out. So I stretch and do all of the necessary movements to keep my body lean and agile. We both do best in beast mode: Between Tank's energy and packed working days that have me constantly on the go, it suits us!
In general, I love pits because they're big, goofy, clumsy cuties who are loving, affectionate, devoted, and warmhearted, and they always mean well. And when we treat them with love, the lifelong bond you create together is a total win-win—and there's a lot we can learn from it. In my humble opinion, dogs teach humans pure, unconditional love—not to mention loyalty, bravery, adventure, and playfulness. What if we all greeted our loved ones the way our dogs do? Having Tank in my life, I've learned we all need love to be our best selves—animals, plants, humans. All of us.
We are each other's first mates. We have each other's back. He's my security and my pillow.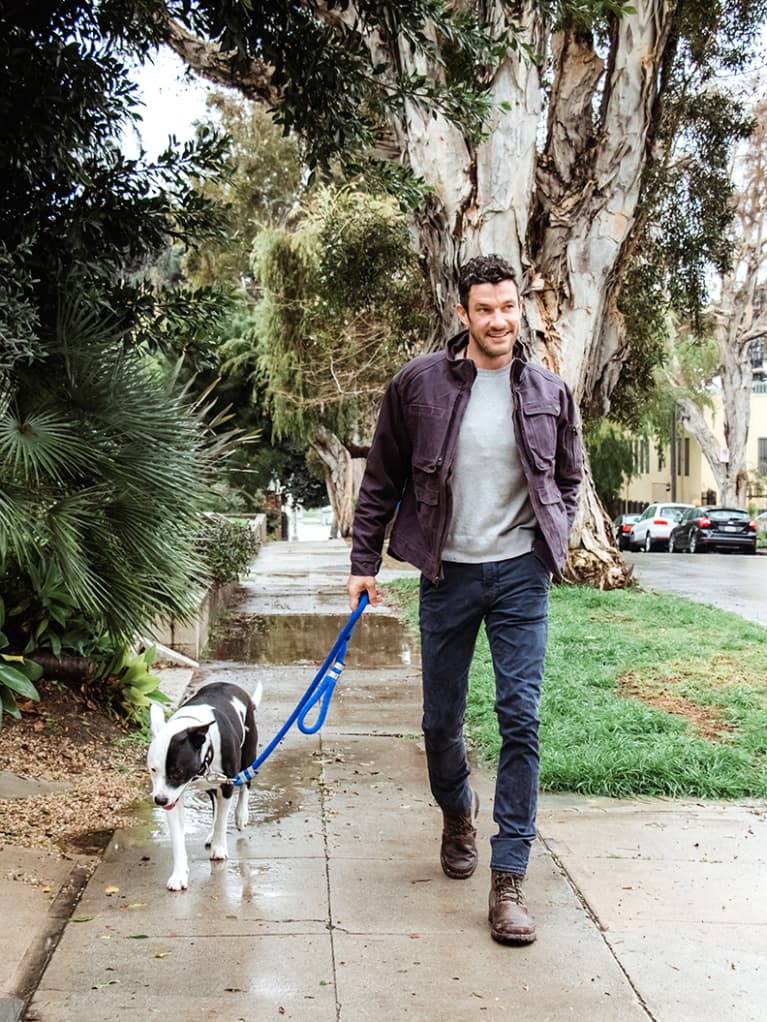 Tank and I have been everywhere together and back. He's a service dog registered in the U.S., but sometimes we've faced unnecessary noise because of misconceptions about Tank's breed. So, we've learned a thing or two about how to navigate the airport together with ease. We've gotten so good at it, you could say we're pros!
Responsible owners will have full control of their dog in any situation they find themselves in. I always make sure of a few things if Tank and I are flying cross-country—which I do often for work—especially because I used to get worked up before long flights myself. Here's an anti-stress routine we follow that has helped calm us both before traveling:
Go on a long walk or run on the day of the flight. Tank and I will go for at least two hours if we can.
Try out CBD. If your dog is anxious to travel, I've found that giving Tank CBD designed and formulated for dogs works nicely.
Meditate before you go, and listen to calming music. Your vibe sends a vibration to those around you. The more relaxed you and your li'l beast are, the better for all.
Have all your dog's necessary documents for travel ready to go. Just in case you need to show them, you're ready.
Always have food and treats on hand for the flight. For Tank, it's a good distraction in the airport. He loves Nulo's protein-rich Freestyle kibble with lamb and chickpeas.
Tank and I take care of each other no matter whether we're on the road or between the miles. We are each other's first mates. We have each other's back. He's my security and my pillow. Living with type 1 diabetes, I know the day-to-day importance of nourishment from the right ingredients. I love making fresh salads from the markets wherever I am using what's in season along with some grilled fish and a ton of citrus. And just as I also need insulin throughout the day to operate at my maximum, Tank—as a hardworking bundle of energy—has his own nutritional needs (and favorite meals!).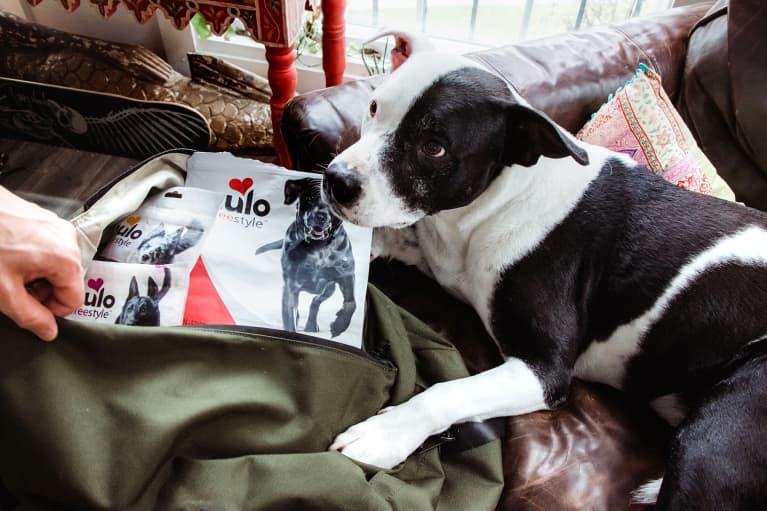 Nulo's Freestyle line, which is great for athletic dogs, is my go-to fuel for making sure Tank is nourished for all the adventures—and downtime—we share together. And he goes crazy for it! The lamb and chickpeas grain-free recipe has protein from real meat like lamb, turkey, and salmon for building strong muscles and bouncing back from a day of running or skating around. For variety and more flavor, I love to add Nulo's Lamb, Saba & Kelp Meat Pouch and top of the meal with their nutrient-loaded Freeze-Dried Raw Lamb & Raspberries. Seriously, he actually smiles.
I've learned so many tricks along the way about keeping Tank happy, healthy, and active in between the miles. So what I feed him is of utmost importance to me. My own diet is crucial for longevity—why wouldn't I do the same for my li'l beast ?