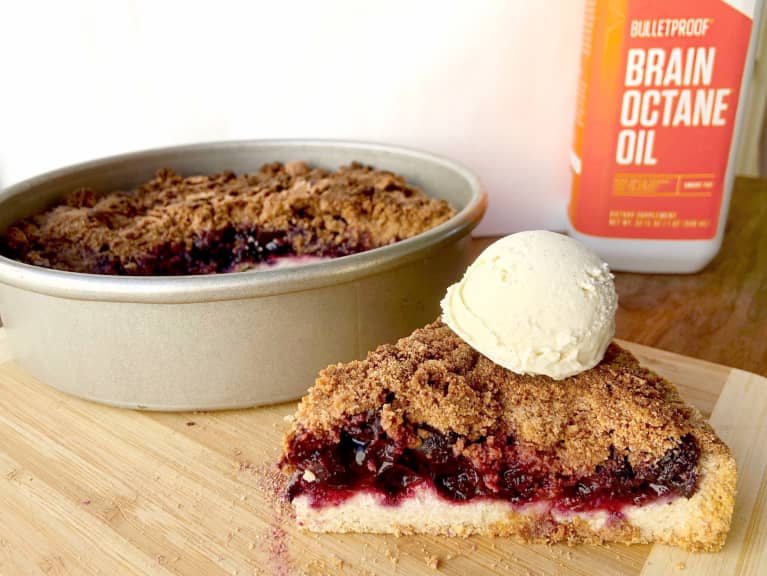 If you're smart about it, the mental high that comes from dessert doesn't have to stop with the last bite. Focus on fueling your desserts with brain-boosting healthy fats and antioxidants, and you'll benefit from increased energy, brainpower, and a sense of satisfaction. Just ask Crosby Tailor, the biohacking sugar-free dessert chef behind Tailored Life and Crosby's Baking Co.
Crosby, a model and graduated college football athlete turned health coach, has spent the last few years tinkering and testing in the kitchen to hack the desserts we know and love. By removing sugar, grains, dairy, and gluten, and adding healthy fats, low-sugar fruits, and healthy spices, he's created a suite of sweets that fuel your body, mind, and soul.
In this Blueberry Crumble Pie recipe, Crosby unlocks the brain-boosting, fat-burning high-energy powers of Bulletproof's Brain Octane Oil to create a craveable cinnamon crumble that won't let you (or your blood sugar levels) down. Bulletproof's Brain Octane Oil is more than just MCT, it's pure C8 MCT oil, the most ketogenic MCT oil around, metabolizing quickly into ketone energy for improved energy and brainpower, fewer cravings, and increased fat burning.
Get the recipe below.
Crosby's Blueberry Crumble Pie Recipe
Crust
1 1/4 cup cassava flour (or almond flour)
1/4 cup coconut flour
3 tbs organic lakanto
1/4 tsp real salt
1/2 cup cold unsalted grass fed butter
1 pastured egg
Blueberry filling
6 cups fresh organic blueberries
1/2-2/3 cup Granulated lakanto
1/4 cup Arrowroot flour
1/4 tsp Cinnamon
1 tbs Lemon juice
Cinnamon Crumble
1/4 cup coconut flour
1/4 cup cassava flour (or almond flour)
1/4 cup blended lakanto
2 tbs cinnamon
Pinch of real salt
Make the crust first
Preheat oven to 375°
In a food processor or using a hand mixer, pulse all crust ingredients except the egg, then add egg and pulse again until a dough forms. It might be crumbly so mold it together with your hands at the end and form a ball.
Chill it in fridge for about 10-15 min
Press into 9-inch pie dish, molding it up the sides to form a normal pie crust
Bake crust for 10 min then take out to cool
Drop oven temp down to 300°
For the filling
Stir the blueberries, lakanto, arrowroot, cinnamon, and lemon juice together in a large bowl.
Set filling aside until crust
For the crumble topping
Add dry ingredients to a small bowl, stir well and then add Brain Octane MCT Oil. Hand mix and texturize into a crumble.
To assemble
When the crust has fully cooled, add enough pie filling to reach the edges. You may have some leftover pie filling, you can store this in the fridge for other desserts
Top the filled pie with the crumble mixture
Bake at 300° for 2-3 hours or until juices bubble up through the crumble and they are very thick
Let pie cool for a couple of hours to let the blueberry filling really set in before serving