paid content
 for

Here Are 4 Things You Need To Be Doing To Combat Stress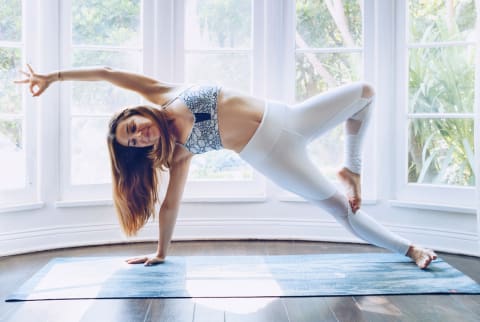 July 25, 2017
I would be lying if I said I never felt stressed. And if I'm being honest, I feel stressed probably 70 percent of the time.
I like to think of myself as a "yogi businesswoman"—I own my own yoga brand, have my own health blog, and I'm a yoga teacher. With all of that on my plate, it's extremely hard to find balance every single day. I often start with a client at 8 a.m. and don't stop until after I teach my last class at 6:30 p.m. Holy moly.
I often ask myself, "Do I 'have this'"? The moment I take on too much, I notice my immune system weaken, and I usually catch a cold and feel completely depleted. Beyond that, I don't feel like myself at all. Here are the four things I've found to help me relax and manage my stress, so I can be my best self:
1. Say no sometimes.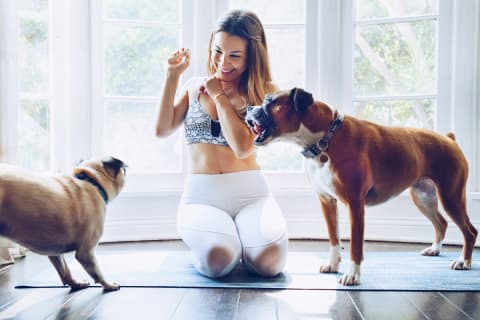 Sometimes, you just have to say no. People will pull you in 100 different directions. If you say yes to everything, you will never get much done, and trust me, you won't be happy. This year, I have had to say no to a lot because I have some big goals I want to stick to. If I said yes to everything, I wouldn't have time for the BIG things I'm creating in my life.
2. Ask yourself, "What helps me relax?"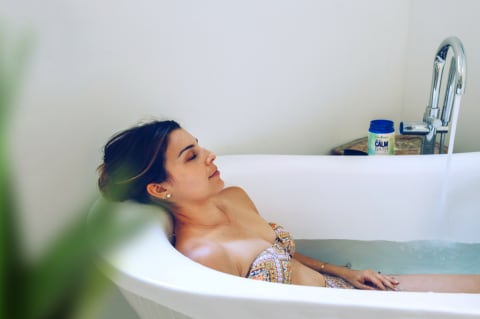 Have you ever seen someone's face who just walked out from a massage appointment? It's the same face I often see after a private yoga session with my clients. Their face says it all: They are happy and calm. They are glowing from the inside out.
I think the most important thing to know is what helps you relax. Write it down on a piece of paper to remind yourself. Personally, I love going to the Sunday farmers market; an hour yoga session; a massage at my favorite local Thai massage spot; an early sunset dinner oceanside in Malibu with my hubby; a warm, relaxing magnesium spa formula salt bath from Natural Calm Bath; and cuddles with my dogs Toby and Beatrice (check them out on my Instagram...their cuteness will relax you, too!).
3. Meditate and/or do yoga.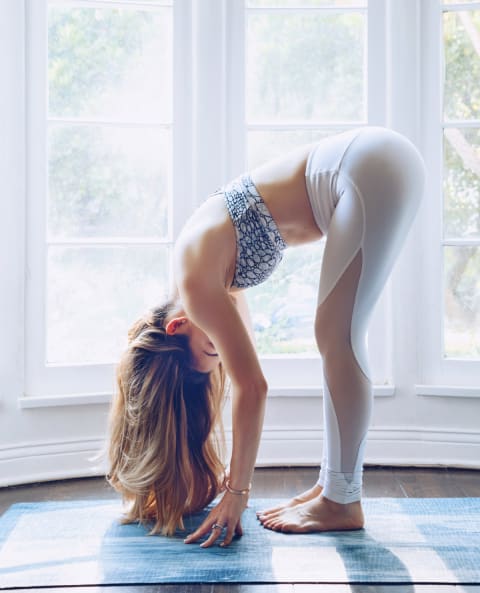 My favorite meditation teacher Chandresh Bhardwaj once said, "If you don't have time to meditate, you need to meditate for double the amount of time." I'm guessing you probably find it hard to find "you time," too—but that's actually even more of a reason to make the time! When we're stressed, our bodies go into overdrive and into the "fight-or-flight" reaction.
Studies have shown that chronic stress over time can cause disease. That means we need to take more time to tap into our parasympathetic nervous system with some rest and relaxation. Yoga and meditation help our bodies and minds finally relax.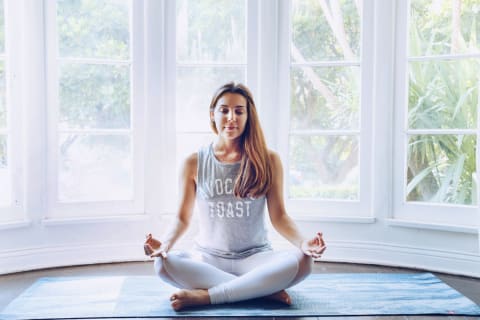 Meditation tip: Sit down in a quiet space for 5 to 10 minutes, close your eyes, and just breathe. Count 1 on your inhale, exhale on 2, inhale on 3, exhale on 4...all the way to 20 and start again! Or listen to my favorite meditation playlist here.
4. Magnesium, magnesium, magnesium!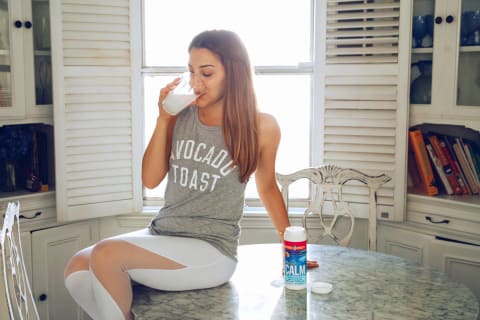 I recently started taking Natural Vitality's Natural Calm Anti-Stress powdered drink mix. When I learned that both physical and emotional stress (that "fight-or-flight" reaction associated with stress) can cause magnesium deficiency, I knew I had to up my magnesium intake. Yes, that's right, when we're stressed, we're losing magnesium!
Magnesium has been known as a calming and relaxing mineral for ages. It has been shown to regulate the nervous system and help us cope with stress. It is known to be crucial for muscle and nerve function, energy production/stress reduction, nutrient metabolism, and bone and cell formation. Outside of stress reduction, I learned that magnesium has also been shown to reduce muscle pain, help with sleep, aid in digestion (magnesium helps properly digest your food), relieve constipation, and ease headaches. Such a powerhouse!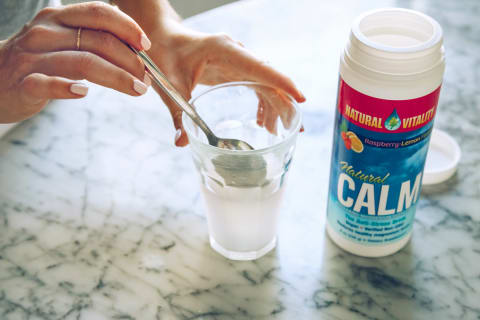 Sadly, most of us don't get enough magnesium in our diets (from foods such as dark leafy greens, nuts, seeds, and whole grains). If you're like me, you may also suffer from anxiety, fear, and restlessness from time to time. After all, we're human, and things happen all the time that are out of our control! It's 100 percent normal. This is why I love Natural Vitality's Natural Calm Anti-Stress powdered drink mix; it's non-GMO verified, vegan, gluten-free, and is accredited by a third-party lab tested for highest quality. All I do is mix it in water, and I feel a noticeable difference in my stress levels throughout the day. If you're interested in trying Natural Calm yourself, they even offer free samples on their website!
It's so important to me to do everything in my power to stay calm. Every time I make it to my yoga mat, that word pops up: "calm..." When I'm calm, I think so much more clearly, can focus, get more work done, and give more to my co-workers, friends, family, students, and everyone around me. Living a life stressed and unhappy is just not an option for me, and I truly hope that with these tools, you can live a life of calm, too!
Ready to try the Calm Experience yourself? Click here to request sample packs of Natural Vitality's magnesium-based products and get your Zen on.