Close Banner
Advertisement
This ad is displayed using third party content and we do not control its accessibility features.
paid content
 for

Colorado's Leaves Are Putting On A Show Now!
By Ashley Mateo
mbg Contributor
shley Mateo is a freelance writer and editor in NYC. She recieved her B.S. in journalism from Boston University and has written for Self, Women's Health, Runner's World and more.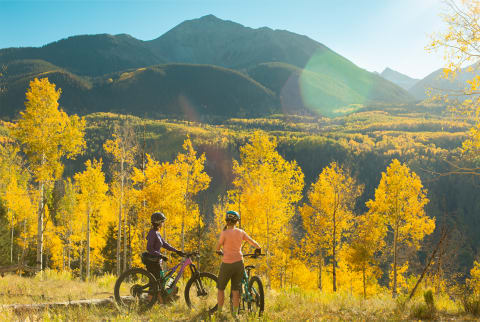 September 21, 2022
You start to feel that seasonal tug—that literal call of the wild—sometime in September: Must see all the leaves! Fall foliage is here and, before you know it, gone. And while many dappled vantage spots will do, Colorado is one of the very best areas in the country to view autumn's kaleidoscope of color—and a road trip lets you see this state showing off at a slew of dappled spots. But how can you savor mother nature's show while traveling responsibly? We found four unforgettable routes that help you Do Colorado Right, both on the road and off, with vividly hued stops and eco-friendly, and low-impact experiences.
One important tip before you leave for the leaves: Depending on your route, you can go ahead and rent an electric vehicle (or drive your own EV without stressing about your next recharge), because Colorado is meeting sustainable, eco-friendly road trip demand by electrifying all of its 26 scenic and historic byways (the most of any state in the nation). This means drivers will have access to fast-charging stations at intervals no greater than 100 miles between a byway's start and end, giving you EV access to the Centennial State's most stunning destinations for fall foliage. So far, 10 byways have received this designation, including several of those below.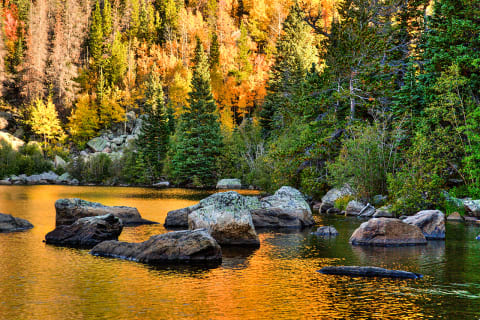 Image by Rocky Mountain National Park / Shutterstock
Route 1: Trail Ridge Road 
Fly into: Denver International Airport
This is one of the most popular drives in Colorado, and for good reason: Trail Ridge Road covers 48 miles between Estes Park and Grand Lake, passing through Rocky Mountain National Park (where a timed entry system is in place until October 10). Topping out over 12,000 feet, it gives you a birds-eye view as the aspen-filled valleys turn golden, orange, and red in the autumn. Practice Leave No Trace principles (leaving rocks, trees and wildlife untouched) as you explore the park—the most visited national park in the state, with three million annual visitors—to minimize your impact and keep this spot beautiful for visitors yet to come. And if you're going to stay overnight at the Park, rest your head at the Discovery Lodge or The Ridgeline Hotel, both of which prioritize sustainability with eco-friendly measures like solar energy and water conservation.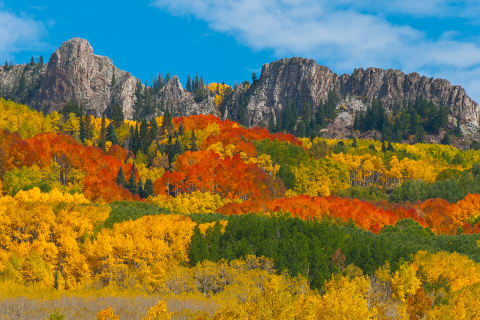 Image by Keebler Pass / Shutterstock
Route 2: West Elk Loop
The 205-mile West Elk Loop of the West Elk Mountains passes through three national forests, so you'll have plenty of opportunities to see the aspens glowing gold. In fact, the grand finale on Kebler Pass, near Crested Butte, is home to the state's largest aspen grove. As you drive from the Roaring Fork Valley through the Crystal River Valley and North Fork Valley, support local green businesses by shopping the eco-friendly boutique True Nature Healing Arts Organic Cafe in Carbondale; dining on locally sourced ingredients at nido in Paonia; and renting a mountain bike or hiking at Crested Butte Ski Resort, which is committed to zero net emissions and zero waste to landfill by 2030.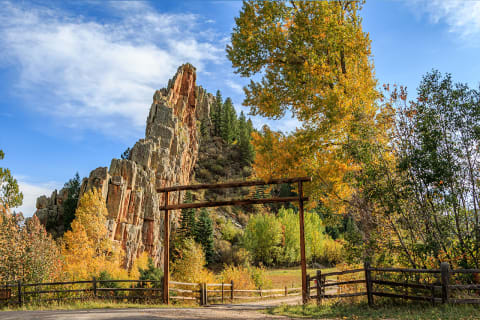 Image by Great Dikes in the Spanish Peaks / Shutterstock
Route 3: Highway of Legends
Fly into: Colorado Springs Airport
Explore southern Colorado via 82 miles between Walsenburg to Trinidad. Highway of Legends is particularly beautiful during the fall, with bright orange and yellow aspens coloring the foothills of the Spanish Peaks, surrounding geologic wonders—like Stonewall, a 250-foot high rock formation that dates back millennia and Devil's Stairsteps, a series of 400 stone dikes—and stretching all the way up to Cuchara Pass. Stock up on sustainably grown and local goods—from produce and organic meats to handmade skincare products—at La Veta Farmers Market.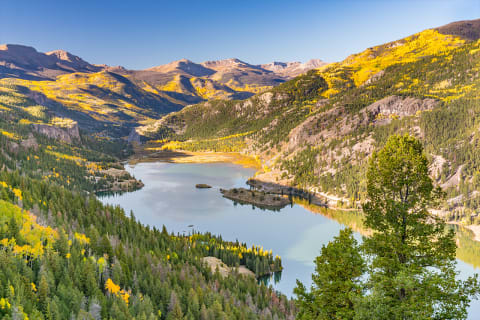 Image by Lake San Cristobal / Shutterstock
Route 4: Silver Thread 
Fly into: Gunnison-Crested Butte International Airport
See the stars shimmer while traveling at night along Silver Thread, a 120-mile stretch through the Lake City and Creede districts. During the day, park by Lake San Cristobal or the Blue Mesa Reservoir—two of the largest bodies of water in the state—to see the contrast between the deep blue depths and the golden aspens lining the banks. Creede, a historic mining town situated in a volcanic caldera in the San Juan Mountains, can serve as your base camp for outdoor activities through nearly 900 square miles of public land. It's also a part of the Southern San Juan Dark Sky Reserve, which—thanks to limited light pollution and night sky educational events —will receive designation from the International Dark-Sky Association in 2022.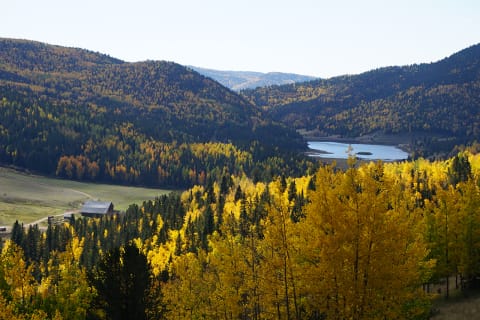 Image by Near Salida and Buena Vista / Shutterstock
Route 5: Collegiate Peaks Scenic Byway
Fly into: Denver International Airport or Eagle County Regional Airport
Charge up your EV in Frisco, then take the Top of the Rockies Byway until it intersects with the Collegiate Peaks Scenic Byway, AKA "the Avenue of Fourteeners," thanks to the highest concentration of 14,000-plus-foot summits you'll find in the United States. Wind through the tiny town of Granite, the historic railroad town of Buena Vista, the geothermal hotbed of Nathrop, and the autumnal playground of Poncha Springs, all set against a backdrop of vibrantly changing fall colors. You can stop and juice up your car at Salida or Buena Vista while dining or e shopping—both towns are fast-charging stations no more than 100 miles from the quintessential Colorado mountain enclave of Frisco.
Ready to make this autumn adventure a reality? Head to Visit Colorado for all the insider tips and recommendations you need to finish planning your trip, then hit the road. You'll be golden!
More On This Topic
more Lifestyle
Advertisement
This ad is displayed using third party content and we do not control its accessibility features.
Advertisement
This ad is displayed using third party content and we do not control its accessibility features.