I Was Afraid Of Self-Tanners, But This Mist Gives The Perfect Sun-Kissed Glow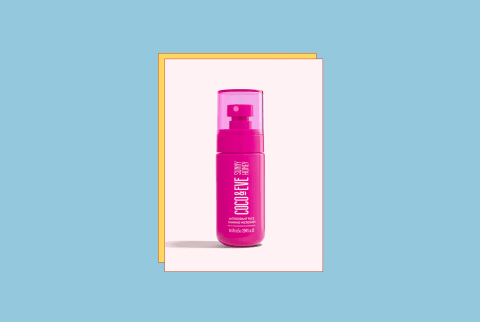 August 16, 2023
We carefully vet all products and services featured on mindbodygreen using our
commerce guidelines.
Our selections are never influenced by the commissions earned from our links.
There was a time when I used to lie in the sun for hours on end, determined to get a bronzed glow that lasted all summer long. Now I know there are much safer ways to achieve that sun-kissed tone, like self-tanner.
But if we're being truly honest here, I'm well aware that not all self-tanners are the same. So if you're on the hunt for a year-round healthy glow that looks like it actually came from the sun, look no further than the Coco & Eve Micromist. This single product has transformed me from a self-tanner skeptic into a passionate advocate for a faux bronze glow.
The tanning mist at a glance:
Cost: $29
Tan lasts: 2 to 4 days
OK for sensitive skin: yes
Clean ingredients: yes
Sustainable packaging: yes
What I love: gives a natural glow, easy to use, moisturizing, bottle is long-lasting, fast-acting formula, natural ingredients
What I'd change: more shade options
Why self-tanner?
It took me a long time to get past my fear of self-tanners. I was afraid I'd end up a streaky mess or that my skin would be more orange than tan. We've all seen and heard the horror stories of botched spray tans and false-tanner mishaps. This, combined with often questionable ingredients, was enough to keep me away from self-tanning products altogether.
Fast-forward to earlier this year, when the winter months had drained my skin of its color. I was feeling a bit ghostly, to say the least. One morning I met a friend for coffee and immediately noticed her complexion. It was bright and dewy, with a copper glow that looked like she had just returned from a week at the beach. I knew she'd been braving out the New York City winter just like me, so what was her secret?
My friend proudly proclaimed that she was testing out a new self-tanning mist—and these were her results after just one spritz. Needless to say, I immediately got a bottle for myself.
A quick note on sustainability
Since I'm often turned off by the ingredients in self-tanning products, I was happy to find out that the Coco & Eve Micromist is made without silicones, toxins, or parabens. What's more, the vegan formula is PETA approved and crafted with ethically sourced ingredients—including a 100% natural DHA.
The brand is also passionate about sustainability, with significant efforts to minimize waste. The packaging is 100% recyclable, and the cardboards and paper are sourced from sustainably managed forests. We love to see it!
What's in the Coco & Eve Micromist
DHA is the key ingredient in self-tanner responsible for giving you a bronzed glow—but not all DHA comes from the same source. It can be derived from natural ingredients, like beetroot, or created with chemicals. Coco & Eve opts for a natural source of DHA—and combines it with other active ingredients to provide benefits to the tanning formula that go beyond the tan itself.
Cassia seed extract, a plant extract similar to hyaluronic acid, helps boost hydration, while an antioxidant complex aims to firm skin and boost collagen production. The formula is rounded out with a collection of Balinese botanicals: moisturizing passionfruit, skin-balancing watermelon, and nourishing coconut. (And they smell great, too!)
How I use the Coco & Eve Micromist
Again, I've been skeptical about self-tanners in the past. With this in mind, I followed the brand's instructions to a T—and the entire process takes less than five minutes.
First, I cleanse my face and neck, letting my skin dry completely. Next, I spray a light layer of the mist over my entire face and neck while holding the bottle about a forearm's distance from my face. The best part? Serums, eye creams, moisturizers, and makeup can be applied as soon as the spray is absorbed. I give the formula about 30 seconds to absorb into my skin before I move through my typical skin care routine.
The brand says you can use the spray as often as you'd like throughout the week, even making it a regular part of your routine. Personally, I save it for when my skin is feeling particularly lackluster or I have an upcoming vacation. I recently applied the spray before a vacation to Mexico, and let's just say, I'll be using it before every beach vacation moving forward.
Why I love this tanning mist
I'll state the obvious: It's a spray. After trying the Coco & Eve Micromist, I started dabbling in other tanning drops and lotions—but no formula goes on as seamlessly as this spray. It's the easiest to use (by far) and achieves the most even, natural results. In other words, no streaks here.
It's also fairly fast-acting. Results are visible within six hours from application, and my glow lasts for three or four days each time. If I use the spray on a Friday before work, my skin shines straight through till Monday. The best part? The color is just enough to give me a boost, without people noticing I applied a self-tanner.
When I used the spray before vacation, I worried that sunscreen and true sun exposure would interfere with the results. Thankfully, the tanner worked just as well as any other time, and my skin reacted to the sun (and sunscreen) the same as it always does. I love that the mist makes my face and neck feel moisturized, too.
What's more, I've never had an issue with the product coming off on my clothing, sheets, or pillowcases. I'd imagine this could happen, though, if you don't give enough time for it to absorb into your skin.
I test a lot of products, and one of my biggest pet peeves is when they don't last long. I often fall in love with a new moisturizer, hair spray, or face wash only to find that I need to restock after just a few uses. This Micromist, on the other hand, is definitely giving me my money's worth.
I only use three spritzes for each application, and the bottle holds about 300. That's about 100 applications for less than $30—a far cry from what I'd spend on a professional spray tan.
I'd be remiss not to mention that the spray does not have the typical fake-tanner odor (IYKYK) and instead smells subtly like peach, coconut, and vanilla. I'm sensitive to scents, and this one truly does not bother me at all.
The takeaway
With this mist on hand, I'm always only a few spritzes away from glowy skin. And I'm not saying I need a tan to feel confident in my own skin, but it certainly helps. Plus, I'm always looking for ways to wear less makeup, and this product does the trick. Our team has tested many of the best self-tanners, and the Coco & Eve Micromist is a standout pick if you want something specifically for your face and neck.

Carleigh Ferrante
mbg Commerce Editor
Carleigh Ferrante is the Commerce Editor at mindbodygreen. She is a certified Health & Nutrition Coach and a born and raised New Yorker with a B.A. in Creative Writing and Psychology. Her work has appeared in Bustle, The Zoe Report, PureWow, The Everygirl, and more, covering topics such as fitness, travel, home, fashion, beauty, and dating, sex, and relationships. When she's not testing and reviewing products and services, you can find Carleigh training for her next World Major marathon, planning her next vacation, or interviewing experts on her dating podcast, Mostly Balanced.