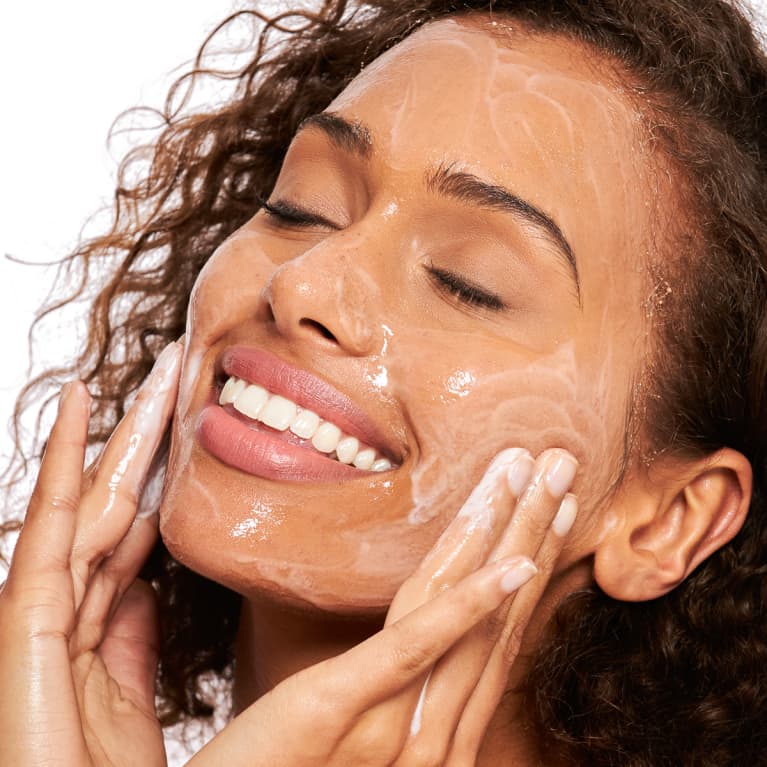 Like so many people, acne was a consistent presence in my life throughout my teenage years and right into my 20s. Looking back, it was never really as bad as I thought it was, but my mind had other things to say and, in my desperation for clear skin, I took the "attack" approach to skin care. I'd chop and change my products daily, use chemical-packed cleansers, tone, exfoliate, exfoliate some more, and run far, far away from anything remotely oil-based.
Now, years later, I know this approach was only doing more harm than good. Here's how I learned to listen, healed my skin, and discovered a ride-or-die cleanser, Beekman 1802's Milk Wash Exfoliating Jelly Cleanser, that helped me find my way back to healthy and happy skin.
Listen more; attack less.
Fed up with getting zero results from super-active products, I decided to do something radically different: listen more, and attack less.
It's amazing how quickly I was able to find solutions when I really heard what my skin was trying to tell me. I slowed my routine down and noticed my skin was tight, itchy, and, well, angry after daily cleansing and twice-weekly exfoliating. After a little research, I realized that the foaming cleansers and abrasive exfoliators I had been using were stripping my skin of all its oil—including the sebum that is essential to keeping the skin's acid mantle, the outermost protective layer of the skin, strong. As a result, my skin was super sensitive and dehydrated. And all those harsh ingredients I'd employed to "fix" my skin were actually leaving it more susceptible to bacteria and environmental stressors.
So I went on a search for ingredients and products that were effective but gentle, starting with a new cleanser.
The journey to the perfect cleanser.
I'm not going to lie, it took a while to find the right thing, but when I finally did, it changed the game completely, and I'll never turn back.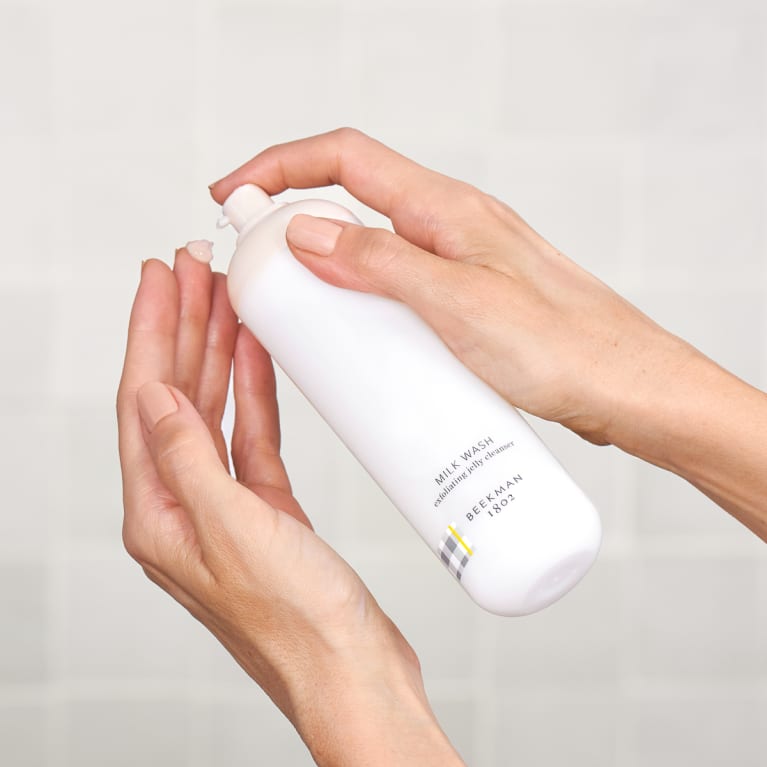 My holy grail cleanser is Beekman 1802's Milk Wash Exfoliating Jelly Cleanser. As a brand, Beekman 1802 ticked every box on my skin-healing list. They seek out ingredients that are natural but even more powerful, like Persian silk tree extract instead of synthetic peptides and kind-to-your-skin alternatives to actives. They are Leaping Bunny Certified and PETA Certified, and every ingredient is safe for sensitive skin and allergy-tested. Plus, their "free-from" list is as comprehensive as they come, with no sulfates, parabens, mineral oil, alcohol, fragrance, phthalates, synthetic colorants, formaldehyde, and talc. Importantly, they don't include essential oils or aroma to ensure their formulas are extra kind and clean.
Shop this story: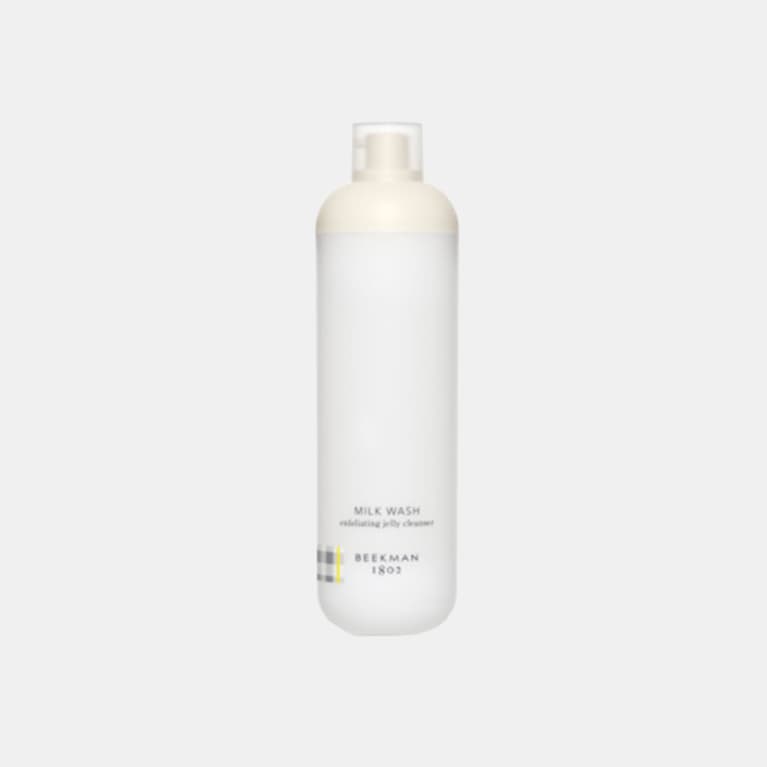 Milk Wash Exfoliating Jelly
Beekman 1802 AHA- and BHA-powered Milk Wash Exfoliating Jelly Cleanser instantly transforms from a light jelly formula into a deep-cleansing milk to help dissolve makeup, deeply purify, and exfoliate without abrasive scrubs. This multi-action cleanser helps draw out oil-based debris and leaves skin feeling silky soft and moisturized, rather than dry and tight.
What makes the formula of this probiotic cleanser so unique is that it is powered by goat milk and probiotics. Goat milk has historically since been a proven remedy for eczema and sensitive skin. It nourishes and protects the skin's natural barrier, helping to balance the pH of the skin, control oils, clear pores, and provide long-lasting hydration. The probiotic-packed formulas act as an immunity boost to your skin like yogurt for your face...a stronger skin barrier = less reactive over time.
The "exfoliating" part of the cleanser felt like a red flag at first, but after doing a little research I discovered that lactic acid, the main exfoliator in the formula, is very different from the abrasive scrubs I had been using. Lactic acid is a hydrating alpha-hydroxy acid (AHA) that helps slough away older, dull cells on the skin's surface by dissolving the bonds that hold them together. This speeds up cell turnover and stimulates cell renewal, leaving my skin with less congestion and more glow, without any irritation.
By using an exfoliator that is gentle enough for everyday use but effective enough to deeply purify, I wasn't prone to falling into the "all-or-nothing" trap of harsher exfoliants. I became super consistent, and my skin loved me for it.
Slow, steady, and sensorial.
Since my new skin care regimen was all about slowing down and listening to my skin, I was all about the sensorial experience and the Beekman 1802 Milk Wash did not disappoint.
This beautiful cleanser starts as a jelly that you apply to a dry face. Once you add water, it transforms into a makeup-melting milk—it feels a little like an oil cleanser but lighter and somehow even more nourishing. It leaves my skin feeling soft, moisturized, and resurfaced, creating a clean, fresh canvas for my skin to soak up all the serums, moisturizers, and face oils I've learned to love. I haven't been wearing much makeup this year, but when I do have a full face for a night out, I use Beekman 1802's Buttermilk Makeup Melting Cleanser before the Milk Wash to ensure every bit of makeup is removed.
In slowing down and listening, I learned to love my skin, and I reframed those flare-ups of the past for what they really were: my skin communicating with me the only way it knows how.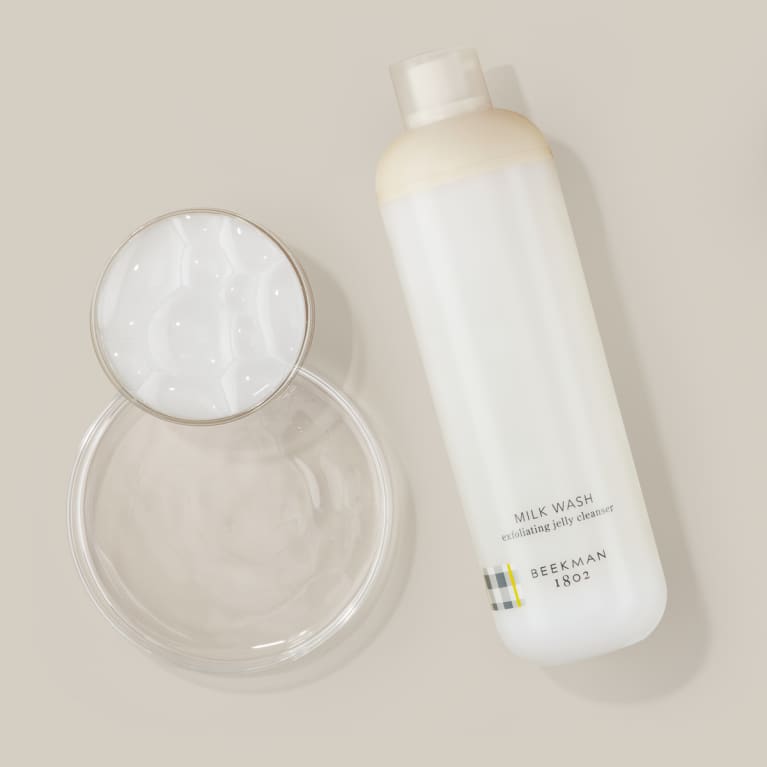 After just two weeks of cleansing with Beekman 1802's Milk Wash Exfoliating Jelly Cleanser, my skin felt clearer, bouncier, and brighter than it had in months. Not to mention, I've adopted Beekman 1802's Clinically Kind philosophy as my own, which means my skin care is high-performance and clinically proven but also lab-tested and safe for all skin types, even for my sensitive skin! It perfectly sums up how I'm approaching skin care as I enter the next phase of my sensitive skin journey.
For the perfect simple three-step routine for sensitive skin, add the Beekman 1802 Milk Drops Ceramide Serum and the Bloom Cream Probiotic Moisturizer.
Shop this story:
Buttermilk Makeup Melting Cleansing Balm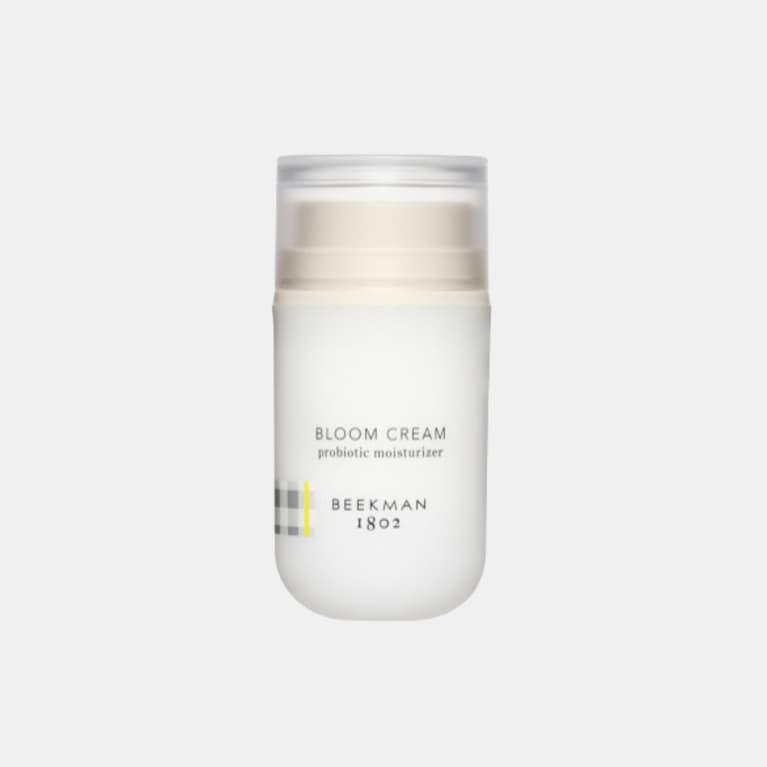 Bloom Cream Daily Probiotic Moisturizer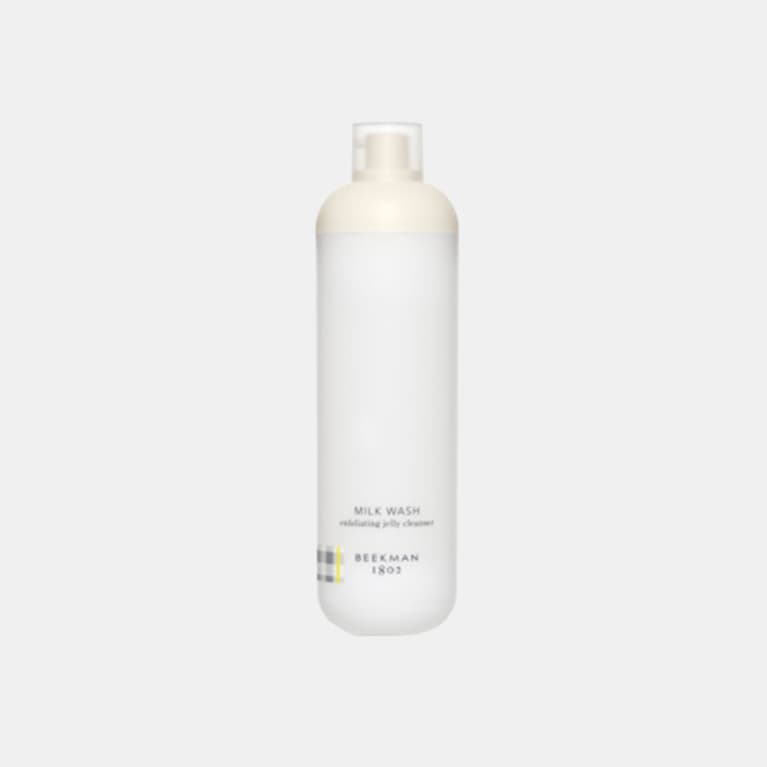 Milk Wash Exfoliating Jelly Cleanser