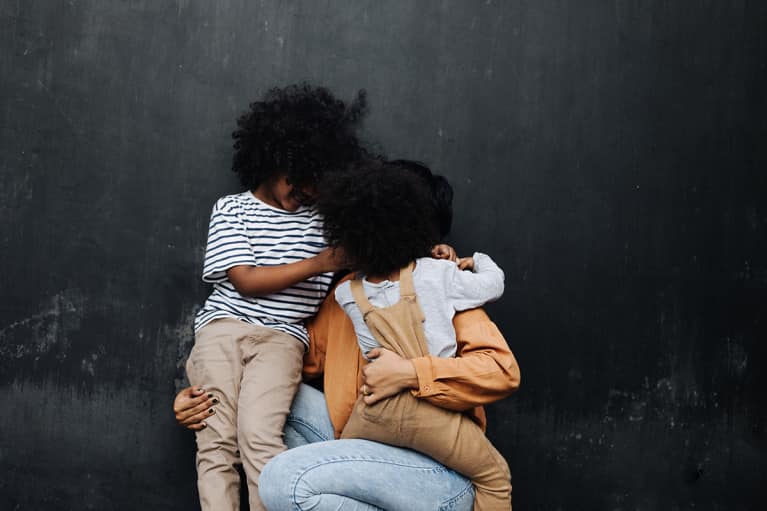 When we're talking about Katie Wells, being a wellness mama—actually, being THE Wellness Mama—is more than making sure your kids are eating healthful foods, using natural products, and practicing (lots of) self-care. Spend any amount of time reading the award-winning cookbook author's blog posts or listening to her podcast, and you'll see that Wells takes a holistic, 360-degree approach to natural living, parenting, cooking, sleeping, skin care, fitness, and more (you get the picture). And she does so in a way that reveals mom life in real life. What's her secret, honestly? Find out in her second book, The Wellness Mama 5-Step Lifestyle Detox: The Essential DIY Guide to a Healthier, Cleaner, All-Natural Life, where Wells shares what's worked for her while managing six kids, a company, and a career. Read an excerpt below!
As a mom to six kids and as a wife, my No. 1 priority is taking care of my family. I place a lot of importance on spending quality time with them and create a healthful lifestyle within our home to keep us strong, emotionally and physically. I want them to have everything they need to be safe, healthy, and happy.
But every time I turn around, the news is full of stories that paint a frightening future for our kids. One in five school-age children (ages 6 to 19) has obesity, diabetes is on the rise in kids under age 20, and toxins all around us can lead to autism, ADD, ADHD, asthma, cancer, and worse. Which brings me to this book: The Wellness Mama 5-Step Lifestyle Detox. It codifies everything I do in my life and work. It lays out step-by-step everything I'd do again in the quest for a more natural life with less exposure to chemicals in our environment. My hope is that the detox will help you live a more natural, healthful life.
As I followed my heart to pursue healthy living, I realized that I could make my own natural remedies, beauty products, and cleaning solutions at home. Below are a few detox recipes that will naturally support your body and clean your home, without using dozens of questionable chemicals:
1. Apple Cider Vinegar Detox Bath
Nothing is more relaxing than a warm, detoxifying bath that draws toxins from your body. This is an excellent bath for soothing skin problems like sunburn, eczema, dandruff, or just dry, itchy skin.
Fill the tub with warm to hot water and add 1-2 cups of apple cider vinegar.
Soak for 20-30 minutes. I use a washcloth to clean my face and make sure to get my hair wet as well.
Rinse in cool water in the shower or simply towel off to leave vinegar on skin.
Repeat 1 to 2 times per week to balance skin pH and keep fungus, eczema, and other skin issues away.
2. Natural Hair Growth Oil
This natural hair oil was key in turning my hair health around after pregnancy and thyroid issues.
¼ cup castor oil
1 teaspoon black cumin seed oil
½ teaspoon rosemary-infused oil
15 drops lavender essential oil (optional)
Combine all the ingredients in a dark glass bottle. Cap tightly and gently swirl to incorporate.
To use, moisten hair and massage 10 to 30 drops (or ½ to 1 teaspoon) into the scalp. Leave on for at least 1 hour or up to overnight, then shampoo. I recommend sleeping with a towel on the pillow to avoid oil stains. I use this once a week to increase hair growth.
Note: Test the oils on a small part of the inner arm before using on the entire scalp, and do not use if it causes any reaction or sensitivity. Black cumin seed oil can irritate the skin for a small percentage of people with sensitive skin.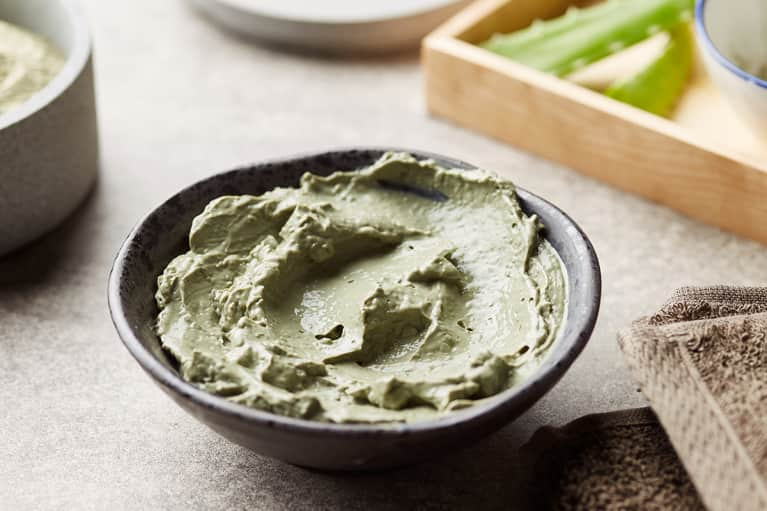 3. Green Tea Antioxidant Mask
This mask is antioxidant-rich and leaves skin feeling smooth and firm. My kids call it my ogre mask because my face turns green when I'm wearing it.
1 teaspoon matcha green tea powder
1 teaspoon raw honey
1 teaspoon bentonite clay
In a small glass bowl, mix together all the ingredients with 1 teaspoon water to form a paste. Brush onto the face in a circular motion. Leave on for 5 minutes, then rinse in warm water.
4. Citrus-Fresh All-Purpose Cleaner
I use this cleaner just about everywhere in my home: on floors and patio furniture and in trash cans and the bathroom, to name a few. It is very easy to make and considerably less expensive than other natural cleaners. Give it a try, and attack those tough stains!
1 teaspoon borax
½ teaspoon washing soda
1 teaspoon liquid Castile soap
2 cups distilled water or boiling water, cooled but still warm
4 drops lemon essential oil
10 drops orange essential oil
Place borax, washing soda, and Castile soap in a 16-ounce or larger glass spray bottle. Add the water and essential oils, cap tightly, and shake well.
Use as needed. I use as a bathroom cleaner, floor pretreater (test a small area first on wood floors), and all-purpose kitchen cleaner and on toys to disinfect. Will last six months at room temperature.
It is my hope that this book will empower you and your family to make small, manageable changes and find your own way to give and receive the greatest gift—the gift of health!
The Wellness Mama 5-Step Lifestyle Detox: The Essential DIY Guide to a Healthier, Cleaner, All-Natural Life is available for purchase now.