The Doctor-Approved Detoxifying Smoothie You'll Want To Drink Every Day This Summer

Contributing Food Editor
By Liz Moody
Contributing Food Editor
Liz Moody is a food editor, recipe developer and green smoothie enthusiast. She received her creative writing and psychology degree from The University of California, Berkeley. Moody is the author of two cookbooks: Healthier Together and Glow Pops and the host of the Healthier Together podcast.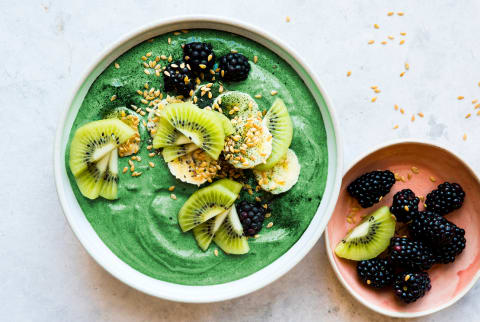 July 2, 2018
If you're looking to shake up your smoothie game this summer, Vincent Pedre, M.D., has you covered. The leading functional medicine doctor is one of the teachers in mindbodygreen's renowned Functional Nutrition Program, sharing his knowledge alongside heavyweights like Mark Hyman, M.D, Frank Lipman, M.D., Kelly LeVeque, and more. This smoothie, from his segment on inflammation, is designed to heal every part of your body from the inside out. "Brazil nuts are really rich in selenium, which is great for thyroid function, also a great source of fiber," explains Pedre. The chlorella in the smoothie is what Pedre calls the "magic ingredient," because of its cleansing properties. "The coconut oil is good for the brain and gives you long-lasting energy," says Pedre. Combined with a gut-healing protein powder (Pedre talks more about why he always reaches for pea, hemp, or rice protein in the program), it's the perfect supportive summer breakfast—and the pretty bright-blue color will transport you to vacation mode, stat.
Blue Ginger Smoothie
Handful of spinach
1 cup frozen blueberries
¼ cup Brazil nuts
1½ cups filtered water
2 teaspoons broken cell wall chlorella powder
1 tablespoon coconut oil
¼ cup unsweetened almond milk (optional, for extra creaminess)
2 tablespoons hypoallergenic protein powder (pea, hemp, or rice)
Blend all ingredients until smooth. Serves 1.
Want to turn your passion for wellbeing into a fulfilling career? Become a Certified Health Coach! Learn more here.