This Chicago Home Will Single-Handedly Turn You Into A Maximalist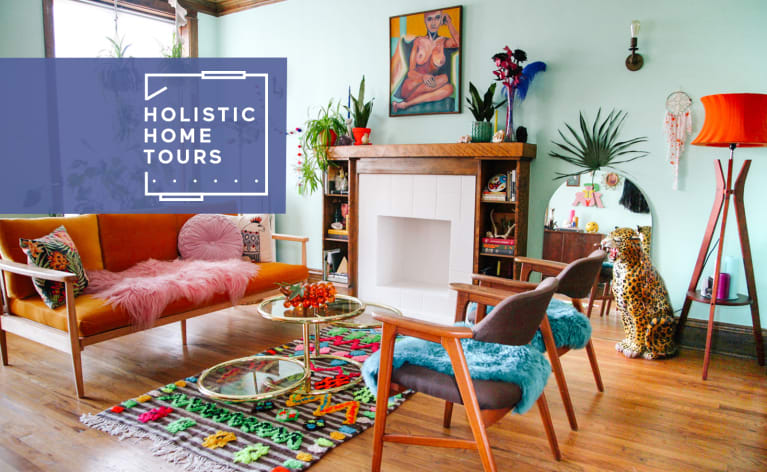 Anna Rafferty Schreiber's maximalist two-bedroom home in Chicago is the best kind of time capsule. Bursting with thrifted treasures in bright, poppy shades, it's emblematic of the vintage curator's passion for mixing past and present. Take a peek, and prepare to want a jungle scene mural in your home.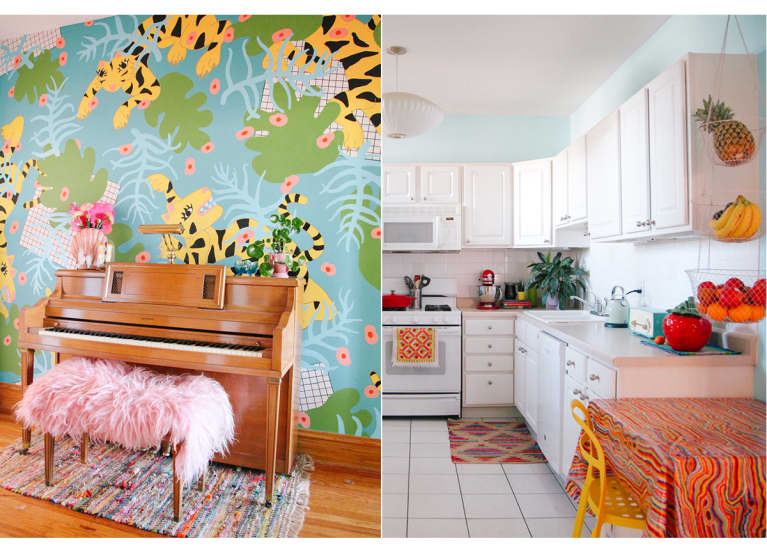 What are three words that describe your design philosophy at home?
Trial and error! But also kitschy, cheeky, and vibrant.
What are your top tips for working with lots of color and pattern?
I love packing as much color into each room as possible, but my approach is actually a little haphazard. I don't like when colors repeat or match too well. But I do try to limit the amount of pattern in each room, so the colors can be what really shines.
What first attracted you to vintage furniture? What are your favorite places to thrift?
I started thrifting for furniture and home goods years ago because it was cheaper and I could find kitschy, one-of-kind items. Since then, I've found some crazy unique pieces, like the acrylic wave chair in the dining room from Treasures Depot, a thrift store on the South Side. If I'm able to splurge, I love Mint Home Chicago, where I got the wicker set in our sunroom.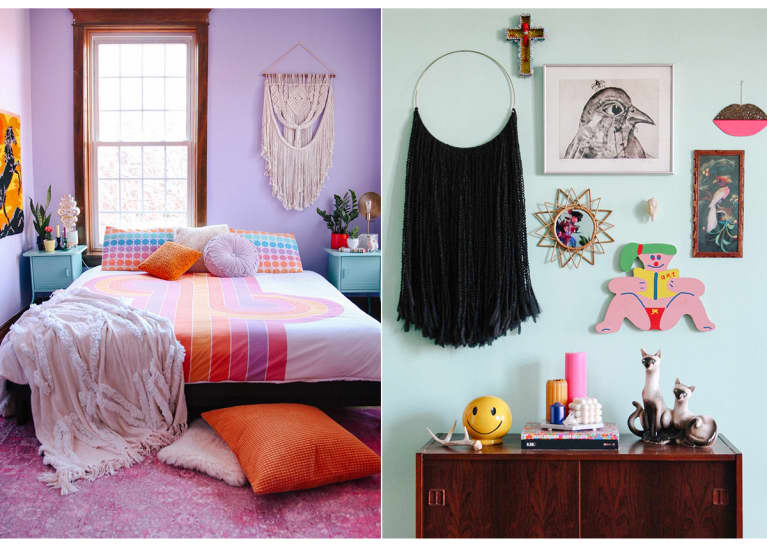 What's the oldest thing in your home? Newest?
Our place has well-preserved vintage attributes, like the original hutch in the dining room from 1922, as well as modern updates like large windows and new bathrooms. As for furniture, the oak pedestal dining table is a family heirloom that was made in the 1950s (I painted it purple with my mom's blessing!), and we have a few newer items from places like Urban Outfitters and IKEA, like the velvet couch in the living room. We can't have anything too nice because our cats like to scratch!
What noises can be heard in your home? What smells?
You can hear the Brown Line train passing by every few minutes from the next block. I don't even notice it anymore, but when we first moved in it kept me up at night. There are also periodic cries for food and attention from our cats. It smells like burning candles (and probably cats a little, too).
What's the most sentimental thing hanging on your walls, and what's the story behind it?
My mom is a weaver, and she's made a few wall-hangings for me that I absolutely treasure. My favorite one is woven through with birch bark from the backyard of the house I grew up in, as well as pieces of Danish bobbin lace, which she also makes by hand.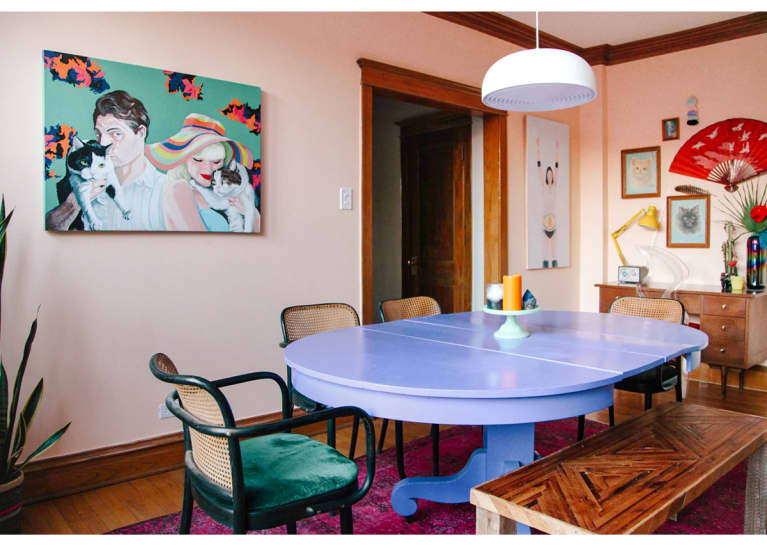 How does your home relax you? How does it motivate you?
I love having projects to do around the house, so I suppose I'm motivated by what I want to tackle next. Currently I'm scouring thrift stores in search of vintage wallpaper for the bathroom.
I feel most relaxed in the pink room, which doubles as the TV room and my closet. Eventually I want to turn it into a proper guest room, but for now it's where we veg out and watch Netflix.
What's the best compliment you've ever received on your space?
"Your aesthetic is that of a giant kindergartener."