Close Banner
Advertisement
This ad is displayed using third party content and we do not control its accessibility features.
paid content
 for

My 4-Point Checklist For Buying Food & Treats For My Dog
By Cameron Rogers
mbg Contributor
Cameron Rogers is a blogger and creator of Freckled Foodie, currently residing in New York City.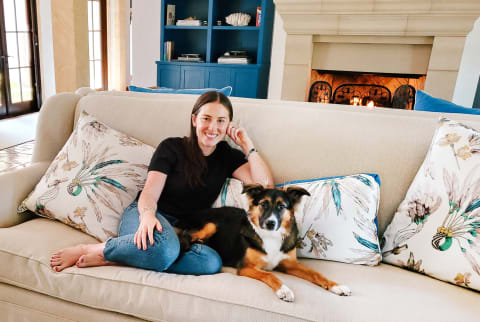 Image by Cameron Rogers / Contributor
When I used to hear people say, "We are not worthy of dogs," I thought they were being a bit extreme. Then, we adopted our puppy Charlie, and I instantly understood. The cuteness overload, lovable cuddles, and constant playtime is truly the best gift my husband and I have ever been given.
I had been pushing the idea of getting a dog on my husband for a while, and, in order to get him to finally cave, I did a lot of research to show him how serious I was about expanding our family. Not only was I applying for pre-approval to just about every rescue in the tristate area, but I was also researching every dog food out there. I am a type-A, organized planner, so I wanted to have everything prepared once we found our perfect pup and were ready to adopt. When Charlie came into our lives last November (we rescued him from Puerto Rico through Safe and Sound Satos—more on that here), the love was instantaneous.
Given my career in the health and wellness space, where I'm focused on being the best possible version of myself, it's no surprise that I apply a lot of my habits and practices to Charlie (he even joins me for my afternoon meditations—no lie). Nutrition is key for all dogs, but because he'd survived in such dire conditions in the first few months of his life, we made an even bigger effort to ensure he is properly cared for, especially when it comes to food.
Personally, I'm so grateful to have found The Farmer's Dog and their fresh, healthy, preportioned recipes. As a food-driven dog, Charlie goes wild for treats and at mealtime, but there's nothing else out there that excites him as much as his meals from The Farmer's Dog.
I have a few nonnegotiables for picking Charlie's food and treats:
1.
He must be excited to eat it and enjoy mealtime.
This seems obvious, but our first and foremost concern with Charlie is making sure he is happy, and it's especially true when it comes to his food. I never understood people who are the "eat to live" types, and I sure as heck don't want to impose that lifestyle on our pup. We want to know that he is loving every single bite.
2.
It must be made with real food.
As someone who focuses on eating clean myself, I follow the same rules for Charlie's diet. I don't want either of us eating food with a long list of ingredients I cannot pronounce, or "dressed-up junk food." I want real, whole ingredients that I can easily understand and identify.
This is why I especially love what The Farmer's Dog does: They worked with top vets to create simple but balanced and delicious meals that are safe enough for humans to eat. It's clear the second you open the package that it is made with fresh ingredients—you can see and smell them! It's easy to get started, too: Just pick your pup's plan, which start at less than $3 per day, and the meals are delivered to your home.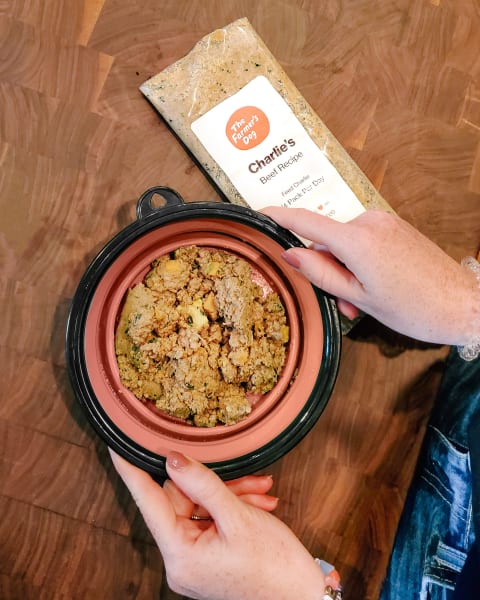 Image by Cameron Rogers / Contributor
3.
It must be nourishing and set him up for a long, healthy life.
Charlie's health is incredibly important to us. His life started out in extreme circumstances, and he's lucky to be alive today! So, we want to make sure he is as healthy as possible, both now and in the long term, and that starts with his diet.
We don't want to eat the exact same meal every day of our lives, so why should our dogs? We love that The Farmer's Dog has three different recipe options so that we are able to provide Charlie some variety in his diet. It is obviously a plus that he loves and goes wild for each one!

Cameron Rogers
Cameron Rogers is a blogger and creator of Freckled Foodie, currently residing in New York City. As a certified health coach, she's on a steadfast mission to making healthy living approachable. Forbes called Rogers one of the "top 5 entrepreneurs changing the New York wellness scene" and she has worked with notable brands to develop transformative content stemming from her professional expertise.