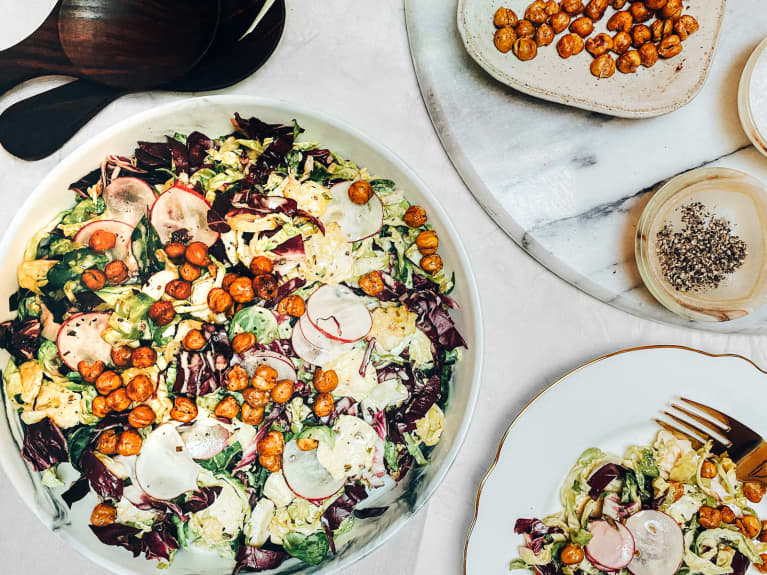 After a year during which the office desk was abandoned, it's no surprise that most of us bid farewell to the sad desk salad days. But this is mindbodygreen, and a good salad will never be off the table completely. And so, we'd like to introduce you to the unofficially official unboring salad of 2021. A salad that is as good as that overpriced one you get at a restaurant but way better for you.
One of the most commonly overlooked keys to turning a sad salad into a happy one is adding texture. Adding a little crunch and crisp go a long way, while something creamy will help bring everything together. In this salad, the crunch and crisp come from delicious crispy chickpeas and fresh radishes. The creaminess comes from Primal Kitchen Caesar Dressing, which tastes just like the Caesar you know and love but has no sugar, gluten, soy, or canola oils.
You deserve to have a salad in your repertoire that you'll actually look forward to eating. Mark our words; this is the one.
Caesar Brussel Slaw With Crispy Chickpeas Recipe
Crispy Chickpeas Recipe
Yields 1 cup
Prep time: 10 minutes
Ingredients:
1 can chickpeas
4 Tbsp. neutral oil
1 tsp. paprika
1 tsp. salt
1 tsp. black pepper
Preheat the oven to 400°F.
Rinse and drain chickpeas, and transfer to a baking sheet.
Drizzle with oil and spices; toss to evenly incorporate.
Bake for 20 to 30 minutes, shaking halfway through.
Remove from oven, and allow to cool completely.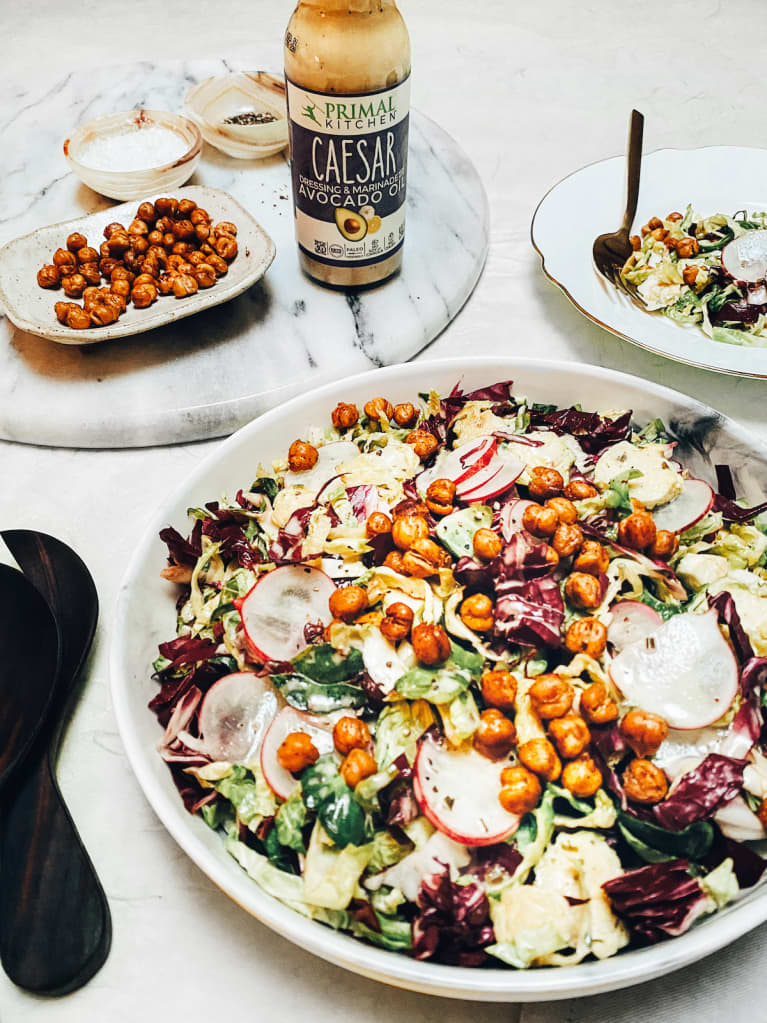 Caesar Brussels Slaw
Yields 6 cups, about 4 servings
Prep time: 20 minutes
Ingredients:
1 lb. Brussels sprouts
½ head of small radicchio, about 2 cups
6 small radishes
½ cup Primal Kitchen® Caesar Dressing
2 cloves garlic, grated
Juice of ½ lemon, 3 Tbsp.
Salt and pepper to taste
1 cup crispy chickpeas (recipe above)
¼ cup shaved Parmesan (optional)
On a mandoline or with a sharp knife, chop Brussels sprouts and radicchio into ¼-inch shreds, and set aside in a large bowl. Thinly slice radishes, and add to sprouts and radicchio mixture.
In a small bowl, grate two garlic cloves and add to it the Primal Kitchen Caesar Dressing, lemon juice, and salt and pepper to taste.
Drizzle over the shaved veggie mixtures, and toss to evenly distribute the dressing; don't be afraid to get your (clean) hands in there and massage if you'd like.
Top with fresh cracked pepper, crispy chickpeas, and shaved Parmesan (optional).
Shop this story: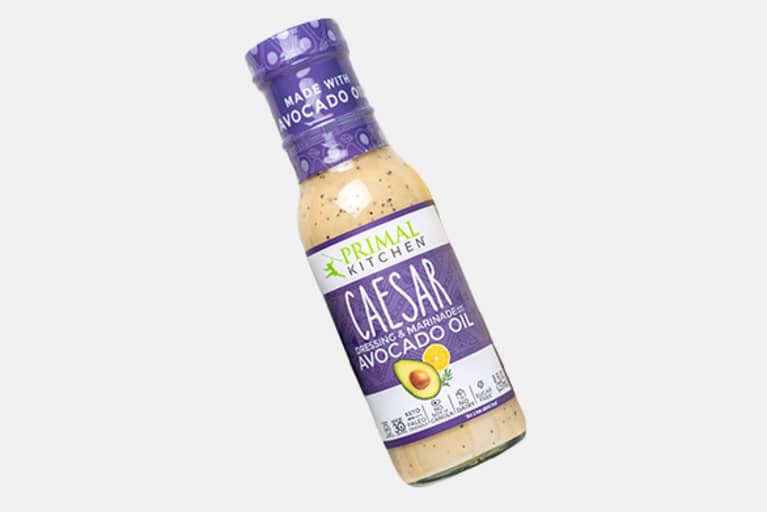 Caesar Dressing
Hail Caesar Dressing and Marinade made with avocado oil! PRIMAL KITCHEN® has a dressing to rule them all, made without gluten, dairy, soy, or canola oils. Salads and wraps, rejoice—this marinade reigns with organic eggs, organic apple cider vinegar and organic herbs and spices. This Whole30 Approved® dressing is perfect drizzled on romaine salads or sizzled on chicken.
*Pro Tip: mindbodygreen readers save 20% on your next order at primalkitchen.com with code MBG20.