These Are The Best Healthy Breads You Can Buy Right Now

Contributing Food Editor
By Liz Moody
Contributing Food Editor
Liz Moody is a food editor, recipe developer and green smoothie enthusiast. She received her creative writing and psychology degree from The University of California, Berkeley. Moody is the author of two cookbooks: Healthier Together and Glow Pops and the host of the Healthier Together podcast.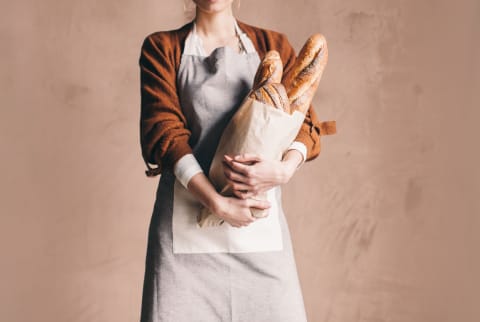 Image by Lumina / Stocksy
April 3, 2019
Healthy bread might've once felt like an oxymoron or something you had to slave in a hot kitchen for hours to produce, but a new spate of companies has changed the game. They've done the hard work for you, creating vegan, soured, sprouted, and gluten-free varieties filled with the chew and crumb you love and crave. We sorted through all of the offerings to find the absolute best healthy breads in stores right now—these were our picks:
Dave's Killer Bread Killer Classic Muffins
If you've long been looking for a healthy English muffin to no avail (raises hand), Dave's Killer Bread has you covered. The Portland-based brand has released perfectly chewy English muffins with air pockets designed to catch all of that nut butter or pastured butter goodness—but they've used a mix of quinoa, spelt, rye, millet, and barley to do it. Each muffin also boasts a whopping 6 grams of protein to keep your blood sugar stable through lunch. Killer Classic Muffins, Dave's Killer Bread (available nationwide, $4.99 for 6 muffins)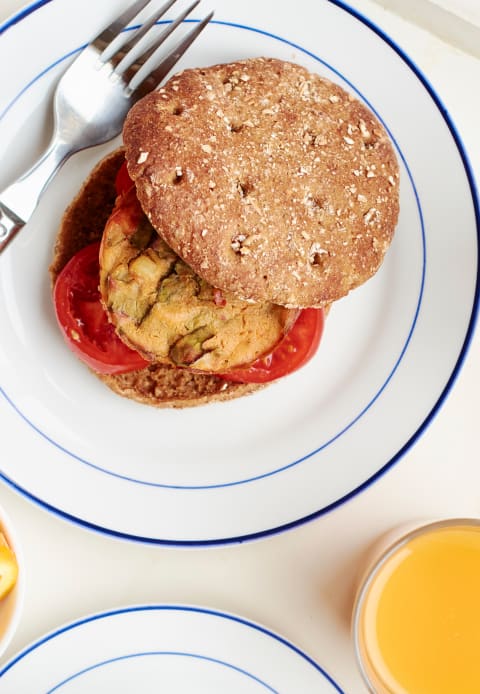 Harald Walker / Stocksy
Simple Kneads Sourdough Bread
This artisanal brand is out to change the gluten-free bread game with their gluten-free sourdough loaves. The texture is denser than many breads, and the flavor heartier, as the company uses a base of millet, sorghum, teff, buckwheat, quinoa, and psyllium husk to create breads that are rich in nutrients and completely free of added gums or preservatives. They're also vegan, making these breads perfect for anyone to enjoy. Currently, they're mostly found online in packs of four, so we recommend storing them in the freezer and defrosting a slice at a time when needed. Sourdough Bread, Simple Kneads (available online, $34.99 for 4 loaves)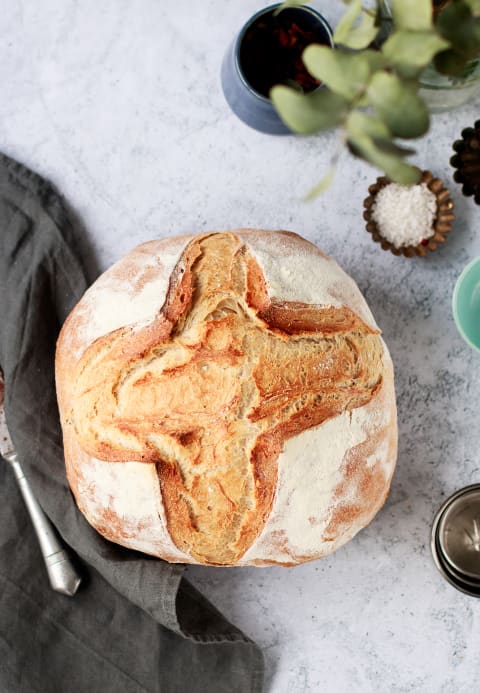 Babett Lupaneszku / Stocksy
EZEKIEL 4:9® Cinnamon Raisin Sprouted Whole Grain Bread
The classic brand many people associate with healthy bread, EZEKIEL 4:9® is found in the freezer section of grocery stores, in order to enable the preservative-free loaves to have an extended shelf life. We love the delightfully simple ingredients (a mix of wheat, barley, millet, lentils, and more) and the fact that they're sprouted to be easier on the gut. While the entire line is delicious, the cinnamon raisin wins bonus points for its gently sweet flavor—toasted with almond butter and a bit more cinnamon, it's a crave-worthy afternoon snack. Cinnamon Raisin Sprouted Whole Grain Bread, EZEKIEL 4:9® (available nationwide, $6.29 for 1 loaf)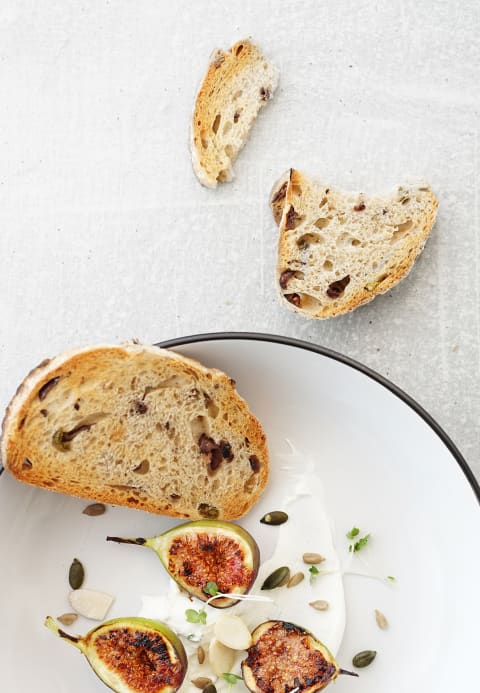 Darren Muir / Stocksy
Udi's Gluten-Free Sprouted Grains Artisan Bread
Udi's is the gluten-free go-to brand, and their new bread takes their already impressive game to the next level. If you love delicious bakery sandwiches on thick, hearty bread, this is the product for you—Udi's has somehow managed to mimic that flavor and texture using a mix of sprouted grains like millet and sorghum. They're also dairy- and soy-free, so anyone can enjoy them. You've met your new sandwich staple, guaranteed. Hearty Sprouted Grains Artisan Bread, Udi's Gluten-Free (available nationwide, $8.27 for 1 loaf)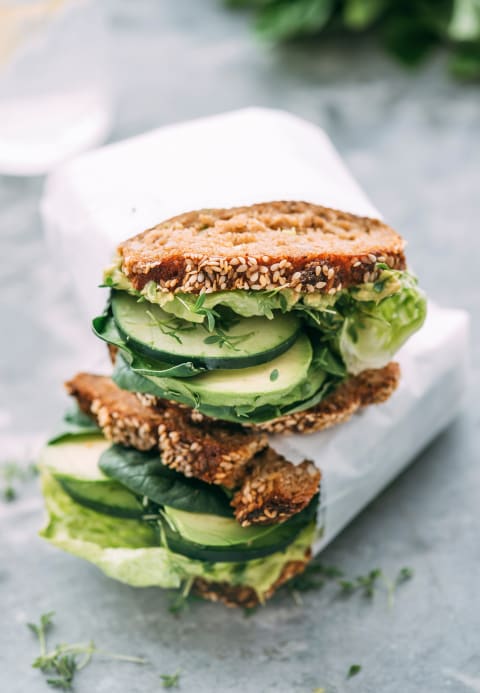 Ina Peters / Stocksy
Simple Mills Artisan Bread Mix
OK, OK, so this one isn't fully pre-made, but it's mostly there, and the amount of work it requires you to do in order to produce an incredibly delicious bread definitely earns it a place on this list. Simple Mills has been changing the game with their almond-flour-based baking mixes for several years, and their Artisanal Bread Mix perfectly mimics a delicious Italian focaccia—with just six simple ingredients (almond flour, arrowroot, flax meal, tapioca, sea salt, and baking soda). The endlessly versatile result can be used as a pizza or flatbread base, sandwich thins, or just to munch with some high-quality olive oil. Artisan Bread Mix, Simple Mills (available nationwide, $7.99 for 1 box)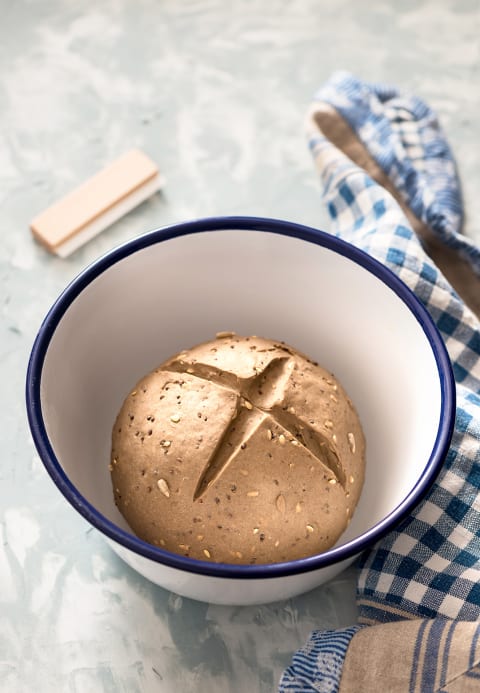 Laura Adani / Stocksy
Canyon Bakehouse Country White Gluten-Free Bread
If you grew up on classic white bread and have long been waiting for a healthy option that adequately mimics the nostalgic flavor and texture, Canyon Bakehouse has you covered. Their Country White bread is entirely gluten-free and made with simple ingredients, including a brown rice flour base. The flavor is out of this world—in a blind taste test, you'd never guess that it was gluten-free. We love this one for sandwiches or served on the side of a classic egg-based breakfast. Country White Gluten-Free Bread, Canyon Bakehouse (available nationwide, $5.99 for 1 loaf)
Mariela Naplatanova / Stocksy
Want to turn your passion for wellbeing into a fulfilling career? Become a Certified Health Coach! Learn more here.