Found: The Best Healthy Burgers For Your Weekend BBQ

Contributing Food Editor
By Liz Moody
Contributing Food Editor
Liz Moody is a food editor, recipe developer and green smoothie enthusiast. She received her creative writing and psychology degree from The University of California, Berkeley. Moody is the author of two cookbooks: Healthier Together and Glow Pops and the host of the Healthier Together podcast.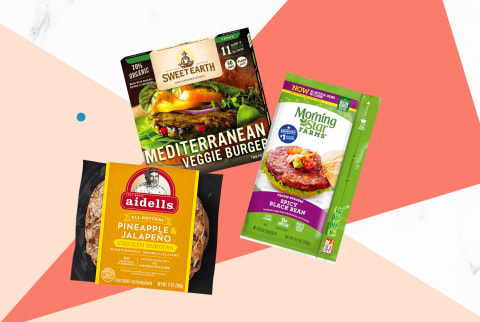 Image by mbg creative + custom
May 22, 2019
There's little that says summer better than a perfect day spent eating outside, whether you're manning a BBQ or unpacking a picnic. Burgers have long been a seasonal staple, and now, with more unique offerings hitting the market, there are amazing options for vegans, conscious carnivores, and everyone in between. Here are the best burger options available in stores right now.
Aidells Pineapple & Jalapeño Chicken Burgers
Aidells has finally turned some of their most delicious sausage flavors into burgers, just in time for summer. These chicken patties are made with the delicious combo of sweet pineapple and spicy jalapeños. The pineapple caramelizes when it's cooked, creating a Maillard reaction that will make your mouth water. Like all Aidells products, the meat is 100% antibiotic-free, and there are no artificial ingredients. The burgers are also precooked, and can be quickly warmed on the grill or stovetop for a fast meal. Pineapple & Jalapeno Chicken Burgers, Aidells ($7.99 for 12 ounces, available nationwide)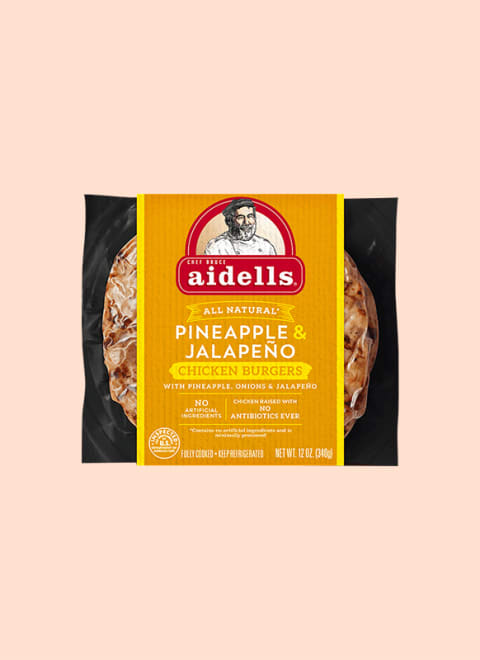 mbg creative + custom
Applegate Organics® The Great Organic Blend Burger™ Beef Burger
These burgers marry the best of the plant-based world with the conscious carnivore one, with a blend that contains just three simple ingredients: organic grass-fed, pasture-raised beef; organic mushrooms; and organic rosemary extract. The result is a burger that's rich in umami flavor, super moist, and easier on the environment and your body. These dairy-free, casein-free, gluten-free, Whole30-approved burgers can be grilled or cooked in a skillet, so wherever your BBQ takes you, you're good to go. The Great Organic Blend Burger™ Beef Burger, Applegate Organics® ($9.99 for 16 ounces, available nationwide)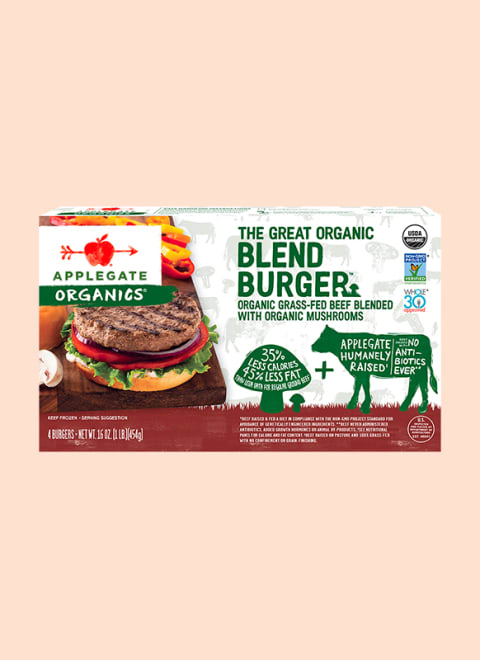 mbg creative + custom
Dr. Praeger's Sweet Heat Beet Veggie Burgers
If you want a vegetarian burger that doesn't skimp on protein, Dr. Praeger's has you covered. The brand just released a new Pure Plant Protein line, which includes vegetarian chick'n tenders, burgers, sausages, and nuggets. The protein in question—19 whopping grams a serving!—comes from pea protein and a bean blend of pinto, adzuki, black-eyed peas, and great Northern beans. There are also a ton of vegetables in these sweet and spicy burgers, including the beets for which they're named, in addition to poblano pepper and collard greens. Sweet Heat Beet Veggie Burgers, Dr. Praeger's ($5.55 for 8 ounces, available nationwide)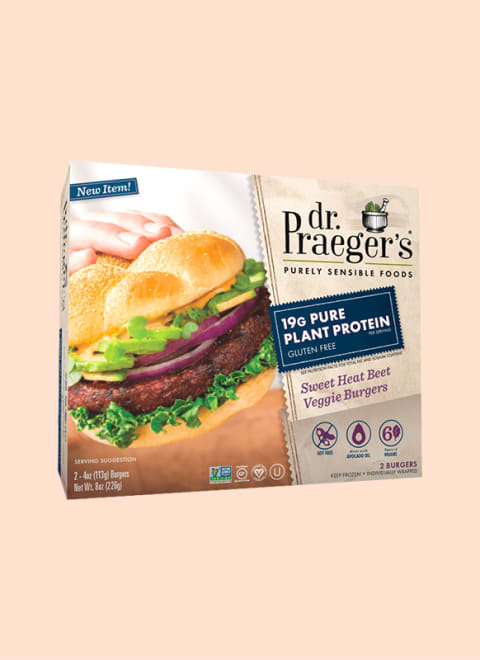 mbg creative + custom
Teton Waters Ranch Mushroom & Onion Burger Blend
This might be the ultimate umami burger blend, with a rich, savory flavor derived from a mix of 100% grass-fed beef, mushrooms, onions, and sea salt. The result has already taken the "Best New Frozen Product" Nexty Award at Expo West, where it was lauded for its environmentally conscious efforts to split the difference between true beef flavor and plant-based eco-friendliness. The brand's half-mushroom/half-beef burgers come in a number of other flavors, including Sea Salt & Cracked Pepper and Southwestern. Mushroom & Onion Burger Blend, Teton Waters Ranch ($9.99 for 16 ounces, available nationwide)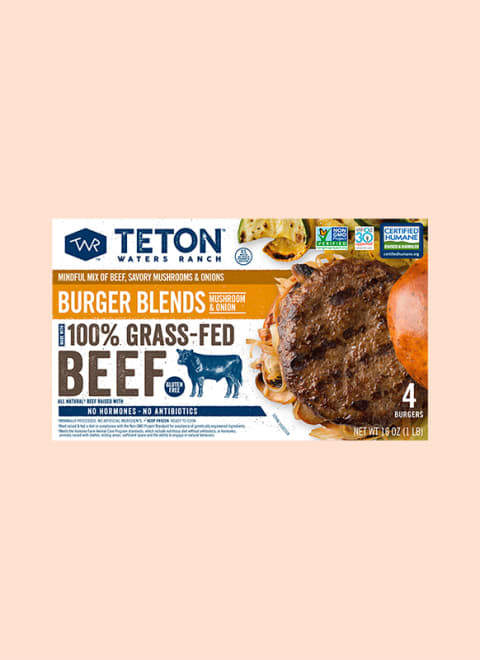 mbg creative + custom
TRIBALÍ Foods™ Chicken & Apple Mini Sliders
If you prefer your burgers in cute, bite-size form, TRIBALÍ Foods™ has you covered with their slider line. The teeny burgers come in two flavors, pork & sage and chicken & apple, both of which work perfectly as a breakfast sausage or served on a lettuce or grain bun as more traditional BBQ fare. We especially love the chicken blend, which is made from 100% free-range organic chicken and is Whole30-approved and certified paleo, with 13 grams of protein per serving. You can cook 'em in the oven, in a pan, or on the grill for ultimate flexibility. Chicken & Apple Mini Sliders, TRIBALÍ Foods™, $6.99 for 7.2 ounces, available nationwide)
mbg creative + custom
Morningstar Farms® Spicy Black Bean Veggie Burgers
Morningstar Farms is a staple in the veggie-cuisine world, and for good reason—these black bean burgers are packed with flavor and have simple ingredients that will sit right in anyone's belly. With no artificial colors or flavors and 9 grams of plant-based protein from egg whites, black beans, and brown rice, these are an easy win in the frozen aisle. You can make 'em on the grill, in a pan, in the oven, or even the microwave, and the robust black bean flavor serves as the perfect base for a wide variety of toppings. Spicy Black Bean Veggie Burgers, Morningstar Farms® ($3.89 for 9.5 ounces, available nationwide)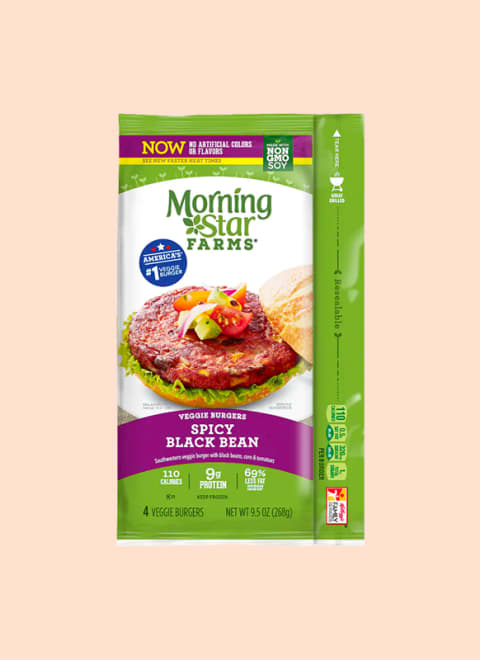 mbg creative + custom
ButcherBox Grass-Fed Burgers
If you're more of a make-your-own-burger person, ButcherBox has your back, with 100% grass-fed, grass-finished ground beef that they ship frozen directly to your door. The burgers have a chef-preferred 20% fat/80% meat ratio for a robust, juicy flavor—and because it's frozen, it'll never go bad if your plans change (just defrost in the fridge the night before you want to burger up!). Shape it into burgers plain, or spike it with whatever seasonings or vegetables you prefer—the world is your oyster (or patty, that is). ButcherBox Grass-Fed Burgers (available nationwide with subscription)
mbg creative + custom
Sweet Earth Frozen Mediterranean Burgers
If you're looking for a fresher vibe with your burger, these will be your new go-to. Sweet Earth created a veggie burger—available in both fresh and frozen varieties—with a light fresh flavor, that will make you feel like you're on a Greek island. With a chickpea and quinoa base, this burger packs in tons of actual vegetables, including kale, mushrooms, green peas, bell peppers, and more. 70 percent of the ingredients are organic, and there are 11 grams of protein per serving. The other two varieties, a Santa Fe burger and a Teriyaki one, are also delicious. Frozen Mediterranean Burgers, Sweet Earth ($3.49 for 6 ounces)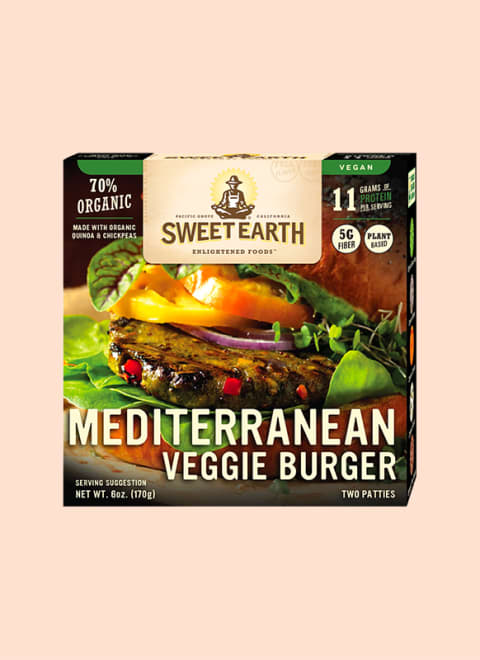 mbg creative X Sweet Earth