Eat This Food Daily For Balanced Hormones (According To A Functional Doc)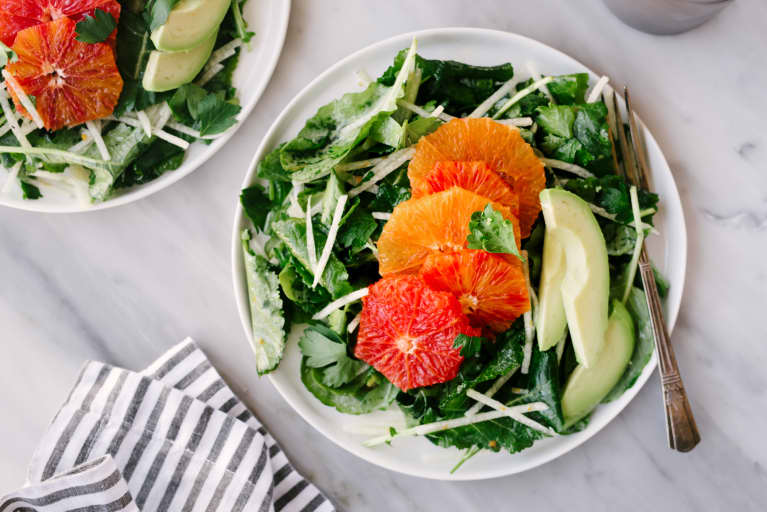 As a rule, I avoid giving one-step, quick-fix answers to health, especially when it comes to the complex chemical messengers that work to direct and regulate your body's multitude of functions. That said, as an integrative medical doctor, a nutritionist, and a practitioner of traditional Chinese medicine, I believe deeply in the power of food as medicine. Still, could I really give you one food that is key to balancing your hormones?
While hormone balance varies from person to person depending on age, personality, health factors, genetics, gender, and more, I can still tell you that there's one food that I believe can help balance your hormones. Ready?
Kale.
Yep. Kale.
It won't be news to you that this leafy green is a beacon of nutrition in the world of healthy eating, but you might not realize all the different benefits held within this plant and how they feed your entire system, creating a more hormonally balanced you.
Here's a sampling of the reasons kale should be part of a hormone-balancing diet every single day:
1. Kale has as much iron as beef to regulate thyroid and adrenal hormones—sans the saturated fat and excess calories.
It's true, calorie for calorie, kale matches beef for its iron content. Iron is critical to balancing your thyroid hormones, which help your body burn calories and regulate weight, energy, mood, and more. Iron-rich kale can also help to balance your adrenal glands, which help with the hormones necessary for fertility, mood stability, and energy levels.
2. Kale can help with PMS symptoms.
Bloating, mood swings, and irritability related to menstrual cycles are caused when estrogen and progesterone become off-kilter. Thankfully, kale is rich in vitamin K and calcium, which have been shown to help regulate these hormones and reduce the symptoms of PMS.
3. Kale can balance stress hormones with antioxidants.
Kale is rich in antioxidants that help your body to keep hormones regulated and flowing smoothly. Oxidative stress happens when there is imbalance in the body; eating a diet rich in antioxidants can help restore the equilibrium, especially when it comes to the stress hormones cortisol and adrenaline.
4. Kale is full of fiber and sulfur, both great for detoxing your liver and your body.
Your liver is the largest organ inside your body, and its health is related to your hormonal balance. When a liver is overburdened with excess weight or chronic dietary sugars, hormones become imbalanced. I often include kale as part of a daily green drink (see recipe below) to help clean out your body's master filter, your liver, and help all your body's hormones to reset.
5. Kale is super versatile.
Kale is great in salads, stir fries, smoothies, and snacks such as kale chips. It's easy to eat kale every day in a variety of delicious ways that keep it from getting boring. Here are some of my favorite easy ways to incorporate kale into your daily menu:
Kale Green Drink: In a blender, combine 2 cups of kale, 1 cup frozen strawberries, 1 banana, 1 cup water, 1 teaspoon chia seeds. Enjoy!
Scrambled Eggs and Kale: Using olive oil spray, scramble two eggs adding ½ cup chopped kale and salt and pepper. Cook to your liking.
Kale and Spinach Salad: In a big bowl, mix 1 cup of chopped kale with 1 cup of baby spinach. Add grape tomatoes, grated carrots, and olive oil and vinegar. Add sliced cooked chicken breast or salmon for an easy lunch.
Kale Stir Fry: Heat 1 tablespoon olive oil in a medium skillet and sauté 2 tablespoons chopped onion until just soft. Add 1 cup chopped kale, ½ cup sliced mushrooms, and ½ cup chopped red bell pepper. Continue stir-frying until done. Salt and pepper to taste. Serve on top of brown rice or quinoa.
Kale Chips: Preheat oven to 325°F. Tear 2 cups kale into chip-size pieces, and toss with 1 tablespoon coconut oil, 1 tablespoon coconut flour, and salt and pepper to taste. Spread on a baking sheet and bake for 10 minutes or until crispy.