My Go-To (Vegan & Protein-Packed!) Weeknight Dinner When I Have Zero Time
Contributing Food Editor
By Liz Moody
Contributing Food Editor
Liz Moody is a food editor, recipe developer and green smoothie enthusiast. She received her creative writing and psychology degree from The University of California, Berkeley. Moody is the author of two cookbooks: Healthier Together and Glow Pops and the host of the Healthier Together podcast.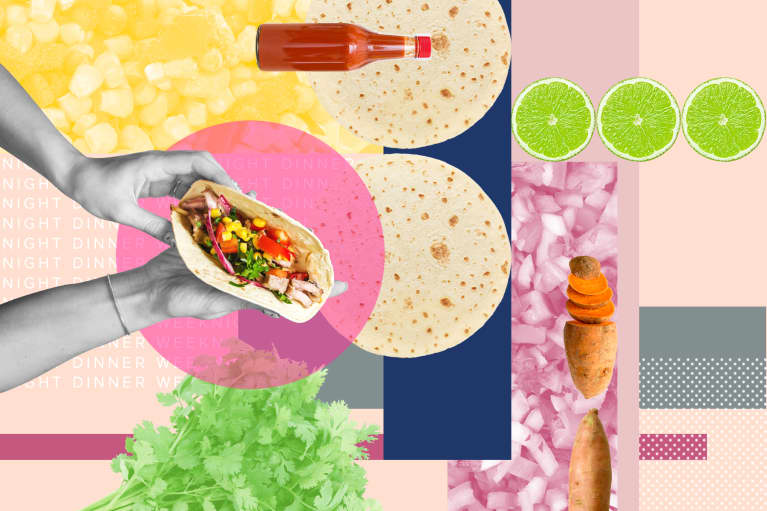 We've all been there—you get home from work, you're tired, and you still have to make a (hopefully healthy) dinner. I love scrambled eggs as much as the next person (the ultimate two-minute dinner of health-minded people everywhere, especially when served with some greens tossed in olive oil, lemon juice, and sea salt), but I also love variety, and I'm wont to get sick of my staple if I'm noshing it a few times a week.
That's where Freezer Tacos come in. They're as simple as they sound, but that's wherein lies in the genius: Almost everything you need to make your freezer taco is in your freezer, which means it'll never go bad, and you can always have all of the ingredients on hand. As a wellness-minded food writer, I also always preach about the nutrient density of frozen food. Most fresh produce is transported for weeks before hitting your grocery store shelves, and in that time, it's constantly losing vitamins, particularly water-soluble ones like vitamin C. By flash-freezing food at peak ripeness just after its picked, you actually retain a ton more nutrients—and you often get more bang for your buck since frozen food tends to be quite a bit cheaper.
What goes in a freezer taco?
The base of a freezer taco is tortillas—I like to keep organic corn ones on hand. I stick the whole bag in the freezer when I buy them, then, when I'm ready to eat, I gently slide a butter knife between the frozen layers, separating one by one exactly the number of tortillas I plan on consuming that night. I let them defrost on a plate while I prep the filling.
And what's in that filling? you might wonder. Anything you want. The genius of the freezer taco is that almost everything tastes good when you wrap it in a tortilla and top it with hot sauce, so go crazy. I tend to prefer heartier veggies, and most often reach for frozen broccoli, cauliflower, butternut squash, mushrooms, or sweet potato, but even spinach will work, especially if you bulk it out with some of the pantry extras I'll cover in the next section.
There are a few pantry extras that can take your freezer taco to the next level, so if you have 'em on hand, I recommend reaching for them. A variety of legumes work well to add protein and fiber with very little effort (save for, you know, opening the can, but that's good for the ol' biceps). I love rinsed, drained chickpeas; black beans; white beans; pinto beans…you name it.
I also love to use a single yellow or red onion, if I have one on hand. Yes, this is technically the first perishable item I've asked you to stock, but an onion's ability to amp up the flavor of a freezer taco is unmatched. If you don't have one, don't worry—your taco will still excite and delight—but if you do, give it a quick dice and keep it on hand.
Dried spices are also wonderful freezer taco additions. I love using ground chipotle, smoked paprika, ground onion, ground garlic, and spice blends like harissa, taco seasoning, and more. I usually just rummage around my spice cabinet and see what sounds good with the veggies I've selected. A note: While most spices benefit from being gently heated at the beginning of cooking to bloom their flavors, ground onion and ground garlic are more delicate and should be added toward the very end of the cooking to dull their sharp edges without turning them bitter and rancid.
Warm up a medium frying pan on medium-high heat, then add a drizzle of high-heat oil (I like avocado for its neutral flavor). Add your spices (except ground onion and garlic), and cook for a moment, then add your onion, if using. Cook until translucent, then add your frozen veggies and a generous pinch of fine-grain sea salt. Cover and let steam for 5 minutes or so to thaw the veggies, then uncover and add the rinsed, drained legumes and another pinch of sea salt. Cook on medium-high until veggies are brightly colored and delicious-looking, with crispy brown edges. Add ground onion and garlic if using, then remove from heat.
Either quickly blister your tortillas directly on a gas burner, or transfer your taco filling to a plate and wipe out the pan before gently warming the tortillas over medium-high, until they're pliant and flexible. Fill your tortillas with your filling, adding hot sauce and more salt to taste.
Voilà! A totally customizable, easy weeknight meal with endless variations to keep you from ever getting bored. And the best part? You only have one pan to clean.