Sick Of Feeling Full & Bloated? These Are Our Favorite Detox Soups
Contributing Food Editor
By Liz Moody
Contributing Food Editor
Liz Moody is a food editor, recipe developer and green smoothie enthusiast. She received her creative writing and psychology degree from The University of California, Berkeley. Moody is the author of two cookbooks: Healthier Together and Glow Pops and the host of the Healthier Together podcast.
Congratulations—you've made it to the brief lull between the craziness of holiday parties and the never-ending feast that is Thanksgiving. Hopefully, you used our tips to indulge in a slightly healthier version of the year's biggest meal, but even the biggest kale eater can get caught up in that second (and third, and fourth) slice of pumpkin pie. While we fully support the indulgence (it's a holiday! Enjoy your food with your family and friends!), we're also well aware of the power of food to make us feel great or terrible.
Soup is a wonderful way to fast track your way back to a state of bodily stasis. It's easy to make, perfect for packing to the brim with vegetables, and the recipes are almost always forgiving—feel free to sub in whatever you have lying around (we're looking at you, leftovers). Because they're cooked, soups are also a bit easier on your digestion than smoothies or salads, making them a gentle way to help your system bounce back. Whip up your favorite, go for a walk outside, drink a ton of water, and you'll be feeling better in no time.
This power green soup is packed full of herbs, Swiss chard, and kale, with liver-supporting lemon. The gremolata on top adds a super-satisfying crunch. Get the full recipe here.
Leek, Fennel & Celery Soup with Lentils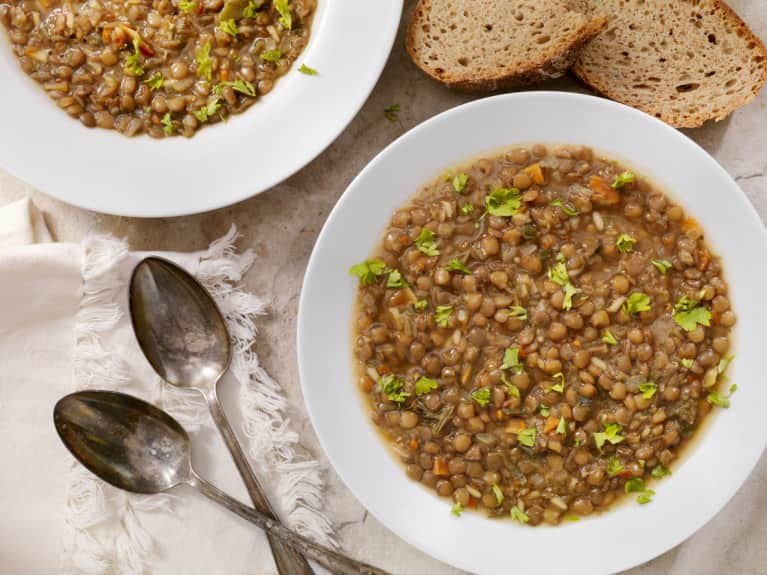 According to the creator of this soup, "the vegetables in this soup have diuretic properties that help eliminate excess water in the body, or "damp," as Chinese medicine aptly describes it." Get the full recipe here.
If your skin is feeling meh after a little too much sugar, this vitamin-A-loaded soup will help replenish cells and help you get back your glow. Get the full recipe here.
This herb-packed green soup has tons of phytonutrients and antiviral benefits, if you're feeling a little under the weather from traveling. Swap out the vegetable stock for bone broth for even more gut-healing benefits. Get the full recipe here.