The 7 Best Boxing Gloves For Women, From A Certified Personal Trainer

CPT and certified nutrition coach
By Rachel MacPherson
CPT and certified nutrition coach
Rachel Macpherson is a CPT and certified nutrition coach.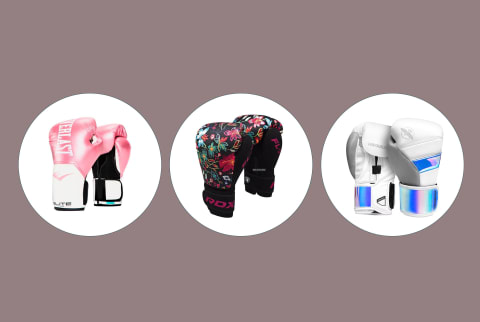 September 11, 2023
We carefully vet all products and services featured on mindbodygreen using our
commerce guidelines.
Our selections are never influenced by the commissions earned from our links.
The best boxing gloves for women:
There's so much more to boxing than pounding out your frustrations while working up a sweat. The sport is also beneficial to cardiovascular and mental health and your overall strength—and the best boxing gloves will bring the best results.
The benefits of boxing
Boxing releases feelings of anger and stress, while improving mood, self-esteem, confidence, and concentration. It also boosts metabolism, strength, and coordination.
A typical hourlong boxing training session burns about the same amount of energy as running 9 kilometers (about 670 calories).
Noah Neiman, co-founder and CPT of Rumble Boxing, previously told mindbodygreen, boxing is not only the "best endorphin high of your life," but "if we're talking physical benefits, those include fat burning, increased metabolism and muscle and cardiovascular fitness, improved muscular endurance and hand-eye coordination, and of course, stress relief, to name a few."
Who should use boxing gloves?
"Anyone who is boxing should have both hand wraps and gloves for protection," boxing coach Emily Jeanne advises.
This includes those who box in training, competition, or casual classes. If there is any contact with a sparring partner, bag, or padding, you should wear wraps and gloves.
If your form of boxing does not include any contact, then you likely don't need to use boxing gloves.
How to choose boxing gloves for women
To enjoy your boxing workout without pain, you'll need gloves that fit well and provide optimal padding and support at the right weight.
"Look for a glove that provides good padding to protect the knuckles, and the glove should be snug enough that your hands won't slide around in them but not so tight that they're difficult to get on," Emily says.
The weight of your gloves is also a primary consideration. Emily recommends a 14-ounce weight for beginners because it provides a decent amount of padding without being too heavy.
For intermediates, 16-ounce gloves are best, as they provide a little extra padding for stronger strikes and some added weight for resistance. "You wouldn't think 2 ounces is a lot, but it is!" Emily adds.
Our picks of the best boxing gloves for women:
Advertisement
This ad is displayed using third party content and we do not control its accessibility features.
Advertisement
This ad is displayed using third party content and we do not control its accessibility features.
Advertisement
This ad is displayed using third party content and we do not control its accessibility features.
How we picked
Expert insight
We worked with boxing coach Emily Jeanne to inform our selections and gain insight into what to look for in the best boxing gloves for women.
Fit
Boxing gloves for women need to fit women's hands in the weight that suits their experience level and size. We kept sizing options top of mind when selecting our picks.
Quality
High-quality gloves are safer, longer-lasting, and more comfortable. We looked for boxing gloves made from sturdy materials, including outer layers and inner padding.
Cost
While it's worth splurging on high-quality, durable gear, we stayed mindful of price, choosing options to fit a variety of budgets.
Comparing the best boxing gloves for women
How to use boxing gloves
According to boxing glove manufacturer RDX Sports, putting on boxing gloves is relatively straightforward.
It's ideal to wear hand wraps under your gloves. Wraps protect the small bones in your hands and support your wrists to reduce the likelihood of a sprain, fracture, or soreness.
Once you have the wraps secured, here's how to get your gloves on correctly:
Place your hand inside the glove and press down inside, reaching into the glove as far as possible.
You should feel your hand curving with the glove's shape comfortably and naturally.
Make sure there is no space at the bottom of the glove, and then tightly wrap the Velcro strap around your wrist.
How should women's boxing gloves fit?
Women's boxing gloves should fit snugly and securely without being too tight. Ensuring the strap is wrapped tight enough will help keep your wrist in the correct position, preventing injuries due to wrist movement.
Your gloves should feel comfortable and be sized specifically for your hands. This means comparing the size of your hands to the brand's size guide or contacting customer service for help finding the best fit.
Keep in mind, the gloves need to fit your hand with wraps on. Gloves loosen a bit with continued use, so if they feel a bit tight at first, this could change once they're broken in.
FAQ:
What weight boxing gloves should a woman get?

Women tend to need lighter gloves than men and should start with an 8- or 10-ounce size. As you build more strength, you can go up to 12 ounces or above. It's a good idea to check size and weight charts to see which weight boxing gloves a particular brand recommends.
Is there a difference between men's and women's boxing gloves?

Not all brands offer gloves specifically designed for women. Those that do focus on a more supportive and snug-fitting wrist area, narrower knuckle breadth, and additional cushioning to protect smaller, less dense bones.
How should women's gloves fit?

Women's boxing gloves should fit snugly and feel supportive without being overly tight or restrictive. Gloves should have room to fit your hands with hand wraps and keep your wrists in place without movement. However, you shouldn't feel as though your circulation is being cut off—and the gloves should still be comfortable.
The takeaway
Boxing is a fun, stress-busting exercise that packs a mean punch for your physical and mental health. Still, as a combat sport that can include a lot of heavy contact, there is a potential for injuries, especially to the hands and wrists. Quality gloves provide protection, support, and comfort to prevent injury while you build your strength.
Meet The Experts
Rachel Macpherson is a CPT and certified nutrition coach.