Beat Bloat With This Squash & Mushroom Soup
mbg Contributor
By Caroline Muggia
mbg Contributor
Caroline Muggia is a writer, environmental advocate, and registered yoga teacher (E-RYT) with a B.A. in Environmental Studies & Psychology from Middlebury College.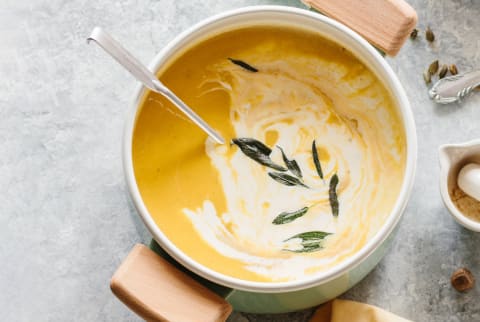 Image by Mariela Naplatanova / Stocksy
January 14, 2019
We all struggle with bloating from time to time, and often it has to do with the foods we're eating and how they are prepared. It's best to avoid hard-to-digest foods like beans, lentils, and dairy as well as broccoli and cabbage, which are known to causing bloating and gas in some people.
Tamara Duker Freuman, M.S., R.D., CDN, author of her new book The Bloated Belly Whisperer, makes eating for a flatter belly easy. She's spent her career helping people understand the cause of their digestive issues and create an effective plan of action. Her book includes 50 recipes created by food editor Kristine Kidd—all gentle on the GI system and many low FODMAP.
Advertisement
This ad is displayed using third party content and we do not control its accessibility features.
This butternut squash and mushroom soup is the perfect way to nourish your body and warm up, minus the bloat. The softer texture of soup moves through the stomach more quickly than solids, protecting against acid buildup, as well as reduces the amount the stomach needs to stretch, which can often cause cramping for people who are prone to bloating. It's what Freuman calls a "GI Gentle" recipe, meaning it's low in fat and acidic ingredients and uses minimal amounts of onion, so it's also a great option for people with acid reflux.
Soup's on!
Roasted Butternut Squash & Mushroom Soup
Olive oil spray
2½-pound butternut squash
1 tablespoon extra-virgin olive oil, plus more as needed
Coarse kosher salt
Freshly ground pepper
3 cups chicken broth or vegetable broth, plus more if desired
8 ounces cremini or button mushrooms, thinly sliced
¼ onion, minced
2 teaspoons minced fresh thyme or marjoram
1 teaspoon ground cumin
Advertisement
This ad is displayed using third party content and we do not control its accessibility features.
Preheat the oven to 425°F. Spray a rimmed baking pan with olive oil spray. Cut the squash in half lengthwise and scoop out the seeds and fibers. Brush the cut sides with oil and sprinkle with salt and pepper. Arrange squash halves cut-side down on the prepared baking pan. Roast until the squash is tender in the thickest parts, about 1 hour. Cool slightly.
Scrape the squash flesh from the skin and transfer to a food processor (there will be about 2 cups squash flesh). Add ½ cup of the broth and puree until very smooth.
Heat 1 tablespoon oil in a heavy, large saucepan over medium heat. Add the mushroom slices, onion, and 1 teaspoon of the thyme. Sauté until the onion and mushrooms are tender, stirring occasionally, about 8 minutes. Add the cumin and stir until fragrant, about 30 seconds. Add 2½ cups broth. Increase the heat and bring to a boil, stirring up any browned bits. Add the squash puree and bring to a boil. Reduce the heat, cover, and simmer 20 minutes to blend the flavors. Season the soup to taste with salt and a little pepper. Thin to desired consistency with additional broth if desired.
Ladle the soup into bowls. Sprinkle the top of each with about ¼ teaspoon thyme.
Note: Roasting fresh squash adds depth of flavor, but to save time, the roasted squash can be replaced with a 15-ounce can of pumpkin or butternut squash. There is no need to puree the canned product with broth; instead, add 3 cups of broth to the pot after sautéing the mushrooms, bring to a boil, and then mix in the canned pumpkin before continuing with the recipe.
Advertisement
This ad is displayed using third party content and we do not control its accessibility features.
Reset Your Gut
Sign up for our FREE doctor-approved gut health guide featuring shopping lists, recipes, and tips