Banana Gluten-Free Scones: Rich Roll Ultraman-Style

mbg Co-Founder & Co-CEO
By Colleen Wachob
mbg Co-Founder & Co-CEO
Colleen Wachob is Co-Founder and Co-CEO at mindbodygreen.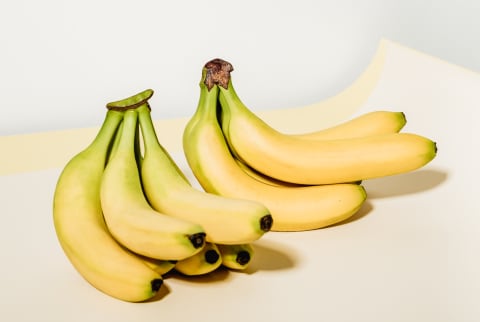 Image by Tatjana Zlatkovic / Stocksy
October 29, 2010
Whether your morning breakfast ritual involves a Spirulina-infused green blend, organic sprouted Ezekiel bread, or some grain-ola, experts agree that a healthy breakfast is key to re-setting your body and energy for the day.
While reading Plant-Based Ultraman, Rich Roll, and his wife, Julie Piatt's cookbook, Jai Seed, we were totally tempted by the gluten free scones, made with organic bananas, flax seeds, cinnamon, and maple syrup. If the endurance athlete and healthy lifestyle guru, Rich Roll, enjoys these treats, then there's no guilt in this vegan indulgence. We are devouring them with jam for weekend brunch, and making extra scones to serve as dinner rolls alongside our favorite autumn squash and potato sides.
If you are interested in getting started on a more plant-based diet, Jai Seed is a great primer in easy, delicious vegan cooking that both endurance geeks and kids will enjoy.
Rich Roll talks to MindBodyGreen about one of our favorite meals of the day: breakfast.
I admit that I have never been a big breakfast guy. But it is a very important meal – and critical when I am training. Unlike many people, I don't like to weigh myself down with a lot of the grain oriented breakfasts people typically eat – oatmeal, cereals, bagels, etc. I find that gluten drains rather than energizes me. Generally I prefer a fruit and vegetable blended drink with ingredients like blueberries, kale, beets, pineapple, oranges and add in some almonds, flax seeds and coconut oil. A tall glass and I'm good to go.
I have found that a well balanced, nutrient-dense blended drink leaves me feeling very energized when I walk out the door in the morning – whether I'm headed our for a long ride or a work meeting, I am able to maintain a consistent and high level of energy for the next few hours.
The cookbook offers a variety of my favorite daily, pre- and post-workout blends
But if its gluten free, I can't resist a good scone!
2 1/4 cups oat barley flour
1/4 cup ground flax seeds
3/4 cup organic maple syrup
Sift all dry ingredients in a large bowl.
In smaller bowl, mash bananas, maple syrup, and coconut oil. Make a well in the center of the dry ingredients, pour wet mixture in and mix by hand.
Lightly press together to form 2-inch pieces. Drop onto lightly oiled cookie sheet. Bake at 350 degrees for 20 minutes, or until light brown.

Colleen Wachob
mbg Co-Founder & Co-CEO
Colleen Wachob is Co-Founder and Co-CEO at mindbodygreen. She graduated from Stanford University with degrees in international relations and Spanish, and spent 10 years working at Fortune 500 companies including Gap, Walmart, and Amazon. Wachob lives in Miami, Florida with her husband, mbg Founder and Co-CEO Jason Wachob and their two daughters, Ellie and Grace. Her first book, which is co-authored with mindbodygreen Founder Jason Wachob, The Joy of Well-Being, is being released on May 23, 2023.