paid content
 for

The One Mistake Parents Make In The Summer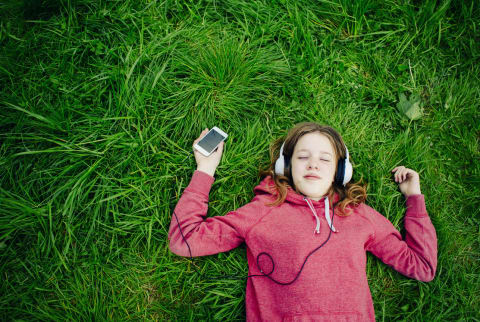 July 14, 2017
It's summer, and that means time at the beach and pool, BBQs, vacation, and so many other fun family activities. It also means no school, which can lead to the inevitable "summer slide" as your kids forget what they've learned the previous year and quickly slip out of practice. Unfortunately, this slide can make going back to school in the fall—when we'll already be missing the warm weather and freedom of summer—even harder.
The one mistake parents typically make is letting their kids take a break from reading over the summer; but instead of forcing kids to read books—which feels like they're still in the classroom—why not introduce them to audiobooks? These provide a fun way for kids to keep their reading skills sharp and find a new book to fall in love with, without having to pick up an actual paperback—striking a perfect balance between a fun and informative summer.
Here are some of our favorite picks to bring on your next family road trip or day at the pool.
"Harry Potter and the Sorcerer's Stone" by J.K. Rowling.
If you haven't shared the magic of Harry Potter with your kids yet, this summer is the perfect time. The Sorcerer's Stone is the first in the wildly popular series, and in it you'll be introduced to the most famous wizard of all time. Living in a cupboard under the stairs, Harry has no idea he's actually a hero. You'll listen as he discovers his magical abilities, attends Hogwarts for the first time, and embraces a world he never even knew existed.
"Gutsy Girl" by Caroline Paul.
In this audiobook you'll learn what it means to live a life of true adventure—and be inspired to do the same. Perfect for anyone with a daughter, this book shares how Caroline Paul transformed her life from one of reservation and fear to one of exhilaration, positivity, and self-love. The message is loud and clear: Girls are just as strong as boys. And we can get behind that!
"The Book Thief" by Markus Zusak.
Set in 1939 Nazi Germany, this New York Times No. 1 best-seller follows a young girl as she discovers her love of books. Amid such destruction and sorrow, she teaches herself to read and shares the stories with family, friends, neighbors—and the Jewish man hidden in her basement. Intense and beautiful, this one will teach your kids just how much literature and learning can feed the soul and make us more resilient than we ever thought possible.
"The Golden Compass" by Philip Pullman.
This audiobook, narrated by Philip Pullman himself, is full of wonder, suspense, and adventure, and your kids won't be able to get enough of it. In an alternate world similar to Earth, the life of a savvy young girl named Lyra is turned upside down, and she finds herself being chased by mysterious forces. It's likely the whole family will blow through all three books in this series—just in time to check out Pullman's new series The Book of Dust, the first volume of which will be out in October.
"Alex and Eliza" by Melissa de la Cruz.
Set in Albany, New York, in 1777, this is the love story of none other than Alexander Hamilton and Elizabeth Schuyler. With the Revolutionary War raging in the distance, Eliza meets Alex at her family's grand ball, and the two are immediately taken with each other. Little did they know their love story would alter the course of American history and the lives of so many. This one will keep you fully entertained on that long car ride back from the beach and help your kids brush up on their U.S. history at the same time, which seems like a win-win to us!
"And We're Off" by Dana Schwartz.
Seventeen-year-old Nora has always been a dreamer and an artist, inspired by her grandfather, who has always supported her gifts and life goals. Her mother, on the other hand, isn't as happy with the way things are going. But after both their summer plans take a surprising turn, the mom-daughter pair finds themselves gallivanting across Europe discovering all its beauty and a few things about themselves—and each other—along the way. Your will not regret pressing play on this heartwarming story.
With a fun strategy like listening to audiobooks, kids can keep their readings skills up—while having fun!—this summer. These stories will pair perfectly with so many fun activities and are a great alternative to Netflix or television. Listening to them with your kids will give everyone's brain a little exercise and make great, lasting summer memories.
Ready to get your kiddos hooked on audiobooks? Start with a FREE audiobook download of My Father's Dragon here.